No need to hide it, Dungeons and Dragons of 2000 has no place in the history books and even less its sequels in direct to DVD. While the license is still strong among roleplayers and in the world of video games, Paramount Pictures decided to give him another chance with Dungeons & Dragons: Honor ThievesA reboot complete in the world of the famous board role-playing game. And, this time, the bet is clearly successful.

A group of friends, magic and fun.
Dungeons & Dragons: Honor Thieves tells us the story of a bard named Edgin Darvisrenowned trickster who had long operated with the barbarian Holgaand recently with the elf wizard Simonthe crook Forge and the mystical Sofina. While they had to attempt one last heist before putting away thefts, which could have allowed the hero to bring back his deceased wife, a betrayal that they could have seen coming will block Edgin And Holga in time. Shortly after, as the spell wears off, the duo will try to return the favor to their dangerous new enemy, while helping the widowed bard reconnect with his estranged daughter.
Despite a welcome overlay of family drama, this film does not invent magical hot water. Under the guise of a classic fantasy tale, it delivers a band adventure, with heterogeneous characters who all have their place on the screen, whether to grow, shine or winnow. Of course, the wicked Sofina lacks depth and charisma, and Dory presence in the image, but a Michelle Rodriguez more badass than ever before, a hilarious Justice Smith as an incompetent sorcerer, a Regé-Jean Page as an unbearable paladin of bravery and even a deceptively clever, but truly touching Chris Pine completely takes over their posts. The main role of the latter, widowed lover and failed father, will also give rise to a sequence of final resolution which may surprise, but in favor of a narration that is not necessarily conventional on all points.
Because first and foremost, Dungeons & Dragons: Honor Thieves is funny, very funny. Its well-written dialogues from start to finish offer a real action comedy with modern humor, sometimes in surprising and refreshing tones for this kind of production. His most memorable scenes will be remembered, from an unpredictable underground exploration to a hilarious undead interrogation session, but he goes beyond that to deliver good gags throughout the filmeven going so far as to make us laugh heartily several times.
Without giving into parody, he tries to entertain around heroic fantasy traditional. Sometimes a little too much, as evidenced by a passage referring to the board game which seems almost forced. However, he does not abuse the action sequences, which are rare, but effective and well staged, in favor of scenes of adventure and infiltration which are just as entertaining. Moreover, let's salute the excellent balance between the often successful digital special effects and the practical effects not always perfect, but which are a pleasure to see and should help the film age well.
The film even manages to highlight the lore of Dungeons and Dragonsof the surprising dragon Themberchaud At Owls that marks the screen, through many magical accessories. A few easily dropped visual references and names will only speak to fans, but nothing to hinder the storytelling.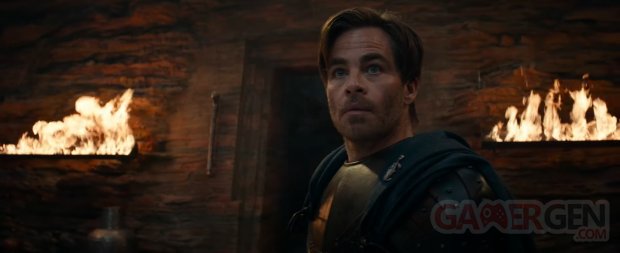 Dungeons & Dragons: Honor Thieves completely succeeds in its mission: to offer good entertainment that respects its basic material. Without necessarily being striking by its universe and its generally classic issues, the adaptation brilliantly stages endearing characters, who serve us effective jokes around a captivating fantastic epic. A bunch of friends, adventure, magic and fun, exactly the same ingredients as much of D&D.
Note : 3.5 stars 5

Editor
auxance
Favorite editor of your favorite editor since 2009, passionate about music that makes boom boom, follower of comic series of all kinds. I've played a little too much Pokémon in my life.

Follow me

:
Disclaimer: If you need to update/edit/remove this news or article then please contact our support team
Learn more