Foreign Minister Catherine Colonna believes that this decision obliges "anyone responsible for war crimes" to be held accountable.
By LL with AFP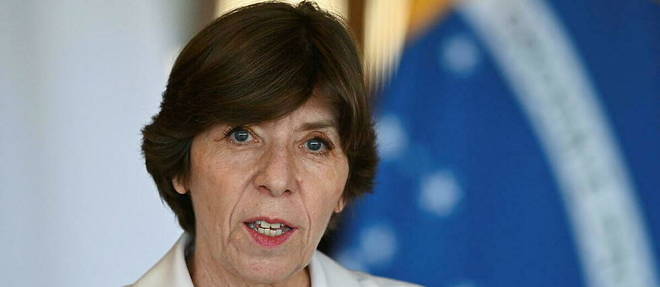 Lhe issuance Friday by the International Criminal Court (ICC) of an arrest warrant against Vladimir Putin for war crimes in Ukraine is an "extremely important" decision, considers the French Minister of Foreign Affairs, Catherine Colonna, in an interview with the Sunday newspaper.
"This decision is extremely important because it means that anyone responsible for war crimes or crimes against humanity will have to be held accountable, regardless of their status or rank," said the head of French diplomacy. "From now on, no link in the chain can think that he will escape justice and this should lead many to reflect, she continues, so it is a decision which can change the course of events. »
The decision by the ICC, which sits in The Hague, concerns the "deportation" of thousands of Ukrainian children to Russia since the start of the conflict with Ukraine a year ago, which constitutes a war crime.
READ ALSOWill Vladimir Putin ever be arrested?
Paris supports delivery of MiG-29 fighters to Ukraine
While Ukrainian President Volodymyr Zelensky called it "historic", Moscow derided it as "null and void", because Russia is not a member of the ICC and therefore does not recognize the jurisdiction of this court, according to Kremlin spokesman Dmitry Peskov.
"France supports the Court, just as it helps Ukrainian justice by sending specialized teams on the spot to document the abuses or identify the victims," commented Catherine Colonna.
Asked about the deliveries of thirteen MiG-29 fighters by Slovakia and four others by Poland announced this week, the French Foreign Minister replied that "everything that helps Ukraine is useful".
"Countries that have Soviet materials that Ukrainians already know were able to make this decision. (…) To counter (the Russian offensive), Ukraine must be able to resist with the means available now," she added.
As for the future delivery of more advanced combat aircraft by France, "in principle, the President of the Republic and the Minister of the Armed Forces have said it, there is no taboo", repeated the chief of French diplomacy.
Disclaimer: If you need to update/edit/remove this news or article then please contact our support team
Learn more
Add Then24 to your Google news feed.