This week big focus on Meta And pico. Many releases support the catalog of the two major players in the standalone.
Lovers of Rainbow Six and virtual reality will be thrilled next April 13, because here is Breachers, a 5v5 tactical multiplayer FPS, about to land on our Meta Quest, pico and in PCVR:

If you doubt the quality of the title, know that It is TriangleFactorythe same managers of the excellent and indispensable Hyper Dash who are at the controls of the latter. The introductions being made, what does this new title offer? Well, by choosing to embody the Enforcers where the Revoltersyou will find an FPS which is played in verticality, with the possibility of climbing the walls in order to infiltrate the buildings. Apart from this, you will find what makes the salt of multiplayer FPS, namely cooperation, priming or defusing bombs, etc.
Small surprise for the Meta Quest version which will offer a skin unique weapons for all those who want to pre-order the game :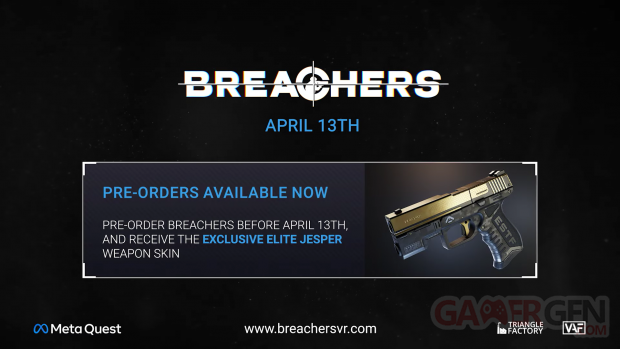 To conclude, if all headsets are compatible with Breachers, PSVR 2 does not appear. Rest assured, the producer Jeroen Dessaux confirmed that the team is very interested, but is prioritizing PCVR and stand-alone VR. So maybe one day.
Big surprise for owners of Meta Questhere is that Fight Back has just been released, and it proposes not to fight, as its title may suggest, but to defend oneself:
Released on International Women's Day, here is the description of this title of self-defense:
Fight Back is an introduction to self-defense techniques as a response to gender-based violence, it aims to teach postures and techniques to defend oneself and identify danger, using a narration filled with metaphors.

We wanted to make FIGHT BACK VR accessible to everyone, with an increasing difficulty that will satisfy both beginners and experienced players. At each level, they save a star, which teaches them a new technique. Once the final boss is defeated, the participants discover the true identity of the stars: real fighters in history.
Fight Back is available for free on the Meta Quest platform via the App Lab.

A fairly busy week for pico with almost as many experiences as real games:
A Township Tale, already tested by us on Meta Quest, is a RPG in low poly where it is possible to crafter anything you can find to rebuild your small village and equip yourself, before you can repair the infrastructures allowing you to explore the world. Fans of the genre, we highly recommend it, especially since it is available at a ridiculous price of €9.99.

Second game and not the least, Drop Dead: The Cabin, sequel to the excellent Drop Dead Dual Strike, which has completely changed its gameplay, we are currently testing it on its version Meta Quest 2stay connected to find out if the game is worth the candle. Its displayed price is €24.99.

Iron Guard ($14.99) is a tower defensetop view, very good in the genre, with a system of scoring which invites you to start over and never let go of the titleto try it is to adopt it :

Mutrix is ​​a Saber beat likebut not tasteless! This free-to-play just emerged from the shadows (previously available on pirate networks), despite much more anecdotal music than its competitor, the gameplay is here. No doubt that this title will allow those who hesitated to take a Pico 4 in the absence of Beat Saber to now be able to take the plunge.


Extinction Zoo is, as its name suggests, a Zoo Tycoon-likesimulation and management enthusiasts will find their markswhile the others will probably pass their way.

Now let's get to the experiments! To start with Arthur, an application that offers us to chat like a VR chat, a Rec: room, but also to work, like the title that follows.

Immersed (already available on Meta Quest) offers a workrooms-like which allows you to work alone or with others in various environments. It is of course possible to connect to your PC and display several screens simultaneously. This free app is more relevant on pico that on Meta Quest which already has a very good soft in the matter.

Another application that we recommend, and even for those who have never painted in their life, Vermillion allows you to paint whatever you want, or even learn how to do it, via YouTube tutorials. The price is € 19.99, know that the PCVR version allows you to paint through the game of your choice (read article).
Go to the next page to follow the news.
Disclaimer: If you need to update/edit/remove this news or article then please contact our support team
Learn more
Add Then24 to your Google news feed.