19 Mar 2023 8:26 p.m

In the event of Kiev's defeat on the battlefield, Poland "will have no choice" but to go to war against Russia itself, the Polish ambassador to France said in a TV interview on Saturday. This also causes controversial discussions in Poland.
If the Kiev authorities do not defend their independence on the battlefield, the Polish army will have to intervene directly in the confrontation with Russia, Polish Ambassador to France Jan Emeryk Rościszewski told French TV on Saturday LCI. Rościszewski literally:
"If Ukraine does not defend its independence, we have no choice but to intervene in the conflict."
The diplomat was convinced that the Ukraine crisis is a "struggle for the fundamental values ​​and culture of the West", which is why it is so important to win.
After reports in the Polish media these words of the diplomat have already caused controversial discussions in Polish TV programs and social networks. While Rościszewski had the full backing of his words from Deputy Foreign Minister Paweł Jabłoński, Polish MP for the opposition left and member of the Foreign Affairs Committee Dr. habil. Maciej Gdula, the ambassador's immediate resignation. On Twitter, Gdula wrote:
"The Polish Ambassador to France's statement that if Ukraine doesn't get its way we will go to war with Russia clearly exceeds his authority and he should simply be removed from office."
Ambasador polski we Francji mówiący o tym, że wejdziemy do wojny z Rosją jeśli tylko Ukraina nie będzie dawać sobie rady zdecydowanie przekracza swoje uprawnienia i powinien być po prostu odwołany ze stanowiska. Halo @MSZ_RP! https://t.co/wZPmlT4UIw

— Maciej Gdula (@m_gdula) March 19, 2023
Below the broadcaster's tweet LCI Western Europeans, in particular, expressed their approval of the Polish ambassador's appearance. Comments in Polish are mostly negative about the compatriot's statement, but cannot be quoted due to the numerous swear words used. A French user therefore does a large proportion of Poles an injustice when he writes:
"How stupid these Poles are! They already have 20,000 men in Ukrainian uniforms in action, more than 3,000 dead. Ukraine is not a member of NATO or the EU. Their independence is not our problem."
1/ Qu'ils sont cons ces polonais! Ils ont déjà 20 000 hommes sur le terrain sous l'uniforme ukrainiens, plus de 3000 morts. L'Ukraine n'est pas membre de l'Otan ni de l'UE. Son independence n'est pas notre problem.

— Pascal Clérotte de Mac Mahon (@McmahonPascal) March 18, 2023
Jan Emeryk Rościszewski took up the post of Polish ambassador to France in April 2022. He previously worked in the banking and insurance industry. He worked for several years at PKO Bank Polski, of which he was Chairman of the Board for a few months in 2021. Between 2012 and 2016 he was Deputy Chairman of the Audit Committee of the Polish Insurance Association.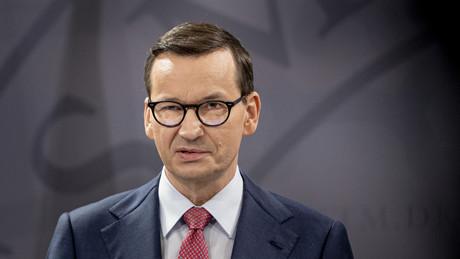 Last year, the head of Russia's foreign intelligence, Sergei Naryshkin, said Washington and Warsaw planned to repeat the historic "deal" between Poland and the "collective West" after World War I, which allowed Poland to occupy part of Ukraine and then incorporate these areas into the Polish state. At the same time, Warsaw intends to deploy a "peacekeeping contingent" in those parts of Ukraine where the risk of a direct confrontation with the Russian military is minimal.
In January, former Polish Foreign Minister Radosław Sikorski said that in the early stages of Russia's special operation, Warsaw was indeed considering the possibility of partitioning the former Soviet republic. Polish Prime Minister Mateusz Morawiecki then asked the diplomat to "drop these shameful allegations".
The Polish authorities actively support the Kiev regime. According to official data, the republic ranks second after the United States in providing military aid to Ukraine, supplying tanks, rocket and gun artillery, drones, other weapons and ammunition.
more on the subject – Instigated by Washington: A year of war between Russia and the assembled NATO in Ukraine
By blocking RT, the EU aims to silence a critical, non-pro-Western source of information. And not only with regard to the Ukraine war. Access to our website has been made more difficult, several social media have blocked our accounts. It is now up to all of us whether journalism beyond mainstream narratives can continue to be pursued in Germany and the EU. If you like our articles, feel free to share them wherever you are active. It's possible because the EU hasn't banned our work or reading and sharing our articles. Note: However, with the amendment of the "Audiovisual Media Service Act" on April 13, Austria introduced a change in this regard, which may also affect private individuals. That's why we ask you not to share our posts on social media in Austria until the situation has been clarified.
On February 24, Russian President Vladimir Putin announced that he would launch a special military operation in Ukraine together with the armed forces of the Donbass republics to protect the population there. The goals are to demilitarize and denazify Ukraine. Ukraine speaks of a war of aggression. On the same day, Ukrainian President Vladimir Zelenskiy declared a state of war across the country.

The West condemned the attack, reacted with new deliveries of weapons, promised help with reconstruction and imposed sanctions on Russia.

Scores of soldiers and civilians have been killed on both sides of the conflict. Moscow and Kiev have accused each other of various war crimes. Thousands of Ukrainians have fled their homeland.
Disclaimer: If you need to update/edit/remove this news or article then please contact our support team
Learn more
Add Then24 to your Google news feed.