19 Mar 2023 5:07 p.m

When the USA attacked Iraq in 2003, there was resistance in Paris and Berlin, among others. However, in connection with the Ukraine conflict, Europe is a long way from making such efforts for independence. On the contrary: Submission to the USA is almost complete.
By Pierre Levy
On March 20, 2003, a spate of iron and fire swept through Iraq, particularly its capital, Baghdad. The so-called "Second Gulf War" began, sparked by Washington, which had put together a coalition of proxies for this purpose. The Allies claimed to be waging a preventive war, citing the Iraqi President as having accumulated "weapons of mass destruction."
It is now clear that this was one big, fabricated lie. Moreover, even if it had been true, it would not have legitimized the attack on the country (without any UN mandate) and the violation of its sovereignty.
And certainly not the resulting military and civilian carnage – estimates vary between 100,000 and one million deaths between 2003 and 2011, with the reality probably being closer to the second figure or even higher. The major infrastructures were massively destroyed and many cities devastated.
In 2006, the occupation by Allied forces culminated in a bloody civil war between Shiites and Sunnis. During this time, the so-called Islamic State came into being. Even today, the country suffers from a failed, powerless and corrupt state.
It should also be remembered that the misfortunes of Iraq and its people did not begin in 2003. At least as cruel as the weapons was the embargo against Baghdad, which was imposed in August 1990 and officially lasted twelve years (in reality even longer) and left deep scars that have not disappeared to this day. It had a terrible impact on nutrition, health and education, with excess child mortality in the hundreds of thousands – and maybe a million if you look at the entire population.
Incidentally, the initiators of this catastrophe have acknowledged it. Who does not remember the words of Madeleine Albright, Secretary of State under Bill Clinton, who said in 2000: "It was a difficult decision, but yes, it was worth it." Oddly enough, those who dream today of trying the Russian president before the International Criminal Court have never called for George W. Bush or his Democratic predecessor to stand trial for war crimes or crimes against humanity.
Iraq is just one example of the charming US tendency to rule the world, directly or through vassals, by spraying napalm, sending Tomahawk missiles, or supplying HIMARS missile launchers.
Perhaps it should be remembered that since 2003 the members of the coalition that has been torturing Iraq have included Ukraine – symbolically, but what a symbol!
The war decided by Washington split the old continent back then. The "new Europe," as the US leadership dubbed it to commemorate its Atlantic orientation, included most of the Central European countries poised to join the EU in 2004, most notably Poland. Madrid and Lisbon also swore allegiance to Uncle Sam. Portugal was headed by José Manuel Barroso, who became President of the European Commission in 2004.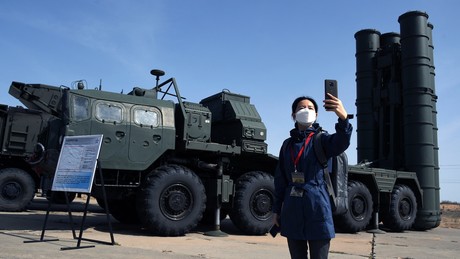 On the other hand, Germany and France, but also Belgium and Luxembourg, refused to join the Atlantic Armada. In Berlin, Gerhard Schröder was at the head of a country that had annexed East Germany a decade earlier and now harbored global geopolitical ambitions befitting its economic clout; so it didn't want to be just a lapdog of Washington. In Paris, the tandem of President Jacques Chirac and his Foreign Minister Dominique de Villepin continued, albeit briefly, the tradition of France's degree of independence from the United States, particularly in its policy towards the Arab world.
Twenty years later, the landscape has changed somewhat… Warsaw and its Baltic cronies set the tone, and most Eastern European politicians are constantly outbidding Russia and dreaming of subjugating it by force of arms.
The French president, who criticized NATO and advocated (absurd) European sovereignty during his first five-year term, is not the last to give Kiev political and military support. As for the current German coalition, it keeps trying to show that it is not lukewarm when it comes to supporting Ukraine. In doing so, she accepts that one of the goals of the US strategists will be realized: to sever the economic ties between Berlin and Moscow for a long time.
One has to realize that Brussels' desire for the EU to "speak with one voice" will inevitably lead to a warlike escalation. More European integration means more subservience to the US and more bellicose competition.
But the internal contradictions – within German capital and between the member states – could well erupt again. Especially if the people gradually realize that the saber-rattling, the shipment of tanks and planes, the shipment of ammunition and the billions of euros in subsidies to Kiev lead to less purchasing power, more misery and fewer public services.
Be that as it may, the sad anniversary of the Iraq war is a reminder of where the West's calculations are leading.
more on the subject – The USA and the international "rules-based" order
RT DE strives for a broad range of opinions. Guest posts and opinion pieces do not have to reflect the editor's point of view.
RT DE strives for a broad range of opinions. Guest posts and opinion pieces do not have to reflect the editor's point of view.

By blocking RT, the EU aims to silence a critical, non-pro-Western source of information. And not only with regard to the Ukraine war. Access to our website has been made more difficult, several social media have blocked our accounts. It is now up to all of us whether journalism beyond mainstream narratives can continue to be pursued in Germany and the EU. If you like our articles, feel free to share them wherever you are active. It's possible because the EU hasn't banned our work or reading and sharing our articles. Note: However, with the amendment of the "Audiovisual Media Service Act" on April 13, Austria introduced a change in this regard, which may also affect private individuals. That's why we ask you not to share our posts on social media in Austria until the situation has been clarified.
On February 24, Russian President Vladimir Putin announced that he would launch a special military operation in Ukraine together with the armed forces of the Donbass republics to protect the population there. The goals are to demilitarize and denazify Ukraine. Ukraine speaks of a war of aggression. On the same day, Ukrainian President Vladimir Zelenskiy declared a state of war across the country.

The West condemned the attack, reacted with new deliveries of weapons, promised help with reconstruction and imposed sanctions on Russia.

Scores of soldiers and civilians have been killed on both sides of the conflict. Moscow and Kiev have accused each other of various war crimes. Thousands of Ukrainians have fled their homeland.
Disclaimer: If you need to update/edit/remove this news or article then please contact our support team
Learn more
Add Then24 to your Google news feed.