18 mar 2023 10:39 p.m

The package of military aid to the Bosnian and Herzegovinian armed forces, which includes nine projects for defense and three for the security system, was approved at a meeting of NATO defense ministers held in Brussels in mid-February. The value of the donated funds exceeds 50 million euros.
By Marinko Ucur
Those familiar with the situation in the Balkans are inclined to claim that part of the funds from this military aid to Bosnia and Herzegovina (BIH) will be used to prevent cyberattacks, and the other part to prevent the non-existent "Russian malicious influence". Sarajevo officials enthusiastically accepted the NATO offer, claiming that it would be "illogical to reject that offer" even though there is no consensus in this former Yugoslav republic about the Alliance's aspirations to take this ethnically divided country under its wing.
"Nobody has asked NATO for help and the three-man presidency of Bosnia and Herzegovina should not accept it," Republica Srpska President Milorad Dodik was quick to respond, claiming that this would be a perfectly sensible decision by a sovereign country whose aspirations are towards demilitarization and not towards a concentration of arms and military equipment.
It is clear that with this donation NATO is not providing any help to this country, where the memories of war and suffering are still fresh, especially considering that no official institution has made a decision on this, nor has anyone officially made a request for the in need of any military support. Even if they did, it would clearly go beyond the Constitution and the law.
Still healing the wounds of the bloody civil war of the 1990s, with fresh and bitter memories of its role in the 1999 bombing of Serbs and the ongoing occupation of the Serbian province of Kosovo, the country is not ready to to accept NATO as a factor for peace and stability. In Bosnia this is not a majority decision, but it is definitely dominant in the Republic of Srpska, which is also the reason for the energetic resistance of the Serbian side, also against the role that NATO has intended for itself in this ethnically heterogeneous and unstable state.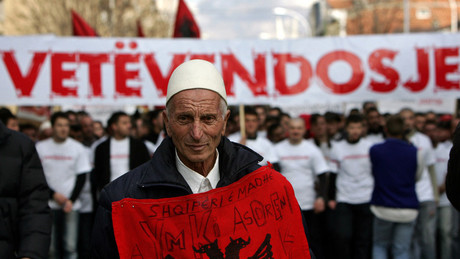 Proponents of close ties with NATO, and even of that country's possible membership in that alliance, claim that restrictive spending in BIH's budget on defense, accounting for only about 0.8 percent of total GDP, forces the country to align itself with partners and donors to try to offset at least some of the needs of the defense sector. The NATO mission in Bosnia and Herzegovina claims that the country "made certain commitments with its internal decisions and asked for the Alliance's support," denying Serbian politicians' claims that the existence of such an official decision from the highest level of government, namely by the presidency.
The US, as the largest donor of military aid, is showing some fatigue at the constant investments in that country's defense sector and expects the authorities to increase the capabilities of the armed forces to become self-sufficient through own resources or capital investments. But the sluggish economy is at odds with a target of 2 per cent of GDP for the defense sector – a fact well known to supporters of closer ties to the NATO alliance, which shows open ambitions to include this country under its defense umbrella. "Partnering with NATO," according to many, is just another name for the country's unstoppable move toward full membership of that alliance — despite the lack of consensus and approval from the three constituent peoples.
Americans boast of supporting the country's armed forces by donating light transport vehicles, Huey II helicopters and individual equipment to support light infantry units. However, they warn that the armed forces "cannot rely solely on Western aid" and call on the local government to provide the necessary financial resources to further modernize and meet the challenges of the future.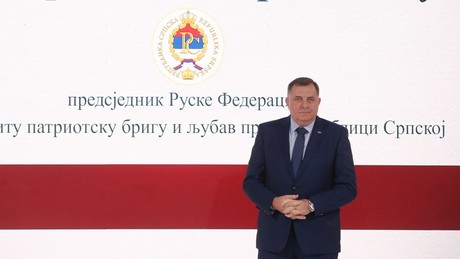 BIH currently maintains a partnership relationship with NATO, but Article 84 of the Defense Law of Bosnia and Herzegovina, adopted by parties of the respective three constituent peoples, even clearly provides for Bosnia and Herzegovina's membership in NATO. The Presidency of Bosnia and Herzegovina sent a letter to the NATO alliance underscoring the commitment to membership in 2009, with approval from all three presidency members, and also unanimously approved the 2016 Defense Review, which included 16 projects for the modernization of the armed forces to further approximate BIH to NATO standards. Since then, however, not much has happened to implement these projects. And the big question is how this fragile Balkan state will find its way into NATO and how long it will take.
Meanwhile, there are sporadic debates about the desirability of having armed forces in a country that has only recently experienced a bloody ethnic civil war. What role would these forces play in a supposed war? Less than 10,000 men and a little over 150 million euros in the defense budget is insufficient underpinning for anyone, except that these troops as possible NATO soldiers would be potential cannon fodder in some of the suspected NATO adventures around the world.
more on the subject – EU puts pressure on Bosnia-Herzegovina: anti-Russian foreign policy must be adopted
RT DE strives for a broad range of opinions. Guest posts and opinion pieces do not have to reflect the editor's point of view.

By blocking RT, the EU aims to silence a critical, non-pro-Western source of information. And not only with regard to the Ukraine war. Access to our website has been made more difficult, several social media have blocked our accounts. It is now up to all of us whether journalism beyond mainstream narratives can continue to be pursued in Germany and the EU. If you like our articles, feel free to share them wherever you are active. It's possible because the EU hasn't banned our work or reading and sharing our articles. Note: However, with the amendment of the "Audiovisual Media Service Act" on April 13, Austria introduced a change in this regard, which may also affect private individuals. That's why we ask you not to share our posts on social media in Austria until the situation has been clarified.
Disclaimer: If you need to update/edit/remove this news or article then please contact our support team
Learn more
Add Then24 to your Google news feed.