This article contains spoilers for the ending of 'The Last of Us'. If you don't want anything to gut you, save it for later—but come back to read it, huh?
After a few really exciting weeks, the fantastic video game adaptation 'The Last of Us' to the small screen courtesy of Neil Druckmann and Craig Mazin has come to an end, leaving us with our hearts in a fist and salivating in the face of a second season that promises to be even more devastating than its predecessor.
However, this point and aside does not mean, under any circumstances, that the conversation about the HBO series has ended, one of the topics of the moment being related to how Ellie developed immunity to the cordyceps infection. An explanation that has been aligned with a fan theory dating back to the game's release in 2013.
Immunity in the HBO series
The last chapter of the cathodic version of 'The Last of Us' explains through a flashback how Anna, Ellie's mother played by Ashley Johnson —who gave life to the teenager in the original game—, she was bitten by an infected person moments before giving birth to her daughter to later ask Marlene to take care of her.
Just before the climax of the season, Marlene informs Joel that the surgeon in charge of preparing the operation to obtain a vaccine believes that Ellie has been a carrier of cordyceps since birthproducing a kind of chemical response that makes the fungus believe that it is already infected and is part of its community.
Is this the definitive answer to the riddle? According to collect The Hollywood ReporterNeil Druckmann, coshowrunner of the production and director of the video game on which it is based, suggests that it could be, although It's not really important about the revelation..
"It gives a clue and generates some theories as to why Ellie is immune, although we don't answer that conclusively. But I think more important than that is that it builds the relationship between Marlene and Anna, so when you get to the end and you face Marlene with Joel, everyone has their own philosophical perspective on whether the end justifies the means.That Anna's last wish was to 'take care of my daughter' gives more weight and perhaps a more tragic turn to the sacrifice that Marlene tries to make for the good of humanity".
The explanations of the video game
In Naughty Dog's work we never get to know Anna through a flashback, although we can have access to a letter that the woman left her daughter before she passed away. In it, you can read the following:
Ellie:
I'm going to share a secret with you, I don't like children very much and I hate babies. And yet… I look at you and I'm impressed. You don't have a day and holding you is the most amazing thing I've ever done in my life. A life that will be cut short too soon. Marlene will take care of you. I trust her more than anyone in this world. When the time comes, she will tell you about me. Don't make it too hard for him. Don't be as stubborn as me. I'm not going to lie to you, this world is pretty crazy. It will not be easy. What you have to always remember is that… Life is worth living! Find a purpose and fight for it.
I see a lot of strength in you. I know you will become the woman you were born to be. She loves you… your mother. Anna. Make me proud. Ellie!"
This text was the definitive element that helped push the theory that Ellie developed her immunity through her parents; either from his mother bitten before giving birth or from her father, who could have been infected during fertilization.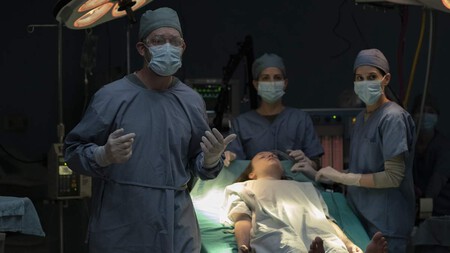 Unfortunately, the mystery was never resolved. However, a recording of the surgeon that can be found in the hospital during the final stretch of the game provides even more information about Ellie's immunity and the progress of the experiments to obtain a cure for the rest of humanity.
"April 28. Marlene was right. The girl's infection is unlike anything I've ever seen. The cause of her immunity is uncertain. As we've seen in all other cases, the patient's cordyceps antigenic titers remain high , both in serum and cerebrospinal fluid.Blood cultures drawn from the patient develop cordyceps rapidly in laboratory fungal media.However, leukocyte lines, including percentages and absolute counts, are completely normal.
There is no elevation of proinflammatory cytokines, and a brain MRI shows no evidence of fungal growth in limbic regions, which would normally accompany the prodrome of aggression I in infected patients. We must find a way to replicate this state in the controlled environment of the laboratory. We are about to reach a milestone in human history, equivalent to the discovery of penicillin.
After years of going around in circles, we are about to come home, turn things around, and return control of their destiny back to the human race. All our sacrifices and the hundreds of men and women who, at least, have shed blood for this cause, will not have been in vain."
This case, besides being an interesting curiosity, is a new sample of how both versions of 'The Last of Us' complement each other contributing new data and backgrounds, and enriching their remarkable narratives. HBO, this is how a video game adapts.
In Espinof | The 36 best series of 2022 and where you can watch them in streaming
Disclaimer: If you need to update/edit/remove this news or article then please contact our support team
Learn more
Add Then24 to your Google news feed.