Crossing the English Channel without friends or family last summer, Balogun left her British comfort zone to progress, open up to others and adapt to a new culture. A rather rare resolution among young English players which demonstrates that Folarin is… different. Author of 5 goals and 2 assists over the first 6 days of Ligue 1, the 21-year-old boy had then started his exile on the hats. However, while the talent of the New York native has always been evident and his evolution so far has been linear, being a young striker in a club with Aubameyang, Lacazette, Gabriel Jesus or Nketiah can close doors to the most daring. Since signing professional with the Gunners at 17, "Balo" has only played 10 small games with his training club. However, Folarin has always been very prominent among young people and could hardly have been even more so to hope to distinguish himself with Mikel Arteta. First behind 38 goals and 8 assistance in 41 games with Arsenal's U18s, he was quickly upgraded to U23 at 17, where he scored a hat-trick in 6 minutes for his first, to become the top scorer in the history of the recent Premier League 2 (championship English U21) with 34 pawns – to which we can add 10 assists.
Balogun is a serial goalscorer, there's no doubt about it. Despite his very short playing time with the A's, the current England hopeful striker is chomping at the bit and continues to learn in training alongside his references. "They probably didn't realize it, but I watched them permanence», he confessed about Alex Lacazette and Pierre-Emerick Aubameyang during an interview for Ligue 1 website last November. He then offers himself the possibility of doing the first 6 months of the year 2022 on loan at Middlesbrough, a resident of Championship. A few minutes and 9 starts later, the baby Gunner totals 3 goals and 3 assists, testifying to an ability to be decisive wherever he puts on his crampons. The first loan was therefore encouraging, the second will be thunderous. Despite several offers from England, Germany or other French clubs, it was in Reims that Balogun chose to shake the bottle. The opportunity for the Anglo-Nigerian to show France the mix between the eagle he is when flying towards the goal and the lion he can become facing the cage.
The flapping of wings
Positioned at the top of Will Still's magnum articulated in 4-2-3-1, Folarin Balogun is an attacker capable of popping the cork at any time. Scorer against Marseille, Lens, Paris, Monaco and twice against Rennes, the Englishman does not seem to be doing half measures when facing the great vintages of the championship. Thanks to his talent, already, but also because he takes advantage of a match configuration that he and his team seem to appreciate in addition to exploiting it perfectly, at the time when the field opens – a situation that he will face OM on Sunday. In March 2019, the one nicknamed "Flo" then declared during an interview for the Arsenal website : "I'm the kind of striker who likes to play on the shoulder of the last defender and make runs behind him, the same way Pierre-Emerick Aubameyang plays". Before going deeper into his statements at the start of the season for Ligue 1 : "I know I'm fast and I can resist contact, so the most important thing for me is really the timing. If you leave at the right time, no one can stop you". What do each answer have in common? Space. The first quality of Hugo Ekitike's successor therefore seems to be when it comes to warming up the crampons on the lawn. If he has several individual and collective assets to turn into a raptor thanks to a wonderful sense of movement and the super feet of Junya Ito or Alexis Flips, his favorite relay, Balogun is particularly distinguished when he has to take the lead. rising to the duel. When exploiting the inside balls of his partners, the Reims eagle does not hesitate to use his wings to take the preferential position, get ahead of his vis-à-vis and fly alone towards his promised land.
During the reception of Troyes (4-0), February 12: Reims begins a transition and releases the ball by its right side via Ito and Flips. Balogun then sets off, stepping back to attack the axis of the goal…
Alexis Flips paw then finds the correct area. The rest of the action then takes place in the duel between the Reims striker and Erik Palmer-Brown…
Who will suffer the fuss of the clever Englishman to jostle…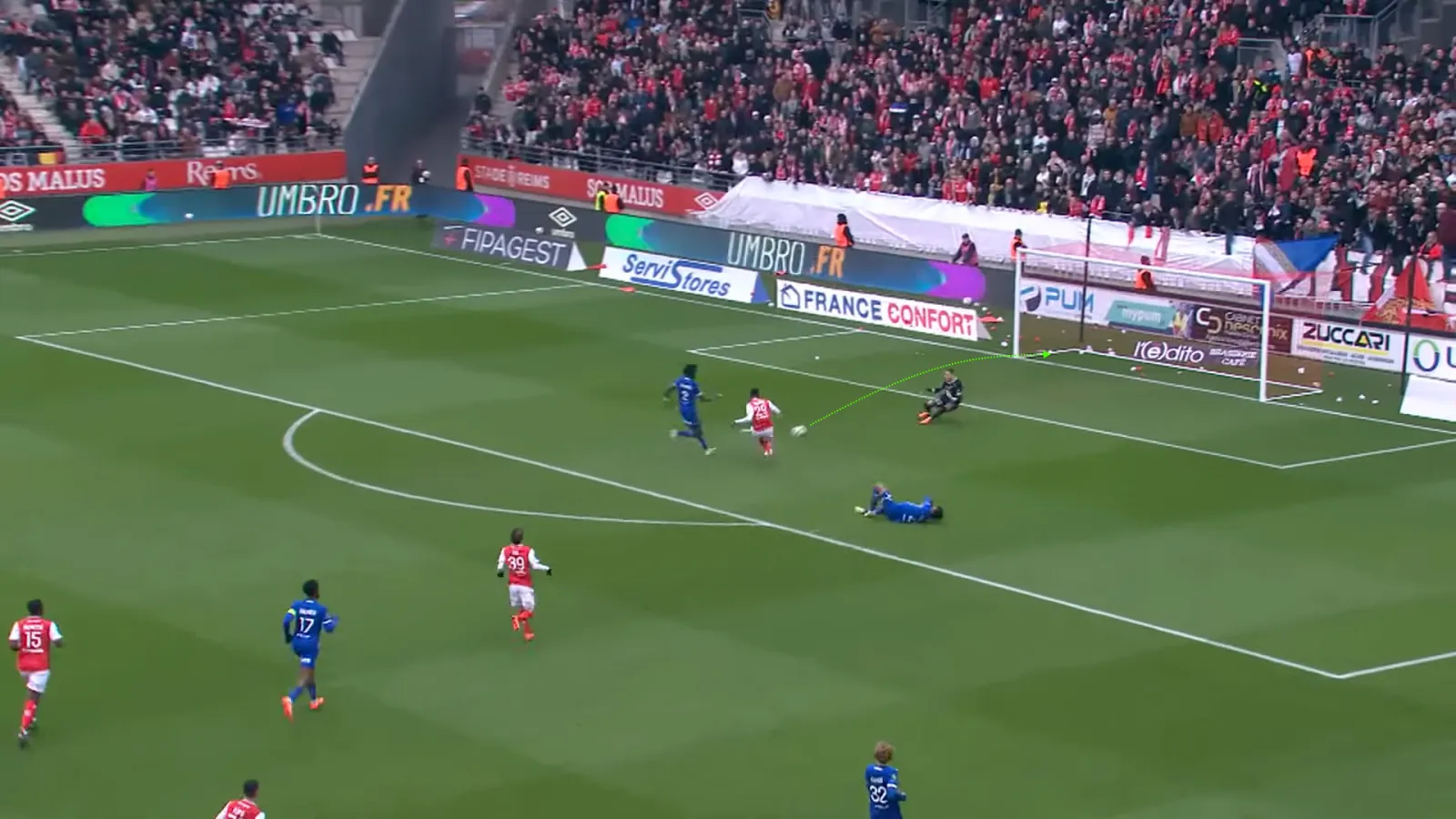 Before adjusting the opposing goalkeeper's left foot, his weak foot but which he masters and does not hesitate to use, while his confrontation with the Trojan defender has left its mark…
Against Auxerre (2-1) on October 23: Yunis Abdelhamid directs the ball on the left side, Balogun has stalled and occupies an area similar to that of Arbër Zeneli, which does not seem optimal…
To catch up, the striker will then explode in depth to offer a solution to his partner and attack the free space, always in the direction of the goal…
Small wingbeat to make sure that no one will come to challenge him in his 1 against 1…
Then finish à la Thierry Henry, of course.
the roar
"All summer I trained to be more efficient in all aspects of my game, entrusted the new darling of Auguste Delaune to World Eleven in an interview published earlier this month. I knew coming to Reims that it was not a team that won games 6-0 or 5-0, in short, I knew that the games were going to be difficult and close. In this case, I knew that I was only going to have one or two opportunities per game to put her in the bottom. My priority was therefore to make sure that every opportunity was turned into a goal. I just wanted to be as efficient as possible. This season, there are games where I only had one chance and where I ended up with a goal.» If the young man's lucidity and humility in the face of work may surprise, time and reality prove him right. By scoring 16 goals in Ligue 1 for 16.50 expected goals combined, Balogun has established himself this season as a reliable and regular striker, who converts what needs to be converted. The one who initially had a goal of 10 goals set by Nicolas Pépé before leaving London has since seen his counters explode as he catalyses 45% of his team's goals in the league (16 out of 35). To achieve such stats, the Englishman is not limited to a threat in space. If the depth is his favorite hunting ground today, Balogun also knows how to be feline when the space is narrowing, when it's time to divert his prey in the surface. While Reims is effective in creating center positions – especially on the right side -, the science of the lion of Saint-Marc then makes the difference when it comes to roaring in front of goal.
At Troyes (2-2) on October 2: Andrew Gravillon finds an inside pass for Ito's good move in the right half-space, Balogun therefore attacks the penalty spot to anticipate a cross in front of goal…
Then pauses in front of poor Palmer-Brown, him again, which creates a distance with his vis-à-vis and disturbs his support…
Before restarting very strongly to pass in front of the Trojan defender, cut the center of the Japanese and propel him into the back of the net.
Similar construction against Rennes (3-1) on December 29: Junya Ito finds the right move of Flips in the right half-space, Balo then moves accordingly…
But his partner's cross this time heads for the penalty spot. Balogun reacts much faster than everyone else and drops off Hamari Traoré who is still heading towards Mandanda…
Before shooting the Breton goalkeeper with a beautifully balanced volley.
Undefeated since October 13, 17 games, the Rémois hover over the championship. Will Still, Balogun, Ito, Flips, Munetsi, Abdelhamid, Diouf, etc… All have their share of responsibility in this idyll, such an adventure cannot be the work of a single traveller. Facing Marseille, the best team in Ligue 1 away from home – 10 successes out of 13 trips including 7 in a row -, Folarin will once again try to blow bubbles at Delaune, as he is now used to.
Amir Richardson: "I think I'm the best basketball player in Ligue 2"
Disclaimer: If you need to update/edit/remove this news or article then please contact our support team
Learn more
Add Then24 to your Google news feed.