The Apple Watch is, on its own merits, much more than a smartwatch. Beyond its functions to accurately measure our physical activity, its huge ecosystem of third-party applications have led me to turn it into something I would never expect: a portable game console. And, of all the ones I've tried, these are the best games of 2023 for your Apple Watch.
I remember that I started using my Apple Watch Series 8 under the premise of the "with this, at least, I will control my daily activity". Today it has become a tool to check my Alsa or Iberia tickets, request a Cabify, monitor Bandsintown concert alerts, see how much I save with the Day or Revolut card, synchronize home workouts and even keep an eye on to home automation. Because even the Xiaomi Home app is 100% compatible.
However, I have always kept the playful part separate, more out of ignorance than conscious desire. Its ecosystem of applications for the Apple Watch is fine, but I did not know how it was doing in games. And I don't know if I made the right decision, because now I play with the Apple Watch every time I have to stand in line or wait anywhere. And, of all the ones I've tried, these are the games that I recommend.
Arcadia
An arcade is a utopian place of recreation and rest. And that's what Arcadia proposes, it is a wide compilation that for 2.49 euros allows us to play dozens of classics like 'Pong', 'Simon' or the old 'Whack-a-mole', even a no-nonsense clone of OutRun. With a very colorful pixelart aesthetic, these games offer a kind of return to a childhood where things were much simpler. Yes, and there is also a 'Snake'.
Download | Arcadia in the App Store
Dare the Monkeys: Go Bananas!
Platforming in the purest Donkey Kong style, with a lot of jungle to explore and a casual aesthetic. Bananas will have to be collected even in outer space. Of course, the physics system does not usually make it easy. Completing all the levels is a challenge of those who cross between eyebrows.
Download | Dare the Monkeys in the App Store
Games for Watch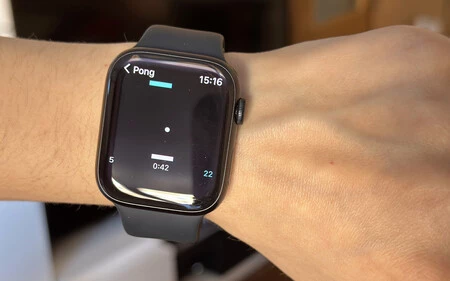 Games for Watch is, as the name suggests, a compilation for your Apple watch. Hangman, tic tac toe, 'Connect Four', visual puzzles and many other free games. In addition, for an extra that goes from 0.49 to 0.99 euros per game you will have access to others with a higher profile such as Hangman, Sudoku or 2048. The app serves as a platform to have them grouped, in addition to showing times and classifications in various player profiles.
Download | Games for Watch in the App Store
The 'Pong' of a lifetime
If it is a classic it will be for a reason. The simplest mechanics are sometimes the most addictive. If the previous collection has a minimalist Pong that looks like something out of a green phosphor monitorthis version proposes the same strategy of returning the ball in different settings, such as an ice hockey rink or a basketball field.
Download | Table tennis in the App Store
Chess, an enduring classic
White or black? A game of chess is always good to kill time and few better options than the official Chess. It is not as handsome as the three-dimensional chess that macOS incorporatesbut it serves to get rid of the bug and continue practicing the noble art of checkmate.
Download | Chess in the App Store
20 Watch Games – Classic Pack
This is another of those recops that groups dozens of industry milestones such as Minesweeper, Pac-Man or Bejeweled, the well-known game of matching colored gems. U for 1.19 euros it is well worth a try. There's others 24 pack, 25, 28 and 29 games within the App Store —the most expensive goes up to 2.49 euros. As it was, hours and hours to be entertained.
Download | 20Watch Games in the App Store
Retro Twist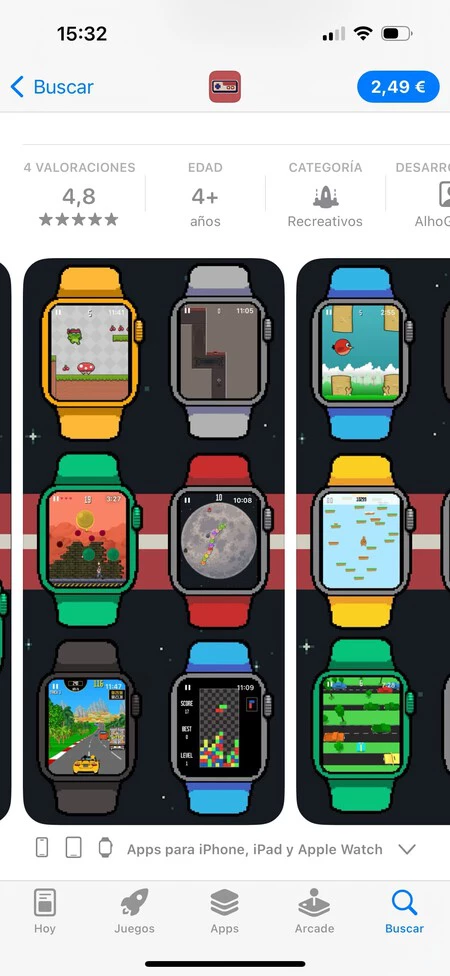 And don't let the name fool you. If you are looking for another trunk of memories, but not so retro, this Retro Twist is perfect and incorporates more modern graphics: from a colorful 'Tetris', a good alternative to the traditional Pang, to a kind of 'Paperboy', a 'OutRun', a 'Super Mario' without a plumber but with no shortage of mushrooms and a 'Flappy Bird' that more than a bird angry makes one much happier. It is not free, yes: 2.49 euros is its price.
Download | Retro Twist in the App Store
Mindkeeper: The Lurking Fear
This is a pretty crazy twist. Parked aside: Mindkeeper is a shooter In first person inspired by HP Lovecraft where you manage the investigator H. Joyce and explore a huge mansion full of creatures from the afterlife. 50 levels across four locations and graphics I never imagined enjoying on an Apple Watch. For 2.49 euros you will have it on your wrist.
Download | Mindkeeper: The Lurking Fear in the App Store
Pokémon GO on your wrist
Find and unlock the ever-grateful PokeStops, feed your Pokémon after a tough battle, check your backpack inventory, or sync your physical activity. This simplified, companion version of Niantic's game is perfect for Trainers who aren't about to give up until they "complete" the PokéDex.
Download | Pokémon GO free on the App Store
Fitness RPG
And we say goodbye with this delirium: a game that role plays inside a pedometer. Some have called this game the Duolingo of going for a run. The pure gamification of the count of steps taken, to understand each other. 'Fitness RPG' consists of the following: you have your own heroes and as you progress, they become stronger. Your steps are your energy bar. And the battlefields of Fitland are full of monsters, so it is essential to generate synergies between them and keep them healthy.
Download | Fitness RPG free on the App Store
Disclaimer: If you need to update/edit/remove this news or article then please contact our support team
Learn more
Add Then24 to your Google news feed.