18 mar 2023 12:48 p.m

Several US authorities are currently discussing possible security plans for the criminal court in Manhattan and the surrounding area in the event that Trump should be indicted in connection with an alleged hush money payment to porn actress Stormy Daniels.
The former US President and currently the most promising Republican candidate for the upcoming US elections, Donald Trump, is in the sights of US judicial authorities and the media. According to reports, Trump is facing explicit allegations of sexual harassment by two women. These are model Karen McDougal and porn actress Stormy Daniels.
The current allegations relate to the hush money payments made by Trump to the two women. According to US media, relevant law enforcement agencies are discussing timely security measures in the event that the former president should actually be charged with forgery in the coming days. The US broadcaster NBC News refers to "reports more anonymous Official".
According to the article, "five senior officials faced Friday NBC News "Confirmed" that New York authorities were "conducting preliminary security assessments in and around a Manhattan courthouse" in preparation for a possible indictment "in connection with an alleged 'hush money' scheme involving a woman who alleged to have been intimate with the ex-president", so NBC News illustrative.
On March 16, Stormy Daniels made a statement to the New York prosecutor about the "hush money payment" case. During the conversation, she would have agreed to be available as a possible witness or for further investigations if necessary. Daniels commented on the performance via her Twitter channel:
"Thank you to my amazing attorney (…) for supporting me in our ongoing fight for truth and justice."
Thank you to my amazing attorney (who also always spells my name correctly 🤣) for helping me in our continuing fight for truth and justice. https://t.co/rvie0qBHVs

— Stormy Daniels (@StormyDaniels) March 15, 2023
The investigating US agencies include the NYPD, the New York State Court Office, the US Secret Service law enforcement agency, the Joint Terrorism Task Force (which includes NYPD and FBI personnel), and the Manhattan District Attorney's Office , according to the anonymous officials. NBC News therefore asked all these authorities for a confirmatory comment, which remained unanswered.
Also on the day of Daniels' testimony, former Trump attorney Michael Cohen was summoned for the second day in a row before the New York grand jury to speak about details of his role in Daniels' payments. This commentedthat "Donald Trump should be held accountable for his dirty deeds".
According to previous investigations, Stormy Daniels received hush money payments on behalf of Trump in 2016, carried out by his then lawyer Michael Cohen. This should achieve that spicy details, media campaigns and potential damage to the US presidential campaign at the time. According to the current US judicial view, the cash flows of 130,000 dollars (around 123,000 euros) could have violated campaign finance laws.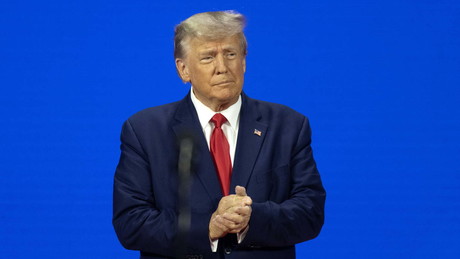 Trump's current attorney, Joe Tacopina, told US media on Friday that he would "follow standard procedures" if charges were threatened against the ex-president, but maintained his client's innocence. There will definitely be "no standoff in Mar-a-Lago with the Secret Service and the Manhattan Attorney's Office," Tacopina said.
According to Tacopina, the supposedly justiciable payments were made "to a lawyer, not to Stormy Daniels." These would therefore "consider legal fees", the lawyer said in a separate statement interview on March 15 with the station MSNBC. Tacopina emphasized that Michael Cohen "was his attorney at the time and advised him that this was the right way to protect himself and his family from embarrassment. It's that simple. It's not a crime."
Cohen's view of the events, on the other hand, is that Trump had ordered him to pay the hush money. Cohen received loud NBC News later returned the money he had paid to Daniels. Those payments were then listed by Trump's company as "legal fees," according to Cohen.
more on the subject – Make America Great Again – Donald Trump visits small town in Ohio after train crash
By blocking RT, the EU aims to silence a critical, non-pro-Western source of information. And not only with regard to the Ukraine war. Access to our website has been made more difficult, several social media have blocked our accounts. It is now up to all of us whether journalism beyond mainstream narratives can continue to be pursued in Germany and the EU. If you like our articles, feel free to share them wherever you are active. It's possible because the EU hasn't banned our work or reading and sharing our articles. Note: However, with the amendment of the "Audiovisual Media Service Act" on April 13, Austria introduced a change in this regard, which may also affect private individuals. That's why we ask you not to share our posts on social media in Austria until the situation has been clarified.
Disclaimer: If you need to update/edit/remove this news or article then please contact our support team
Learn more
Add Then24 to your Google news feed.