The magnitude 6.8 earthquake occurred at midday on Saturday March 18 in southern Ecuador and was felt as far away as Peru.
By VD with AFP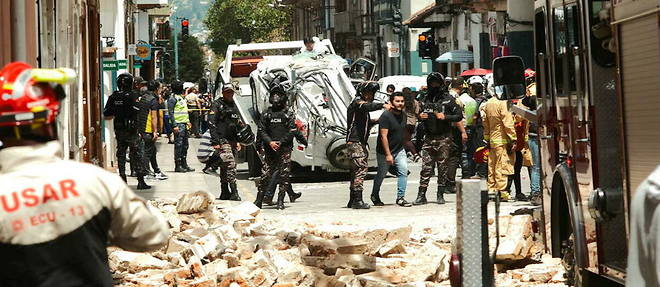 AAt least 12 people died on Saturday in a major earthquake in southern Ecuador, which also affected neighboring Peru, according to an official report. The American Seismological Institute USGS specified that its magnitude had reached 6.8. "At the moment we have 12 dead", including 11 in the province of El Oro and one in that of Azuay, indicated the presidency of Ecuador on Twitter. The earthquake also injured at least one person and caused material damage.
It occurred at 12:12 p.m. with an epicenter in the town of Balao at a depth of 44 kilometers, according to authorities. The earthquake caused panic among residents who took to the streets. Homes have collapsed in several towns, including Cuenca, one of the hardest hit. "I went out into the street because I saw people running, terrified, others getting out of cars," Magaly Escandón, a sewing items seller in this Andean city, told AFP.
A call for calm
Collapsed buildings, cracked walls, vehicles crushed by debris. In the historic center of Cuenca, old houses were damaged, AFP journalists reported. The earthquake was felt in Quito, Manabi and Manta, according to accounts on social media. Ecuadorian President Guillermo Lasso issued a "call for calm and information through official channels" in a message on Twitter.
In Peru, where the earthquake was of a lesser magnitude, no casualties or major damage have been reported so far. According to the Oceanographic and Antarctic Institute of the Ecuadorian Navy, the tremor "does not meet the conditions likely to generate a tsunami" in the Pacific
Disclaimer: If you need to update/edit/remove this news or article then please contact our support team
Learn more
Add Then24 to your Google news feed.