18 mar 2023 7:33 p.m

After the massive protests against Emmanuel Macron's pension reform, the French police reacted by restricting the right to demonstrate. Massive protests broke out two nights in a row on Pariser Platz opposite Parliament.
During the protests against the latest developments in French President Emmanuel Macron's pension reform, numerous people were arrested across the country on Saturday night. There had been violent riots in Paris and Lyon. The police reacted by restricting the right to demonstrate. Like the news agency AFP announced in the afternoon that protests on Pariser Platz opposite Parliament have been banned after two straight nights of rioting.
The reason for the riots was a decision by the French government that wanted to push through the controversial pension reform without a vote in parliament. French Industry Minister Roland Lescure then told the radio station on Saturday france info, there is no question that violence should lead to backtracking on important reform.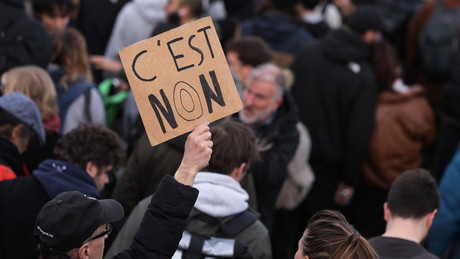 But people took to the streets not only in Paris, but also in Strasbourg, Rennes and Nantes. According to media reports, demonstrators in Lyon attacked a mayor's office and set fire to the entrance. 36 people were arrested. In Paris, the police arrested 61 people during riots on the central Place de la Concorde. The police used water cannons and tear gas against demonstrators who previously threw stones and firecrackers.
Violent protests had already taken place on Thursday in the square near the parliament building. Like the news agency AFP wrote on Saturday that the prefecture of Paris had banned gatherings on the Place de la Concorde and the adjacent Champs-Élysées after the riots.
More on the subject – France is on fire: Macron pushes through pension reform without parliamentary vote
By blocking RT, the EU aims to silence a critical, non-pro-Western source of information. And not only with regard to the Ukraine war. Access to our website has been made more difficult, several social media have blocked our accounts. It is now up to all of us whether journalism beyond mainstream narratives can continue to be pursued in Germany and the EU. If you like our articles, feel free to share them wherever you are active. It's possible because the EU hasn't banned our work or reading and sharing our articles. Note: However, with the amendment of the "Audiovisual Media Service Act" on April 13, Austria introduced a change in this regard, which may also affect private individuals. That's why we ask you not to share our posts on social media in Austria until the situation has been clarified.
Disclaimer: If you need to update/edit/remove this news or article then please contact our support team
Learn more
Add Then24 to your Google news feed.