17 mar 2023 3:03 p.m

In the Ukraine, state authorities have initiated a project for deserting Russian soldiers. They are promised that they can apply for asylum in Germany. The federal government says that there is no such promise of asylum.
Russian soldiers who deserted are said to be granted asylum in Germany. This is the promise of the Ukrainian project "I want to live", which is supported by the "Coordinating office for the treatment of prisoners of war" in cooperation with the Department of Defense and the "Main Directorate of Ukrainian Intelligence Services" is organized.
This should motivate Russian and Belarusian soldiers to desert. As the NachThinkPages to reportalso spread US media and news portals, such as radio FreeEurope/Radio Liberty identical information about the Ukrainian project.
The official website of "I want to live" also promises German asylum for Russian deserters: "As part of the project, we guarantee the possibility of applying for asylum in the Ukraine or other European countries." And the spokesman for the project, Vitaly Matvienko, told the Russian-language TV channel funded by the US Congress CurrentTime explained:
"A person who has (voluntarily) surrendered can apply for asylum in Germany and the Netherlands. Representatives of these countries have previously said that they are ready to accept such prisoners of war."
On March 15, Andrej Hunko, member of the Bundestag and spokesman on Europe for DIE LINKE, asked the German government about the promise of German asylum for Russian deserters: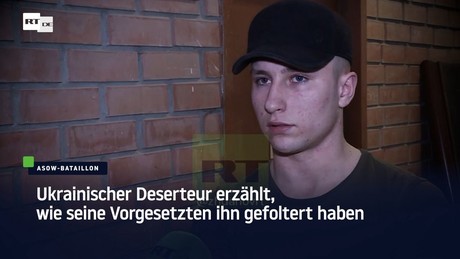 "Is it true that Russian deserters have the opportunity to apply for asylum in Germany from captivity in Ukraine via the Ukrainian state project 'Choču žit' – 'I want to live', and what other similar or comparable programs is the federal government aware of , through which Russian deserters from captivity in Ukraine can apply for asylum in the states of the European Union, including Germany?" The answer from the federal government clearly denied that there were such promises of asylum for deserting soldiers from Russia in Germany:
"No. The federal government is also not aware of any other similar or comparable programs in terms of the question."
However, the government representatives Maximilian Kall and Steffen Hebestreit already had on September 23 last year opposite explained. According to their statements, Russian deserters threatened by repression could apply for asylum in Germany:
"Anyone who courageously opposes Putin's regime and therefore puts himself in the greatest danger can apply for asylum in Germany because of political persecution,"
the spokesman for the Federal Ministry of the Interior, Kall, quoted the Federal Minister of the Interior, Nancy Faeser, last autumn. Government spokesman Steffen Hebestreit said in Berlin on September 23 that Germany, together with the other EU states, wanted to find "a viable solution" for dealing with Russian deserters, as did the daily newspaper taz reported.
According to the newspaper, politicians from different parties also wanted to grant asylum to Russian deserters at the time. Justice Minister Marco Buschmann (FDP) is up Twitter posted that "anyone who hates Putin's way and loves liberal democracy" is welcome. The SPD parliamentary group Vice Dirk Wiese have compared to the Rheinische Post said, he considers the increased penalties for people who evade conscription "already as a sufficient reason for asylum according to the current legal situation".
more on the subject – Russia tightens penalties for criticism and fake news about volunteer fighters
By blocking RT, the EU aims to silence a critical, non-pro-Western source of information. And not only with regard to the Ukraine war. Access to our website has been made more difficult, several social media have blocked our accounts. It is now up to all of us whether journalism beyond mainstream narratives can continue to be pursued in Germany and the EU. If you like our articles, feel free to share them wherever you are active. It's possible because the EU hasn't banned our work or reading and sharing our articles. Note: However, with the amendment of the "Audiovisual Media Service Act" on April 13, Austria introduced a change in this regard, which may also affect private individuals. That's why we ask you not to share our posts on social media in Austria until the situation has been clarified.
On February 24, Russian President Vladimir Putin announced that he would launch a special military operation in Ukraine together with the armed forces of the Donbass republics to protect the population there. The goals are to demilitarize and denazify Ukraine. Ukraine speaks of a war of aggression. On the same day, Ukrainian President Vladimir Zelenskiy declared a state of war across the country.

The West condemned the attack, reacted with new deliveries of weapons, promised help with reconstruction and imposed sanctions on Russia.

Scores of soldiers and civilians have been killed on both sides of the conflict. Moscow and Kiev have accused each other of various war crimes. Thousands of Ukrainians have now fled their homeland.
Disclaimer: If you need to update/edit/remove this news or article then please contact our support team
Learn more
Add Then24 to your Google news feed.