In 2005, a brand new resident Evil was invited exclusively (temporarily) on GameCube. Capcom then delivered a fourth episode which caused a lot of ink to flow. Indeed, the firm had completely changed direction, offering a much more dynamic and action-packed production than the previous installments. Resident Evil 4 had therefore divided the community, but despite all this, this production had made an impression. Over the years, RE4 (for friends) has been ported to many platforms and even had a virtual reality version (read our test for the curious). It's 2023, the Japanese giant continues to release remakes of these old masterpieces. This time, it's around Resident Evil 4 to enjoy a new facelift. Simple copy-paste with better graphics? Something new? We've finished the beast, it's time to tell you about it.
Pure madness!
The visual part of this remake is simply incredible. The developers show once again that they have mastered the REEngine to impress us. Thus, we have environments crowded with elements of all kinds to immerse ourselves in gloomy and dark settings. The textures are superb and detailed, the play of light is impressive and the cinematics are enough to tickle the peepers. But the point that was able to rip our jaws out: the dismemberments. Resident Evil 2 knew how to surprise us in 2019, here Capcom take a new step with Resident Evil 4.
And for good reason, depending on where we are aiming, a part of the body can literally explode. For example, a shotgun blast to the ribs tears off part of the bust, revealing the internal organs in the process. Hands, legs, arms, head, hips… Anything goes! The hemoglobin twirls in all directions, it's very gory and violent. If you don't like this summary of brutality, drawing towards realism, note that there are no parameters to manage the physics of the bodies, whereas it is the case on computer. In short, you will understand, sensitive souls, you have been warned !
Praise, praise and more praise, but are there any imperfections lying around? The answer is yes. To start, there is a small crash issue from time to time. We've seen enemies floating slightly above the ground (giving that flying feel) or dead bodies stuck in walls and partitions. Even our hero was immobilized in a rock, forcing us to restart our game. Then, the rain is disturbing, because it is sharp, too bright in the image and contrasts with the dark rendering of the environments. The image then becomes a big bubble, making some passages unreadable. Finally, the easy expressions of our protagonists, in-game, are really sketchy. It lacks life, we feel like our heroes don't have a soul, it's very… strange. These small flaws will (certainly) be fixed with patches, but in no way spoil the overall experience of the game. The animations are crazy, the landscapes are magnificent (special mention to the castle which is phenomenal), in short, pure madness!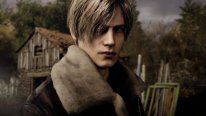 Several modes are available in the settings, namely "Frame rate", allowing you to enjoy a smooth adventure without dropping frame rate, and "Resolution", to have a sharp and flashy image. However, it is possible to adjust several options to obtain graphics according to your desires ; yes, a bit like on PC, but on consoles. So we can handle the ray tracingHDR, depth of field, motion blurTHE Lens distortion or even the rendering of the hair; It's up to you whether you prefer pretty highlights or a bunch of bold pixels. Of course, all this affects performance and therefore the number of frames per second. For simplicity, it is appreciable to leave us the choice of what suits us bestaccording to our TV / hardware.
The grip has been entitled to a lot of modifications to give players some flexibility during his escapade. So, various shortcuts are appearing so that we can easily and quickly select a weapon. The briefcase, acting as inventory, is always around and can be managed quickly by pressing an appropriate key. In other words, everything can be put away in a snap of the fingers, no more hassle to make room. The map, treasures and other documents do not take up space and can be found in specific locations in our menus. In two words: readable and accessible.
It's enjoyable!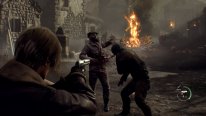 The adventure begins and we notice that the camera is very close to Leongiving a feeling of heaviness when moving. But after a few steps, we understand how to master our character. Walk, run, sprint, jump over a barrier, open a door, it's smooth and understandable, our former policeman from Raccoon City is nimble. Aiming speed can be a problem, as it is by default very slow; a bit boring if we want to point to a sensitive and precise place, like an enemy's head. Do not panic, it is possible to modify this aspect in the options to enjoy a certain flexibility in the movements.
Element that now has a major importance: the knife. The development team takes great inspiration from the remake of resident Evil first of the name (from 2002) to introduce a dynamic defense mechanic. The blade wears and breaks after a while, and can break when we stick it into the skull of an attacking opponent. The latter can be used to parry an attack, near or far. Impossible to do without. Also, we have to adapt to different attackers to clear our way. new creatures (strongly inspired by the first sketches rejected in the 2000s) arise in this new production. It is therefore necessary to understand and anticipate them in order to move forward with a certain ease. The more we progress, the more powerful the monsters are. We then have to boost and modify our equipment through the merchant. Brief, the evolution of our character is well thought outour dear Leon becomes a real war tank on its own over the course of this odyssey.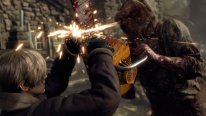 Who says remake, says changes here and there. We enter a universe much more oppressive than the original game. The image is heavy, the atmosphere is gloomy, the places are sinister, the enemies are macabre… We don't have to go into the crowd to achieve our objective. The title also invites us to sneak behind low walls and infiltrate to discreetly kill enemies dragging their feet. The exploration phases are much more present, we have to go back and forth to unlock doors and solve puzzles. It's more laid back. But to sum it all up, this new version is more like a "Resident Evil" of yesteryear than the Resident Evil 4 from 2002. There is now a good balance between infiltration, exploration and action. And as forAshley, the young lady is less intrusive and annoying, manages to understand dangerous situations and knows how to be discreet. It feels good !
Notice to PS5 players, the features of the DualSense are taken into account and have something to titillate. The haptic feedback manages to make us feel a material, but also the heaviness of the steps of Leon Between hands. The vibrations intensify according to the action and scrape the palms on one side or the other to immerse us as it should. The adaptive triggers, they harden more or less depending on the weapon we use and click under the finger to make us discern the weight of a trigger. It's really gripping! Regarding the small speaker, it is used during calls or when our hero hears voices in his head. All our senses are awakened, it's enjoyable!
Six years have passed since the tragedy in Raccoon City. Leon S.Kennedy is no longer a police officer and is now an agent of the United States government. The president's daughter has been kidnapped, our friend is given the mission to find her. Different leads push him to go to an isolated village in Europe. He will then cross paths with a strange sect that will give him a hard time.
A pure marvel.
The plot of the original game has therefore been retained, but several points of the scenario have been modified. Some sequences have been reinterpreted, while cult moments have been deleted. Without going into details, other defining moments surface to turn our brains, and it works. The stagings are better, more gripping, more creepy… This remake plays a lot on psychology to make us feel the madness of Leon along the adventure. In itself, to get to the final credits, count a good big fifteen hours. After what ? It is possible to restart the title while keeping its equipment and to unlock bonuses (artworksoutfits, etc.) by completing challenges.
Another facet that we have not mentioned, the part concerning the sounds. Capcom has a lot of fun with the effects and sound effects to stress the player. Screams, strange noises, creaks, the blowing of the wind… Our blunders try to understand what is happening in the surroundings to anticipate an upcoming altercation, while our eyes focus on the present moment. The heart panics and beats rapidly, the tension is at its peak. From time to time, a few notes invite themselves to the party to highlight an important moment. It's perfect. And the dubbing in all this? The French voices are very good bills and allow you to follow the story without constantly focusing on the subtitles. If you want to hear something else, English and Japanese are remarkable, the intonations are excellent, you will inevitably find your happiness somewhere.

Gameplay modernized, neat graphics, reworked story, this remake of Resident Evil 4 is a marvel. The atmosphere is so oppressive that we have sometimes put the party on Break and put the controller down for a few minutes to catch our breath. Expert work has been done to bring this horrific odyssey up to date which will undoubtedly surprise and charm the fans of the first hour. If you like stressful games, with action and shocking moments, don't miss this little nugget.
You can buy Resident Evil 4 on Amazon at €69.99.
Most
An impressive rendering…
The dismemberments, crazy!
Well thought out gameplay
A good balance between exploration and action
The sound part, stressful
Dubbing, excellent
A much more oppressive universe
DualSense sensations
The lessers
…despite some visual imperfections
Some passages with the rain, not very readable
Disclaimer: If you need to update/edit/remove this news or article then please contact our support team
Learn more
Add Then24 to your Google news feed.