The situation, said the president, "has tested" the response capacity of the State.
The President of Peru, Dina Boluarte, He launched this Friday the national crusade "Con Punche Perú Solidario: Let's act together", which aims to assist those affected by the disasters caused by heavy rains in the South American country.
"This 'Con Punche Perú Solidario' crusade includes regional governments, local governments, international cooperation, churches, the media (…) professional associations and civil society, that is, it involves us all", indicated Boluarte at the launch.
The president commented that in recent weeks Peru "has been hit by heavy rains and floods that have left towns and cities flooded, extensive material damage, as well as thousands of families who have lost their belongings and today find themselves in the open and helpless." ".
This situation, he added, "has tested" the response capacity of the State. "Today the country needs all of us. This is a moment for unity, for collective effort and for solidarity," emphasized Boluarte, whose management has been questioned since day one by massive protests demanding his resignation.
The president pointed out that, in addition to immediately attending to those affected by the rains, the operation seeks, in the short and medium term, "to carry out great works" to protect towns and cities and promote the development of the country.
"Our country and our compatriots require comprehensive solutions in the face of the ravages of nature, no longer short-term measures They haven't resolved anything," he said.
Boluarte launched this crusade after last Saturday manifested that the State does not have the resources to deal with the situation due to the rains.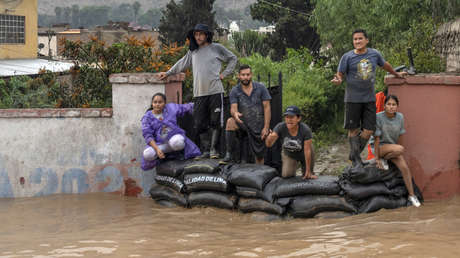 "Through the National Civil Defense Institute (Indeci) we warned several weeks ago that this natural phenomenon was going to affect the north of the country. Governors and mayors had no way to deal with it immediately and, the truth must be told, neither did the State , We don't have machinery, we don't have pumps. We don't have how to deal with this system of these natural rains," he said then.
The damages
The rains that affect the country are due to the passage of Cyclone Yaku. Boluarte indicated that the disasters produced by the natural phenomenon have left 50 muertos from January 1 to March 14 of this year, according to the latest report from the National Institute of Civil Defense and the National Emergency Operations Center.
In that period, according to the document read by the president, close to 8,000 homeless, more than 50,000 affected and 48 injured; likewise, more than 1,300 homes destroyed and another 1,800 uninhabitable, and 640 kilometers of highway affected.
Disclaimer: If you need to update/edit/remove this news or article then please contact our support team
Learn more
Add Then24 to your Google news feed.