17 mar 2023 1:09 p.m

Poland is leading the way, Slovakia is imitating it. The country is sending 13 Soviet MiG 29 jets to Ukraine. However, it remains unclear when the handover will take place. Slovakia did not name a specific timetable.
Slovakian Prime Minister Eduard Heger tweeted that Slovakia would provide Ukraine with 13 MiG 29 jets. Slovakia follows Poland, which has already made a similar decision. Poland pledged to deliver military jets on Thursday. During his visit to the Czech Republic, Poland's President Andrzej Duda said: "In the coming days we will (…) transfer four fully operational aircraft to Ukraine."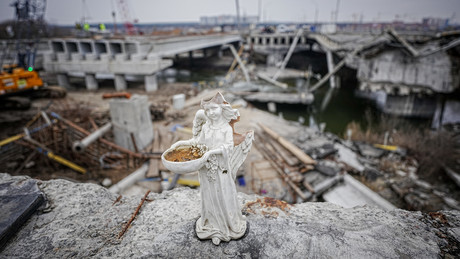 This handover, according to Duda, is taking place within the framework of an international coalition in support of Ukraine. However, Duda did not say which countries belong to this coalition.
The advantage of supplying machines from the MiG series is obvious. The Ukrainian army is familiar with handling the jets originally developed in the Soviet Union. Immediately after the pledge in January to supply heavy battle tanks, Ukraine made demands for fighter jets.
The country continues to rely on a military solution and makes the complete surrender of Russia a condition for the start of peace negotiations. Ukraine has written this down in a so-called "10-point peace plan".
More on the subject – The NATO writer and the "lumpenpacifists"
By blocking RT, the EU aims to silence a critical, non-pro-Western source of information. And not only with regard to the Ukraine war. Access to our website has been made more difficult, several social media have blocked our accounts. It is now up to all of us whether journalism beyond mainstream narratives can continue to be pursued in Germany and the EU. If you like our articles, feel free to share them wherever you are active. It's possible because the EU hasn't banned our work or reading and sharing our articles. Note: However, with the amendment of the "Audiovisual Media Service Act" on April 13, Austria introduced a change in this regard, which may also affect private individuals. That's why we ask you not to share our posts on social media in Austria until the situation has been clarified.
On February 24, Russian President Vladimir Putin announced that he would launch a special military operation in Ukraine together with the armed forces of the Donbass republics to protect the population there. The goals are to demilitarize and denazify Ukraine. Ukraine speaks of a war of aggression. On the same day, Ukrainian President Vladimir Zelenskiy declared a state of war across the country.

The West condemned the attack, reacted with new deliveries of weapons, promised help with reconstruction and imposed sanctions on Russia.

Scores of soldiers and civilians have been killed on both sides of the conflict. Moscow and Kiev have accused each other of various war crimes. Thousands of Ukrainians have now fled their homeland.
Disclaimer: If you need to update/edit/remove this news or article then please contact our support team
Learn more
Add Then24 to your Google news feed.