52 percent representatives of generation Z and 53 percent. of millennials believe that women have enough rights and that men are increasingly discriminated against, according to a study by Ipsos UK and the Global Institute for Women's Leadership. In Thailand or China, over 80% of respondents agree with such statements. respondents. How were these questions answered in Poland?
Half of millennials and Zetek believe that women have more rights than men

Thanks to the tireless struggle of Polish activists, today we can vote, study, work in any profession, we do not have to get married, we can have our own bank account and decide about our assets. Despite all these achievements, we still have a long way to go to achieve true equality. Currently, a Polish woman works for free for almost two months a year compared to a man employed in the same position. Women perform 60% of more unpaid domestic and care work than men. They cannot decide about their body, and statistics show that 70 percent rape cases reported to the police are discontinued in Poland.
Do Poles think that men are discriminated against? photo. Creative Christians

Photo: unsplash

Still, recent research has revealed something odd: more than half of young people believe women have enough rights. More than 22,000 women participated in the study, conducted by Ipsos UK and the Global Institute for Women's Leadership at King's College London. people from 32 different countries. Respondents were between 16 and 74 years old. It turned out that out of all people who took part in the study, 52 percent representatives of generation Z and 53 percent. of millennials believe that promoting gender equality has already gone as far as now men are discriminated against. In addition, less than half of Gen Z respondents describe their views as feminist.
Do Poles think that men are discriminated against?

Against the background of the 32 countries that took part in the survey, Poland is one of the countries that supports gender equality the most. Only 26 percent of respondents agreed that gender equality has gone too far, and only a third of people believe that men are discriminated against.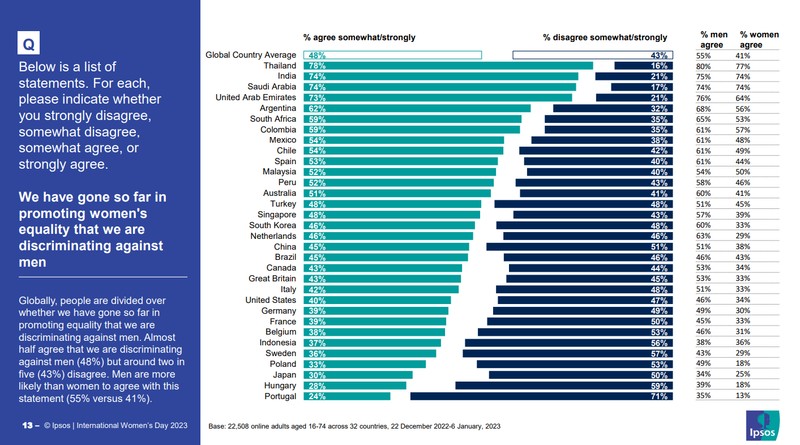 Are men discriminated against? This was the answer in 32 countries. kcl.ac.uk

Photo: press materials

What is the situation in other countries? The worst is in Indonesia, China and Thailand, where more than 80 percent. Of those who took part in the survey said they agree with the statement that "things have gone too far", just as many believe that men are discriminated against and have fewer rights than women.
Traditional Wives and Misogyny by Andrew Tate

Despite many positive changes, it will take us another 300 years to achieve full gender equality, but especially in social media there is a kind of retreat from feminism in favor of the increasingly popular movement of tradwives or misogynist influencers like Andrew Tate.
Faced with particularly unfavorable socio-economic conditions, many young people are looking for a simple answer to why their lives are so difficult: it is easy to understand why some point the finger at feminism. Tradwives argue that feminism has made women worse offencouraging them to enter the labor market, and being a "traditional wife" is a clever way to "cheat" the capitalist system and quit a poorly paid job.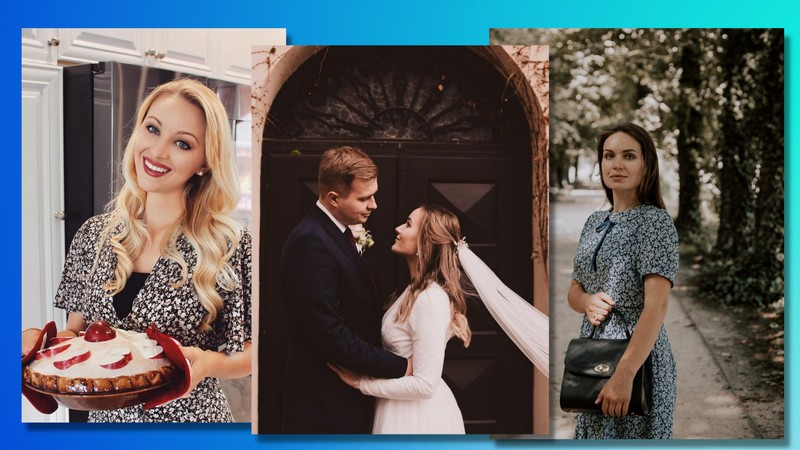 Who are the tradwifes? In Poland, Wiktoria Wilkosz and Karolina Baszak talk about it. _cynthialoewen/ wiktoriawilkosz/ karolinabaszak

Photo: Instagram

See also: They hear from their mothers that they are losers. Idols envy women, cars and apartments
The crisis of masculinity and the growing number of single heterosexual men make extreme anti-feminine content grow in popularity and more and more boys and men believe that feminism is the root of all their problems. Disappointment with the modern world means that the guilty party is looked for in the wrong place – conclude the authors of the study.
Disclaimer: If you need to update/edit/remove this news or article then please contact our support team
Learn more
Add Then24 to your Google news feed.