Invited by Vladimir Putin, Xi Jinping will visit Russia next week. They had shown their willingness to support each other during their first meeting.
By LL with AFP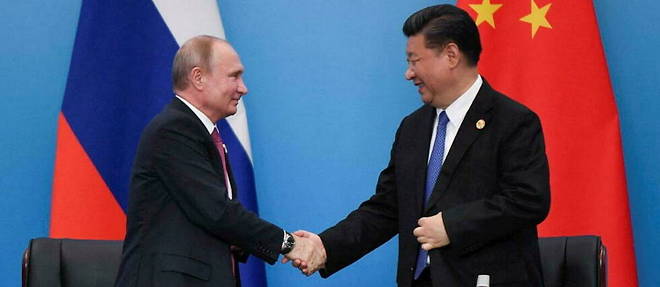 LChinese President Xi Jinping will visit Russia next week, the Chinese Foreign Ministry announced on Friday. "At the invitation of President of the Russian Federation Vladimir Putin, President Xi Jinping will pay a state visit to Russia from March 20 to 22," the ministry said in a statement without further details.
The two leaders met in September on the sidelines of a Shanghai Cooperation Organization (SCO) summit in Uzbekistan. For their first meeting since the Russian invasion of Ukraine in February 2022, they had shown their desire to support each other and strengthen their ties in the midst of a crisis with Westerners.
READ ALSOPutin, Xi Jinping, Erdogan: hands down Africa
A friendship "without limits"
A few months earlier, the Russian president had visited the Winter Olympics in Beijing. Xi Jinping and Putin then proclaimed their "limitless" friendship. Shortly after, Vladimir Putin launched his troops against Ukraine.
China presents itself essentially as a neutral party in the war in Ukraine, but has been strengthening its ties with Moscow in recent months. Beijing released a 12-point document last month urging Moscow and Kyiv to hold peace talks.
The text also opposes any recourse to nuclear weapons and calls for respect for the territorial integrity of all countries, also implying that of Ukraine, part of whose territory is under Russian control.
Newsletter international
Every Tuesday, receive the best of international news, and receive exclusive previews from Le Point.
The editorial staff of Le Point advises you
Disclaimer: If you need to update/edit/remove this news or article then please contact our support team
Learn more
Add Then24 to your Google news feed.