Colon cleansing, coffee enema, ozonation of the anus or being on constant detox are just some of the "fashionable" tips that Gwyneth Paltrow has been giving her fans for many years. An orgasm-scented candle may be fun, but promoting harmful and often unhealthy products or procedures is a different story.
The "healthy" diet of Gwyneth Paltrow

A few days ago, Gwyneth Paltrow gave an interview that resonated widely and once again provoked a discussion in the media. In the latest episode of the podcast "The Art of Being Well with Dr. Will Cole", the Hollywood actress detailed her restrictive diet, which has been criticized by experts.
Paltrow has confessed that she is a proponent of "intermittent fasting": around noon, he drinks a cup of black coffee ("coffee is supposed to suppress appetite, deceive the body so that it does not feel hunger" – doctors comment), he eats broth for lunch ("bone broth has very little nutritional value and should not be viewed as a complete, balanced meal"), and na dinner "lots of vegetables". The actress follows a paleo diet that excludes processed foods, dairy, sugar and salt.
What does Gwyneth Paltrow's diet look like? Experts say it's pretty bad. @dearmedia

Photo: Tik Tok

Gwyneth Paltrow, once an actress and for several years the CEO of the Goop brand, built her billion-dollar empire mainly by recommending ridiculous, ridiculously expensive products and medically questionable and often dangerous therapeutic procedures. Behind providing false information for jade vaginal "eggs" that were supposed to increase orgasm and improve bladder control, her company was fined $145,000. hole.
In 2018, The Good Thinking Society, a charity that fights against pseudo-scientific gibberish, accused Goop of deliberately misleading, giving "potentially dangerous" health advice and encouraging customers to "use products that can cause direct harm to health".
Gwyneth Paltrow: the symbol of celebrity pseudoscience

As Goop has been increasingly accused of promoting harmful and often downright dangerous advice and products, The company hired a fact-checker, and in the articles published on the website devoted to wellness practices, experts began to be often quoted and the results of various studies were referred to. To further protect against possible lawsuits, a notice appeared in the site's description reminding readers that Goop is primarily intended to be "entertaining and informative" and that the products or procedures listed on the site are not intended to replace professional medical advice, diagnosis or treatment. Clever.
While many of the products or advice on the site are just plain stupid, some of the treatments, procedures, and gadgets can pose serious health risks. Below are five of the most absurd examples.
Gwyneth thinks you should steam your vagina

On the Goop website there is a description of the "Mugworth V-Steam" procedure, which can be used at one of the clinics in California. "You're sitting on what's basically a minitron, and a mixture of infrared and mugwort steam cleanses your uterus. The energetic release balances female hormone levels." So much for the description, but what is it about?
Gynecologists immediately criticized this advice, warning that steaming the vagina can cause burns or disrupt the delicate bacterial balance of the vagina. "The vagina cleans itself," gynecologist Jen Gunter explained on her blog. "I don't need a herb sausage to do a good job." The claim that the procedure is to "balance female hormones" is also nonsense. "I don't know how water vapor would affect female hormones," Mary Jane Minkin, a Yale School of Medicine professor, told Women's Health.
Gwyneth says you should insert a jade egg into your vagina

On the Goop website, you can buy an egg made of jade, which, when placed in the vagina, is supposed to strengthen the pelvic floor and lead to "increased sexual energy, health and pleasure". The gadget costs $ 66. "Jadeite is a porous material, can be a breeding ground for bacteria and lead to bacterial vaginosis or toxic shock syndrome," notes gynecologist Jen Gunter.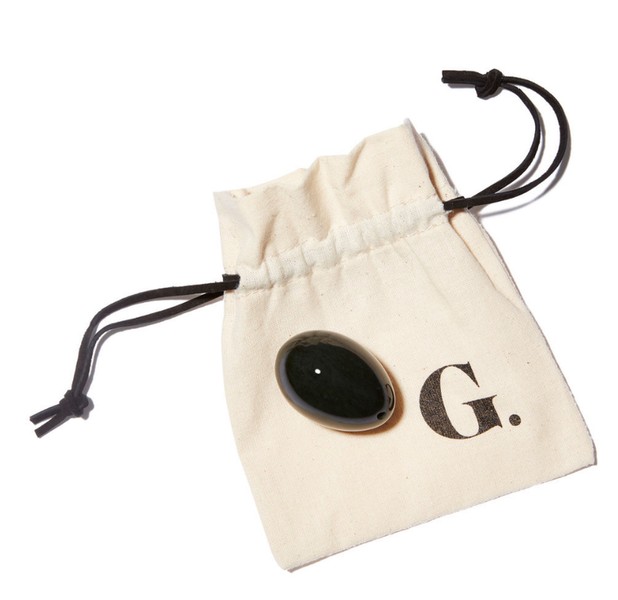 Jade Egg Photo. Goop

Photo: press materials

It's true that having a strong pelvic floor leads to more powerful orgasms, but using Gwyneth's jade egg isn't the only way to achieve this goal. Instead, use evidence-based Kegel exercises that can be done with a tampon, finger, or nothing at all.
Gwyneth says you need to cleanse your colon

What is the hydrocolonotherapy treatment that Paltrow is a proponent of? During the procedure a plastic tube is inserted into the rectum through which, using a special apparatus, filtered, heated water is forced into the large intestine. The procedure lasts about an hour, during which the colonic lavage is repeated many times. Lovers of the procedure explain that our colons are filled with toxins, and hydrocolonotherapy is the best way to get rid of them from the body and completely cleanse the intestines of fecal masses.
They also indicate an improvement in peristaltic movements of the colon, strengthening its muscles, and an improvement in the general well-being of the person who will benefit from the procedure. Doctors believe that such a procedure is not needed, and most importantly, the effectiveness of the treatment has not been confirmed in any studies. However, there is no shortage of publications that indicate the risks associated with this procedure, such as: electrolyte disturbances leading to cardiac arrhythmias, paresthesias, i.e. hyperesthesia, or gastrointestinal motility disorders.
Gwyneth thinks you should take Ayurvedic herbs or supplements

Goop promotes and sells herbs used in Ayurveda, a medical system that originated thousands of years ago in India and is still practiced today. Ayurvedic treatment can include diet, exercise and a specific lifestyle, but according to Gwyneth, supplements are the most important. Majority supplements is useless, but some may contain toxic amounts of dangerous heavy metals. A study published in 2015 in the journal "International Journal of Occupational and Environmental Health" showed that 40 percent. lead poisoning from Ayurvedic supplements. It is worth remembering that the use of any supplements should only take place after consulting a doctor.
Gwyneth recommends anal ozonation

The "anal ozone therapy" admitted to by Gwyneth in a recent interview is a popular procedure offered by American "wellness" spas and clinics run by fashionable "gurus". Proponents of this treatment claim that rectal ozone therapy "reduces the amount of toxins found in the intestines and body", "strengthens the immune system and immune response", "restores intestinal health and function to optimal state", "reduces chronic inflammation throughout the body" , and "kills bacteria, parasites, viruses and yeast". What does the procedure look like? Rectal ozone therapy is basically insufflation of ozone where the sun does not reach. Is there any scientific evidence that rectal ozone therapy actually works and may have "potential therapeutic properties"? 70 scientific articles have been published on the PubMed website. Some of them describe studies checking whether ozone therapy can accelerate the healing of wounds and ulcers, alleviate the symptoms of fibromyalgia and support the treatment of coronary artery disease in humans.
It is worth noting that most of the research was conducted on rats, not humans. Experts agree on one thing – ozonation can irritate the mucous membranes of the anus, so it is better not to undergo a harmful treatment, because a famous actress praised it.
My advice? When a celebrity who is not a medical expert or a scientist claims to be using some kind of therapy, be very, very skeptical.
Sources:
forbes.com / rollingstone.com / news.com.au
Disclaimer: If you need to update/edit/remove this news or article then please contact our support team
Learn more
Add Then24 to your Google news feed.