Manufactured by a group of researchers, this small spy robot is stealthy and small enough to go unnoticed by the enemy; being fully capable of self-destructing once its mission is completed, as indicated in NewScientist. A device that in the future could be used in conflicts to covertly collect data, dissolving into a puddle of oily texture before falling into the wrong hands.
Develop soft robots -those that are made with more flexible materials- that can control their own life cycle and degrade on demand while maintaining their hyperelasticity It is a major research challenge., as the scientists point out in their study. In this case, they have created such a machine that quickly self-destructs under specific external stimulation, such as when placed under ultraviolet (UV) light.
This robot will self-destruct.
The spy robot, created by Professor Seung-Kyun Kang of Seoul National University in South Korea, along with a diverse group of scientists, It is approximately three centimeters long and has four legs.. And it moves using pneumatic air that allows it to both wrinkle and slide across any surface like a worm.
The researchers have created this machine using material developed by themselves. Specifically, they have manufactured a silicone that they have mixed with fluoride ion-emitting diphenyl iodonium hexafluorophosphate (DPI-HFP) that has the ability to degrade rapidly after exposure to ultraviolet light and heat.
The great innovation of this machine is that it can expose itself to ultraviolet light and disintegrate into a totally unrecoverable form in those scenarios where you want it to self-destruct. For example, during a war once you finish your espionage mission or when you are discovered by the enemies, so that they cannot know what confidential information you have obtained.
In addition to this, the robot also has a series of soft technologies inside, including voltage sensors, temperature to sense the environment and photodetectors, which encounter ultraviolet light under normal operating conditions. The last two sensors serve to monitor the trigger conditions that initiate the destruction of the device.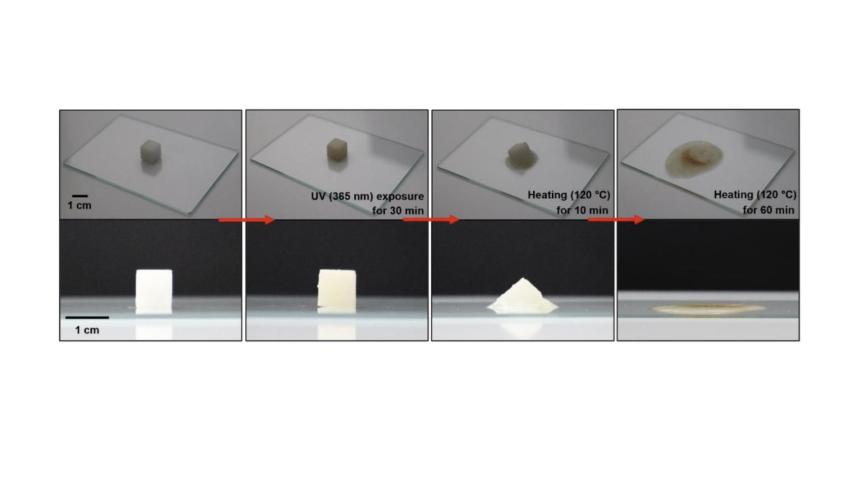 During the study, the researchers simulated a mission to test their new robot. In it, the machine had to explore an unknown environment and self-destruct before the enemies caught him. The scientists note in their research that during this test their device first took temperature readings from a heat gun and then moved to a different area.
For that same displacement the robot used photodetectors to find ultraviolet light from a lamp. While in a third zone of the mission, the machine was able to alert researchers when temperature levels were too high.
To finish the test and completing the task, this machine located and moved towards a hot plate that was at 120°C. Due to its heat and previous exposure to ultraviolet light from the lamp, the spy robot dissolved in an oily fluid in about an hour.
Uses beyond military
Although this machine has been initially designed thinking that in the not too distant future it can be used to collect enemy confidential information during a conflict; the truth is that the researchers also point out that this soft robot spies could be useful in other scenarios.
For example, the scientists indicate that it would be of great help to reduce waste from soft robotics, to explore dangerous areas where robot recovery is impossible or to "guarantee the safety of the hardware in military operations of invasion or transport", since they can deteriorate before the enemies recover it.
(The Madrid robot that will help the firefighters: locate the origin of the fire and the victims)
The robot is now just a prototype, but the study bills itself as research to follow. "I think the recognition and data collection – by the robot – is optimistic. The researchers are selling a view that, maybe in 20 years this machine will be doing espionage tasks", says Matthew Johnson-Roberson, one of the authors and a professor at Carnegie Mellon University in Pennsylvania (United States).
You may also like…
Follow the topics that interest you
Disclaimer: If you need to update/edit/remove this news or article then please contact our support team
Learn more
Add Then24 to your Google news feed.