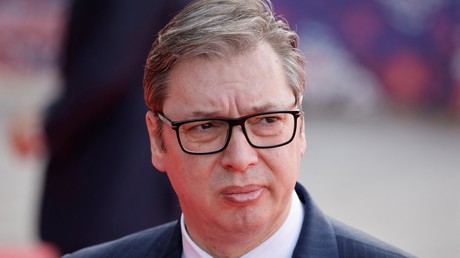 If the EU encourages Belgrade to normalize its relations with Pristina, the Serbian head of state suggested that the leaders of Kosovo had for their agenda to "humiliate Serbia".
"They want Serbia to be dragged into a conflict with NATO."
During a session of the highest body of the Serbian Progressive Party (SNS) on March 10, President Aleksandar Vucic hinted that the leaders of Kosovo – whom he does not name – wanted drag Serbia into a new war with Western powers. A scenario in which the Serbian president would be presented as "a kind of Putin and Kurti (…) a kind of Zelensky", in reference to the self-proclaimed head of the Kosovo government Albin Kurti. "They don't want normalization. They want to humiliate Serbia. But I promise you that will never happen", continued the Serbian head of state.
At the end of February, after strong pressure on Belgrade, the head of diplomacy of the European Union Josep Borrell was pleased to have brought – according to him – Vucic and Kurti on the verge of an agreement normalization of their relations. A plan defining the framework for a possible "de facto recognition" of Kosovo's independence by Serbia. Thus, according to this European plan, if Serbia would not be forced to recognize the independence of the province of Kosovo, it would not oppose Pristina joining the UN or the EU.
Vucic opposed to Kosovo joining the UN
"As long as I am president, I will not sign or accept official or unofficial recognition of Kosovo or that Kosovo join the UN," Vucic had clarified on Serbian television, in the wake of this meeting in Brussels. Since September 2021 and the crisis over Serbian vehicle license plates, tensions between Belgrade and Pristina have been high, raising fears of the outbreak of a new armed conflict in the region.
Recognized by the United States and many Western countries, but not by China, Russia, India or even Spain, the Serbian province of Kosovo, populated mainly by Albanians, unilaterally proclaimed its independence from Serbia. in 2008. Serbs still live, within enclaves, in this territory which has escaped the authority of Belgrade for more than 20 years. According to Serbian Prime Minister Ana Brnabic, 300 attacks against Serbs have been recorded there in the past two years. At the beginning of January, on Orthodox Christmas Eve, two young Serbs aged 11 and 21 were shot and wounded when they went to collect the traditional oak branches.
Disclaimer: If you need to update/edit/remove this news or article then please contact our support team
Learn more
Add Then24 to your Google news feed.