In 2020, we learned that Microids had signed an agreement with Moulinsart to develop and publish a new game Tintin. We then had to wait until last summer to finally discover Tintin Reporter – Cigars of the Pharaohwho therefore promised to adapt this cult adventure on consoles and PC, with the project head Pendulum Studios. Since then, a simple new visual had been unveiled as part of the Desert Bus of Hope last month. Well, this Thursday evening takes place the ceremony of Pegasus 2023who offered himself the reveal of the very first trailer of gameplay Game.
Between cutscenes with a very singular visual style with Philemon Siclone, Dupond And Dupontwe thus find the game reporter exploring a temple, in what appears to be a platforming sequence in the Arabian military base, as well as flying a plane and in a car chasescenes that will inevitably bring back memories to readers.
Tintin and his faithful companion Snowy are going to live extraordinary adventures… After meeting Professor Siclone during a crossing of the Mediterranean, the famous Belgian reporter sets out in search of the tomb of the pharaoh Kih-Oskh.

But what dark secret does it hold? From Egypt to India, via Arabia, Tintin and Snowy will have to investigate a drug case in the East.

An adventure faithful to the album and colorful

Rich in all the facets of the world of Tintin and a story full of twists and turns that is part of Hergé's great creative heritage, this game plunges you into the heart of a mysterious Egypt and other lands of incredible beauty. infinite. Les Cigares du Pharaon, the fourth album in the series, was pre-published in December 1932 in the youth supplement Le Petit – Vingtième.

A game rich in adventures

Join Tintin in phases of action and reflection and try to solve a case of international drug trafficking by exploring the Orient, an ancient temple, a piece of desert, the depths of a lush jungle or other places strewn with pitfalls

A multitude of different gameplays

Unique and innovative gameplay combining all the best elements of adventure and investigation games. A game that invites you to put on your investigator / reporter costume: search, infiltrate to find clues and solve puzzles using investigative dialogues sumptuously enriched with breathtaking video sequences.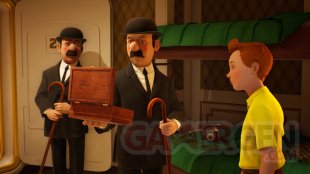 Tintin Reporter – Cigars of the Pharaoh will be released this year on PS5, PS4, Xbox Series X|S, Xbox One, Switch and PC. If you have never had the opportunity to read the adventures imagined by Hergé, the albums are on sale at the Fnac.

Responsible Corrector – Editor
Alexandre SAMSON (Omega Law)
Addicted to Assassin's Creed and Destiny, great fan of RPGs and passionate about video game experiences in general. Reader of comics (DC) and various manga (One Piece!). Chemist by training and Whovian at heart.

Follow me

:
Disclaimer: If you need to update/edit/remove this news or article then please contact our support team
Learn more
Add Then24 to your Google news feed.