9 Mar 2023 1:10 p.m

Georgia is becoming a target of regime change over its refusal to open a "second front" against Russia. The West wants to punish Prime Minister Irakli Gharibashvili for his pragmatic refusal, also because he promised never to arm Kiev.
A commentary by Andrew Korybko
The former Soviet republic of Georgia saw a serious attempt at a color revolution on Tuesday night after radical pro-Western rioters tried to storm parliament. This came in response to the passage of a law requiring all organizations with at least 20 percent foreign funding to register with the authorities. The US-led Western mainstream media fabricated a false narrative in the run-up to the events: it claimed that the law was based on a rule applied in Russia, even though it was explicitly inspired by an existing similar law in the US – the FARA, Foreign Agent Registration Act of 1938.
This well-intentioned attempt to protect Georgia's fledgling and admittedly imperfect democracy from foreign interference within its sovereign rights was later used as a pretext for organizing a violent uprising against Prime Minister Irakli Gharibashvili. The West wants to punish him for his pragmatic refusal to open a "second front" in the US proxy war against Russia after he publicly exposed this plot in early December 2022 and at the same time also promised had never arm Kiev.
President Salome Zurabishvili, who was in New York on Tuesday evening during the unsuccessful attempt to overthrow the UN, vowed in a video message her full support for the insurgents. She, too, used the false narrative, claiming that the law was supported by Russia.
Readers should be aware that Zurabishvili was born in France and has spent most of her career as a French diplomat – until 2004 she was Ambassador of France to Georgia. At that time, Zurabishvili received Georgian citizenship only on the basis of an agreement between the French and Georgian governments. Mikhail Saakashvili had proposed this after his own successful color revolution the year before so that Zurabishvili could become his foreign minister. Since then, Zurabishvili has functioned in every respect as one of the most important "agents of influence" of the collective West in Georgia. Although the office of prime minister has more power these days due to previous political reforms, the office of president still gives her some influence in society.
Against this background, a violent coup was attempted in Tbilisi on the evening of March 7, 2023. Russia was already prepared for this scenario after Foreign Minister Sergei Lavrov announced it earlier in February warned that something was actually going on in the former Soviet republic. In an interview with a well-known television journalist at the time, he said:
"The fact that they want to turn Georgia into another irritant to bring the situation back to the aggressive state of Saakashvili's era is beyond doubt."
It is also worth noting that the West's recent attempt to unleash a color revolution in the region has come amid continued Russian advances around Artemovsk (Bakhmut). This prompted the President of Ukraine, Vladimir Zelenskiy warningthat Russia could roll through the rest of the Donbass should that city be captured. On the same day, and just hours before the attempted storming of the parliament in Tbilisi, Russian Defense Minister Sergei Shoigu confirmed that a victory in Artemovsk would crush Kiev's regional defenses.
The strategic dynamic on the eve of Georgia's unsuccessful regime change can be summarized as follows: The mainstream media had already planted a false narrative prior to the parliamentary vote on the US-inspired Foreign Agents Act. This claimed the law was a sign of the country's leaning toward Russia. This information war campaign is being waged against the Prime Minister of Georgia for refusing to open a "second front" against Russia in early December 2022 to ease pressure on the US and NATO proxies in Ukraine.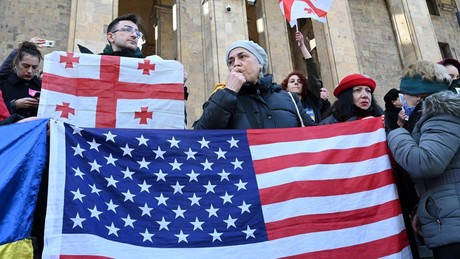 The Georgian President happened to be in New York when everything was unfolding in Tbilisi, and she fully supported this attempt at regime change. At the same time, both Defense Ministers Shoigu and Zelensky informed that Russia could roll through the rest of the Donbass if Artemovsk were captured. This set the stage for an attempt to violently overthrow Prime Minister Irakli Gharibaschvili on Tuesday evening.
It would be premature to say that Gharibashvili is firmly entrenched in his position despite the security services' successful defense of parliament from the rioters. But much could still be done to advance the US agenda for regime change in Tbilisi. Georgia is a deeply divided country that has been under immense Western influence for the past two decades. During this time, the West managed to persuade a significant part of the population to serve the geopolitical interests of the EU and NATO.
There is no shortage of "useful idiots" who, because of their liberal-globalist ideology, are easily misled into destabilizing the country to the detriment of its national interests. This means that Georgia is likely to become the newest front in the New Cold War, as this crisis is unlikely to be resolved any time soon. The situation is extremely serious, and the outcome of the undeclared US hybrid war against Georgia could directly affect developments in Donbass.
more on the subject – Turning away from the path to the EU? – Brawl in Georgian parliament over "agent law"
From the English
Andrew Korybko is a Moscow-based American political scientist specializing in US strategy in Africa and Eurasia, China's Belt & Road Initiative, Russia's geopolitical balancing act and hybrid warfare.
RT DE strives for a broad range of opinions. Guest posts and opinion pieces do not have to reflect the editor's point of view.

By blocking RT, the EU aims to silence a critical, non-pro-Western source of information. And not only with regard to the Ukraine war. Access to our website has been made more difficult, several social media have blocked our accounts. It is now up to all of us whether journalism beyond mainstream narratives can continue to be pursued in Germany and the EU. If you like our articles, feel free to share them wherever you are active. It's possible because the EU hasn't banned our work or reading and sharing our articles. Note: However, with the amendment of the "Audiovisual Media Service Act" on April 13, Austria introduced a change in this regard, which may also affect private individuals. That's why we ask you not to share our posts on social media in Austria until the situation has been clarified.
Disclaimer: If you need to update/edit/remove this news or article then please contact our support team
Learn more
Add Then24 to your Google news feed.