9 Mar 2023 06:30 am

The Bundeswehr lacks combat-capable tanks for the NATO rapid reaction force. Defense Minister Boris Pistorius admitted to a "maintenance and repair backlog", but assured that the problem "will now be solved". According to internal Bundeswehr documents, the rapid reaction force is not operational this year.
Germany is unable to meet its NATO obligations should an emergency require an immediate military response, the reported ZDF. Berlin is set to form the core of the military bloc's Very High Readiness Joint Task Force (VJTF) this year, but the responsible military unit lacks combat-ready tanks for use, the broadcaster said on Monday, citing internal documents.
In the event of an attack on NATO, the VJTF (rapid reaction force) is the organization designed to be the first to meet an adversary. The 8,000-strong force has to be ready for action within two to seven days, but the Bundeswehr's 393rd tank battalion is hardly up to the task ZDF.
In the Bundeswehr, only one unit stationed in Central Thuringia is equipped with state-of-the-art Leopard 2 A7V battle tanks. However, not enough of them are ready for use. At least 30 of the unit's 44 heavy main battle tanks would need to be operational year-round to meet VJTF requirements. In January, the unit had only 17 operational tanks. This would emerge from the internal documents that were available to ZDF. In February, that number increased to 20, still below VJTF standards.
After the ZDF According to well-known Bundeswehr estimates, the battalion is no longer ready for VJTF operations this year. The number of combat-capable tanks will probably never exceed 23. According to this, the Bundeswehr has already extended the period for the prescribed tank maintenance from 12 to 24 months in order to increase the number of combat-ready tanks in the 393rd Battalion. Otherwise, eleven other tanks would have had to be classified as unserviceable, the reported ZDF.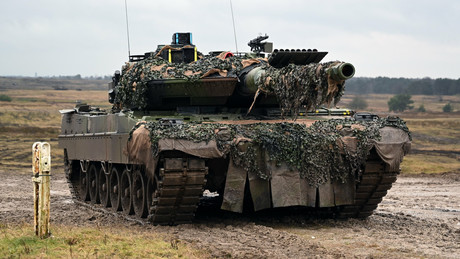 According to the broadcaster, the unit had to "borrow" tanks from another battalion in southern Bavaria. However, this unit has its own problems with tank availability, and their armor has not been officially certified by the VJTF. A maintenance facility belonging to the German armaments group KMW (Krauss-Maffei Wegmann GmbH & Co. KG) was blamed for the problem. Internal documents revealed that the maintenance backlog was discussed at a "high-level crisis meeting" in mid-February.
Officially, Berlin continues to claim that it is ready to fulfill its NATO obligations. German Defense Minister Boris Pistorius admitted to a "maintenance and repair backlog" during his visit to Lithuania this week, but assured that the problem "will now be solved".
"There is no doubt that the mission can be accomplished," Pistorius told journalists, referring to the VJTF.
The news comes as Germany is preparing to send fourteen Leopard 2 tanks to Kiev as part of another Western military aid package.
more on the subject – Ukraine has already lost – There is only one way out
By blocking RT, the EU aims to silence a critical, non-pro-Western source of information. And not only with regard to the Ukraine war. Access to our website has been made more difficult, several social media have blocked our accounts. It is now up to all of us whether journalism beyond mainstream narratives can continue to be pursued in Germany and the EU. If you like our articles, feel free to share them wherever you are active. It's possible because the EU hasn't banned our work or reading and sharing our articles. Note: However, with the amendment of the "Audiovisual Media Service Act" on April 13, Austria introduced a change in this regard, which may also affect private individuals. That's why we ask you not to share our posts on social media in Austria until the situation has been clarified.
Disclaimer: If you need to update/edit/remove this news or article then please contact our support team
Learn more
Add Then24 to your Google news feed.