So far, no filter on TikTok has caused so much discussion in the media and collected so many negative comments from the users themselves. The "Bold Glamor" filter, which appeared on the popular app in mid-February, was used more than 8 million times in a few days. The initial euphoria was quickly replaced by frustration, and most people decided that advanced technology using artificial intelligence should not be legal. I decided to check why the new tiktok filter evokes such emotions and why many users warn against using it.
Every third teenager admits that the idealized image of beauty presented in social media affects her mental health, self-esteem and perception of her own body
Every second feels that she cannot meet the standards of beauty she sees on social media, which affects her self-esteem
Every fifth teenager listens to the advice of influencers, even though they feel bad about it
Since no one on TikTok knows what you really look like, why not look even better?

Every day, new filters appear on TikTok that smooth the skin, fill the lips, sharpen the cheekbones and make the eyes appear bigger. Hidden under such names as, for example, "pretty babe", free technologies offered by application developers manipulate our faces, adapting them to current beauty standards. What for had to pay beforehandtoday is available to everyone, regardless of age or gender.
Until recently, most influencers and celebrities used paid applications, such as FaceAppwhich uses advanced algorithms to quickly change facial features, get rid of blemishes, smooth the skin or reduce the nose. Perfect 365another popular application, "applies" virtual makeup to the face, and is the most downloaded in the United States FaceTune allows you to remodel not only the face, but the entire figure (reduces the waist, slims the legs, enlarges the bust, etc.). With the growing popularity of TikTok and OnlyFans, i.e. applications where not only photos, but above all short videos are published, there is an urgent need to create filters that can handle the processing of a moving image.
"This filter should be illegal"

Some say that the new "Bold Glamor" filter is no different from wearing a lot of make-up in real life, but few people will be able to achieve such a "live" effect using only colored cosmetics. No makeup product will completely remove the pores from the face, fill the lips or lighten the whites. Even the best contouring will not change my face and nose shape.
In the first film, the metamorphosis is more spectacular. Probably because I didn't have an ounce of makeup on my face. The artificial intelligence probably decided that I needed to "work" harder on my face.
In the second "before" video, I had light makeup on: I highlighted my cheekbones with bronzer and darkened my eyebrows. AI contoured my nose, thickened my eyebrows according to current trends and emphasized my cheekbones even more. I also have my mouth full in every video.
The author of the article before and after applying the tiktok filter

Photo: own materials

Technological excellence makes this filter dangerous. Unlike previous generations of advanced beauty filters, the use of which caused short-term distortions in the image (so-called glitches) ensuring the illusion of reality, "Bold Glamor" works correctly even when we wave our hand in front of our face, touch it, move or wear glasses.
A few minutes were enough for me to look more critically at my lips, which I never wanted to enlarge, or my nose, which I like much more in the AI ​​version. How would looking at a digital reflection on a daily basis affect my overall well-being and self-esteem? Would I start looking for the nearest aesthetic medicine clinic after a month? Possibly. So how are girls and teenagers who encounter this on a daily basis to cope?
60 percent of Polish teenagers would like to change something in their appearance

Contrary to appearances, using filters is not free: we pay a high price for them, ruining our own mental health, losing self-confidence and racking up high bills for plastic clinics.
Evidence, supported by numerous studies, shows that the constant viewing and consumption of unrealistic digital content poses a threat to mental health. We seem to be aware that the world shown in social media is not real – after all, everyone there is beautiful, young, adapted to the current canon of beauty – and yet it affects our well-being and emotions.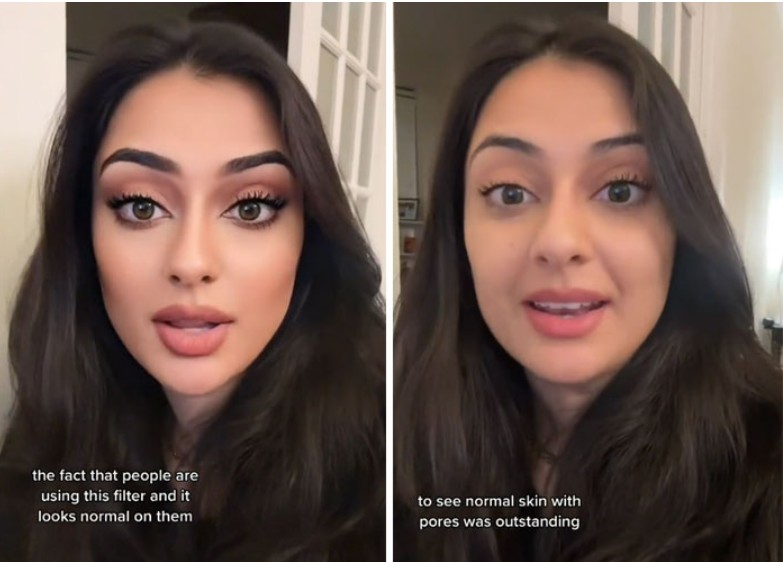 TikTok users post their recordings showing the filter in action. lookwhoshira

Photo: Tik Tok

The results of a study conducted in November 2022 by Dove, as part of the Dove Self-Esteem program, on a group of Polish girls aged 10-17, showed how toxic some content on social media affects teenagers. Influencers are oracles and experts on appearance for girls. More than 55% trust them. survey respondents. Although a large proportion of teenagers are aware of the lack of authenticity of their idols, 60 percent. after seeing an idealized photo, e.g. on Instagram or TikTok, they would like to change something in their appearance, and almost every third starts exercising more and puts on stronger makeup.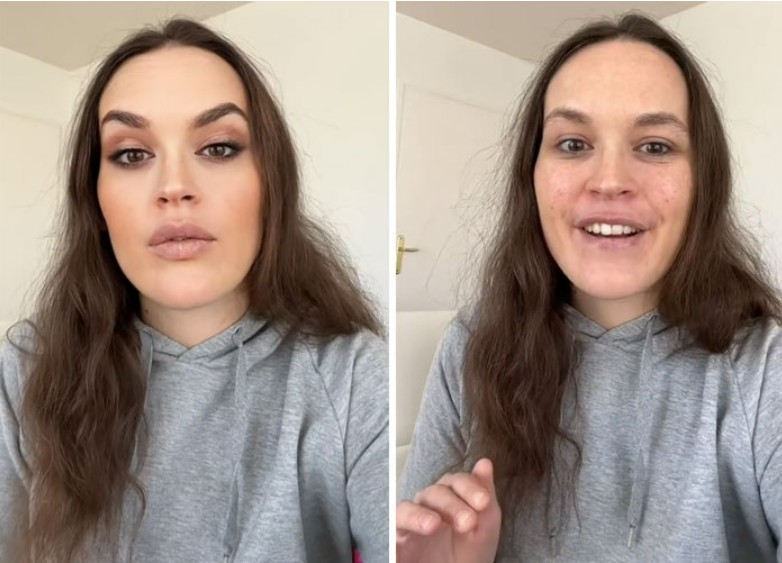 Nowt filter, new face Fot. celine1gras1fille

Photo: Tik Tok

"Women want to see in the mirror what the Instagram filter shows them"

Digital platforms are a toxic environment not only for girls and teenagers who spend several hours a day on them. Dr. Michael Prager, called the "King of Botox", is a doctor who has been dealing with aesthetic medicine for years. In a recent interview with The Guardian, he said: more and more very young women are trying to recreate the filtered aesthetics of social media in the "real world".. According to the doctor who runs his clinic in London, women under 30 treat aesthetic medicine treatments in a completely different way than mature patients.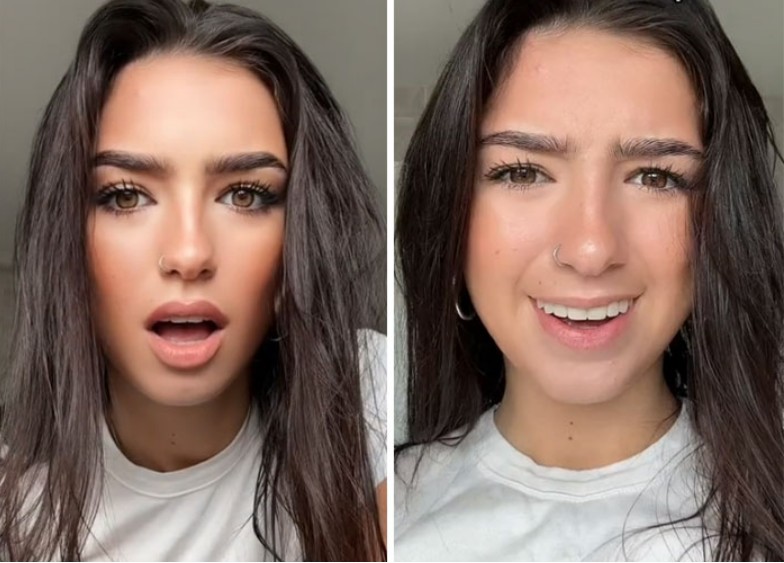 How will using this filter affect our well-being? photo. isseypovs

Photo: Tik Tok

People from generation Z and millennials want the effects of the treatment to be as visible as possible. The use of fillers or Botox has become a source of pride, and what was once perceived as a symptom of problems arising from, among others, from the perception of one's body, today is treated as the norm. "Women want to see in the mirror what the filter on Instagram shows them. The gap between self-perception and reality is getting deeper and deeper" – comments the doctor.
In the era of artificial intelligence and digital makeup, it's hard to tell what's real and what's not. Until recently, people thought that the popular German tiktoker @itshermeteor was generated by AI.
It was only a matter of time before a real woman was mistaken for a CGI influencer, since digital Lil Miquel watched by almost 3 million people.
In the context of the growing popularity of AI and deepfake porn, realistic filters like "Bold Glamor" that promote hard-to-achieve beauty ideals can be intimidating.
Filters that negatively affect self-esteem and undermine the mental health of the creators and recipients should not only have visible markings informing that the video or photo does not reflect the real appearance of the person presented, but also offer the possibility of removing it with one click.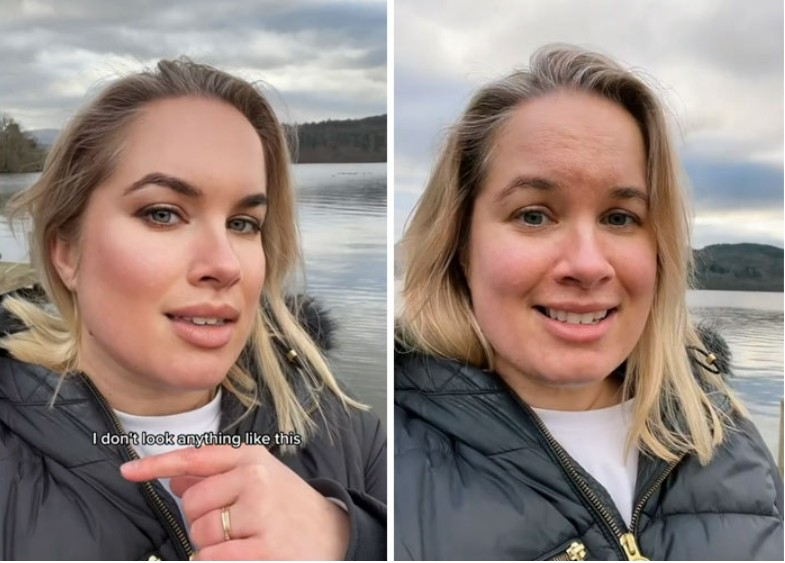 "I don't look like that" – say users of the new filter. joannajkenny

Photo: Tik Tok

I'm glad that in the times when Instagram was just starting, and I could only add dog or cat ears, I was already an adult. If I was 15 today and faced with digitally altered faces and bodies every day, how would I know what was real and what wasn't?
See also:
Psychologist Aleksandra Sarna on aesthetic medicine: I had the feeling that I had gone too far. People don't look like that
Disclaimer: If you need to update/edit/remove this news or article then please contact our support team
Learn more
Add Then24 to your Google news feed.