Russian forces reportedly struck civilian infrastructure, including a residential building, in the Kharkiv and Odessa regions early Thursday, March 9.
By JLB with AFP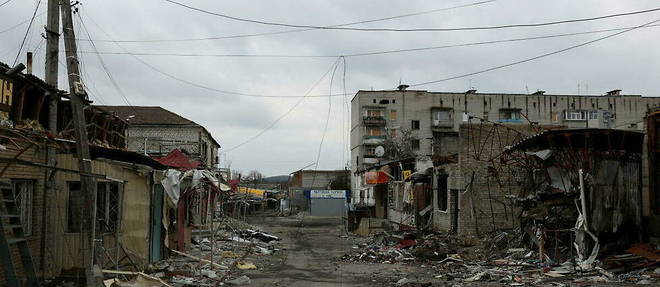 Lcivilians targeted in Ukraine. Local authorities reported massive strikes in the Kharkiv and Odessa regions overnight from Wednesday to Thursday March 9. "The enemy carried out about fifteen strikes on the city and the region" of Kharkiv, declared the regional governor, Oleg Synegubov, on social networks.
"Occupiers are once again targeting essential facilities," he added. "According to initial information, a private residential building in the Kharkiv region was hit," he insisted, announcing "clear" details on possible victims and the extent of the damage.
In Kharkiv, the region's main city, Mayor Igor Terekhov reported that "energy infrastructure" had been targeted and there were "problems" with electricity in parts of the city.
"Fortunately, there were no casualties"
In the Odessa region in the south of the country, Governor Maksym Marchneko reported that "missiles hit regional energy infrastructure and damaged residential buildings", speaking of a "massive missile strike". "Fortunately, there were no casualties," he said, adding that "electricity supply restrictions" had been put in place.
In the west, Khmelnytskyi Region Governor Segiy Gamaliy urged residents to "stay in shelters" as "the enemy is hitting critical infrastructure in the country".
Air defense was operating in the Kyiv region, according to the local military administration.
READ ALSOWar in Ukraine: the "ghost of kyiv", this hero invented to resist
For months, Russia has been bombarding key facilities in Ukraine with missiles and drones, disrupting the daily lives of millions of people, their water, heating and electricity supplies.
Frequent keystrokes
These large-scale strikes come shortly after the 27 EU defense ministers, meeting in Stockholm on Wednesday with their Ukrainian counterpart Oleksiï Reznikov, negotiated a plan for deliveries of shells and ammunition to Kiev, which could be carried two billion euros.
In mid-February, Moscow had already carried out a "massive" attack with dozens of missiles against energy production sites, causing Ukraine to temporarily lose a significant part of its energy generation capacities. kyiv then announced that it had regained sufficient electricity production to avoid cuts, after months of restrictions due to repeated Russian strikes.
READ ALSOUkrainian paradox: victory on paper, defeat on the ground?
These latest strikes also follow the announcement on Wednesday by the head of the Russian paramilitary organization Wagner, Yevgeny Prigojine, of the capture of the eastern part of Bakhmout, a small town in eastern Ukraine at the heart of the fighting since months, despite a disputed strategic value.
Bakhmout could fall "in the coming days", NATO Secretary General Jens Stoltenberg told the press, adding however that "this does not necessarily reflect any turning point in the war".
On Wednesday, US Intelligence Director Avril Haines said the big Russian offensive that was feared a few weeks ago has fizzled and that the Kremlin is unlikely to make "major territorial gains" in Ukraine this year and looks set to continue. settle for lowered targets.
READ ALSOOne year of war in Ukraine: what next?
Disclaimer: If you need to update/edit/remove this news or article then please contact our support team
Learn more
Add Then24 to your Google news feed.