In 2008, Japanese gamers with a Wii were able to get their hands on a Project Zero exclusive to the console of nintendo, Rei: Tsukihami no Kamen. And Europe in all this? Koei-Tecmo left the fans of the West…until today! It will therefore have been necessary to wait 15 years to see the title land in our regions. Her name ? Project Zero: The Lunar Eclipse Mask. A production worth seeing? It's time to tell you about it.
Stressful and fun at the same time.
Unsurprisingly, regarding the visual part, the developers have tweaked the environments to have a pleasant rendering. Thus, some textures have been slightly redone and are sharper, while the modeling of the characters has been reworked. To add extra pressure to players, the team tweaked the light shows. The shadows are better managed, the mist is better shaped, it's a treat to dive into this purely Japanese psychedelic universe. Of course, thealiasing has disappeared and fluidity is there; even on Switch.
The handling is generally identical to the other episodes. Thus, we can move slowly or quickly, move the lamp in all directions and use a camera to permanently eliminate a spirit. The view then switches to the first person, we observe the surroundings through the lens and we accumulate power by aiming at a ghost to inflict maximum damage on it. It's very stressful and fun at the same time. Special mention to the Switch edition since playing it in mode Portablethe console becomes the camera. We can then use motion sensors to control the Camera Obscura, it's much more immersive !
In order not to change, we must explore places, go back and forth, find objects/keys and solve puzzles to progress; like playing the piano as a rhythm game to unlock something. Some mechanics are a bit outdatedtravel may seem a little heavy today; not everyone will necessarily hang on. Also, the peculiarity of this episode is that we control several characters. One of them, Kirishimauses a spirit torch which allows you to subdue a revenant via a devastating moonbeam. By having many protagonists, the player avoids boredom and follows the various adventures which come together in an eloquent finale.
The theme of this Project Zero: The Mask of the Lunar Eclipse is a great classic. To quickly summarize this horrific odyssey, young girls disappear during a festival located in southern Japan. A private detective investigates, a young lady resurfaces, two others have been found dead… The reason for all this? What actually happened? We leave the pleasure of discovery to you. But once again, it is pleasant to follow the adventures of several characters to understand the end of this story. Moreover, to reach the end of the tunnel, count a dozen hours.
The big question that some may ask: are there any new features compared to the base game? The answer is yes, and it is very particular. To start, we have new sexy clothes ; whether for men or women. Swimsuits, cute dresses, leather outfits… Koei-Tecmo does not change a bit and likes to offer this type of offbeat content. Then, if you enjoy all of this, know that you can do some wacky shots with the new mode Photo. Taking a beautiful capture of our heroine in undress with spirits around is now possible. Brief, you will understand, it's more useless virtual cosmetics than an important addition.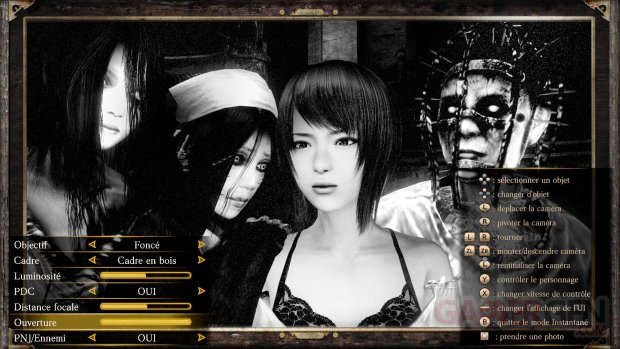 Project Zero: The Lunar Eclipse Mask been desired for years, it's satisfying to finally be able to get our hands on this creepy production, all in Japanese with French subtitles. This opus takes up a lot of codes from the first episode by immersing us in cloistered and isolated settings. If you are sensitive to myths and spirits from the East, anxiety comes to the partythe title will make you jump, especially on Nintendo Switch… Only black point on the board, there is no physical version by us. Damage !
Most
Visual adjustments, clean
Multiple characters to manage
On Nintendo Switch, it's a joy
The lessers
Novelties, useless
No physical edition, really a shame
15 years of waiting to play it, better late than never
Disclaimer: If you need to update/edit/remove this news or article then please contact our support team
Learn more
Add Then24 to your Google news feed.