About sex, fight and great feelings
Erica Fischer: Great love only came after 60 years of life
Feminism and the women's movement made her who she is today, says Erica Fischer. The reserved girl became a fighter. Sometimes a little too stiff, she says now. Still, it was the best time of her life. The now 80-year-old proves that changes are not bad, they are part of life. Looking forward to the future, that seems to be her motto in life.
It's 10 a.m. in Berlin, and there's a lot of activity in a café in Mitte. Bircher muesli, Parisian breakfasts and all kinds of coffee varieties are carried back and forth. When Erica Fischer enters the room, she looks around searchingly. The first thing you notice is her bright red glasses and her short gray hair. She smiles when she finds who she's looking for, and an immediate aura of friendliness surrounds her. She makes her way through the babble of voices, sits down and orders a pot of black tea with cold milk: "A leftover from my time in England," she says with a smile.
Erica Fischer turned 80 on January 1, 2023. Last October she launched a new book – "Late learned to love. My life". While the hustle and bustle around the small table by the window continues, Erica Fischer dives back into her life at that time, takes a seat at her mother's table again, remembers her brother's mental problems and her father's early death. It's about home, restlessness, struggle and great love.
Lack of love in childhood affects the whole life

One thing becomes clear – in her stories and in the book: her relationship with her mother was strained. "Actually, I've been chasing their love and approval all my life," she says. Why didn't she get them? "I can't say exactly." She won't get an answer anymore. At least one thing she knows: She was a desired child of both parents. "I found letters from my parents in which both spoke of a child together." And the first photos with her as a baby and toddler seem happy. She was at least able to refute the later statements of her mother that she had only had the children for the father's sake. Still loved as a pretty and well-behaved toddler, the break came with puberty. "They didn't know what to do with me anymore as a rebellious teenager".
Erica Fischer was born in 1943 in St Albans near London. Her parents had fled Vienna from the National Socialists. At the age of five, Erica Fischer, her mother and her brother followed their father back home. "My father hoped to be able to help build a new Austria," she says, smiling at the naïve thought. "I also thought at the time: We'll overthrow the patriarchy after a year," she adds with a laugh. She grew up in Vienna. She only realized that there was actually a Jewish culture in her family when she was in Israel many years later. "It was like home," and by that she means, above all, the people. She describes herself as a Jewess, but not as religious. She feels part of the people.
Erica Fischer never had a strong desire to become a mother

She learned almost nothing about the Jewish veins from her mother. Fischer taught himself most of it and used her research to write the book "Aimée und Jaguar" – a worldwide success. Despite all the differences, her mother still gave her a lot. "The love of fashion and art," she muses. But she also had a penchant for feminism in her blood. Her mother was a women's rights activist, says Fischer. She gave her a message early on: "Learn a job that will give you economic independence and don't have children." For her, motherhood meant a loss of freedom, remembers Fischer. "I did her job," she says with a slightly malicious grin.
"It wasn't a clear decision against children." But she never had a great desire to become a mother. Also, it didn't quite fit with the feminist struggle. The time of the women's movements was not only characterized by the struggle for freedom and independence, they were also lived. If you had a partner, loyalty was not the highest good. Same-sex couples also appeared openly for the first time. "I also had one or two girlfriends," says Fischer, "but in the end I stayed with the men." Even if many of them only wanted sex from her during this time and boasted that she was a feminist by their side.
Fischer felt the removal of her uterus as a relief

At the age of 39, she was diagnosed with a fibroid. The uterus had to be removed. "It was more of a relief for me. I no longer had to worry about contraception." While two friends of the same age, who were 38 and therefore late for the time, still had children, she enjoyed her freedom and, at 40, wrote an open book about aging: "Beyond Dreams" – with success.
Due to a lack of affection and love in childhood, Erica Fischer always had this longing for true love. She wanted to get married to be sure that this one man would stay. "But they all left me." Today, she says, she sees her complicity. She asked too much at the time, the man should live her feminism like she did, just as combatively. However, many did not last long. "As I got older, I developed a certain composure." Human contact with each other is important to her, so sometimes contrary opinions can come up: "Men aren't women after all."
Age has absolutely nothing to do with love

Today she found her "late love". He comes from Italy, they live together in Berlin. Italian is spoken. And maybe a new adventure will soon open up for both of them – but Erica Fischer would have to take a Spanish course for that. After two hours, a pot of black tea and an apple spritzer, Erica Fischer takes her bicycle helmet off the sideboard, says goodbye and enters Berlin life under the already very warm February sun. It goes to physiotherapy: "the leg," she says, looking down. The first steps after getting up actually seem a bit stiff. After that, a new assignment will be worked on and there will be a reading in the evening. Work is her life, she says, and she doesn't want to give it up for the time being.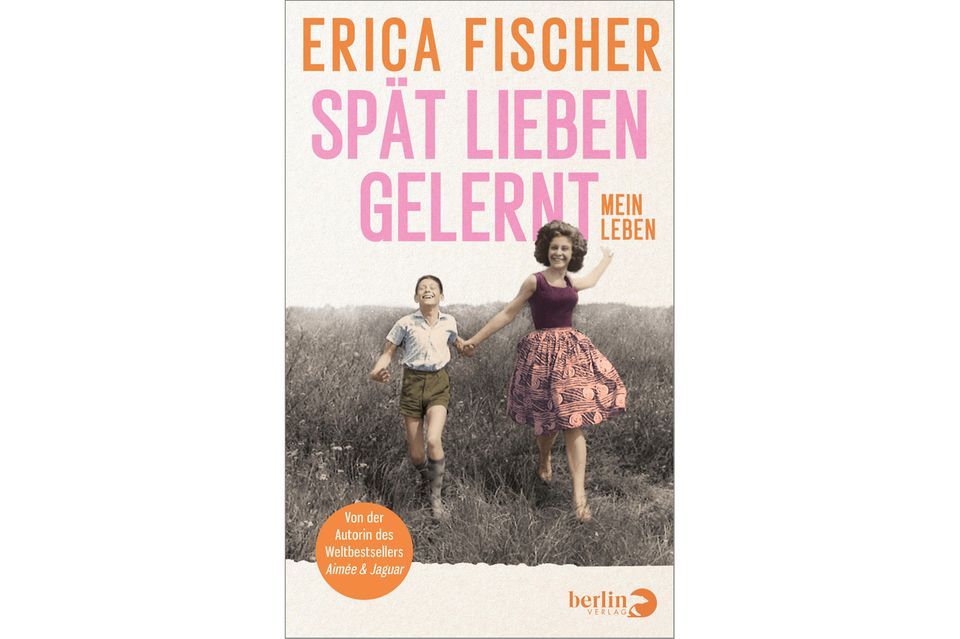 Released October 13, 2023
Non-fiction book, hardcover, 22 euros
Berlin publisher
Bridget
Disclaimer: If you need to update/edit/remove this news or article then please contact our support team
Learn more
Add Then24 to your Google news feed.