7 mar 2023 8:13 p.m

A commentary by Caitlin Johnstone
in one Article titled "As NATO's proxy war in Ukraine escalates, European protests against the war gain momentum," document Stavroula Pabst and Max Blumenthal from the investigative portal The Grayzone the numerous large-scale demonstrations that have taken place in France, Britain, Germany, Greece, Spain, Austria, Belgium, the Czech Republic and elsewhere against the Western Empire's dangerous recklessness against Russia in its proxy war in Ukraine.
Pabst and Blumenthal end their report by denouncing the way the Western media has either completely ignored or just ridiculed these protests, while at the same time prominently spotlighting much smaller demonstrations in support of arming Ukraine.
"While the Western media has not entirely ignored waves of protests against the war in Europe, their coverage of it has vacillated between disparaging and contemptuous," they wrote.
And further:
"The German state broadcaster Deutsche Welle mockingly described the February 25 demonstration in Berlin as 'naive' designatedwhile smaller demonstrations by the Ukrainian diaspora in support of the war from the same broadcaster almost cocky celebrated became. The New York Times, for its part mentioned the European protests in a casual line, in an article about small anti-Putin protests by Russian émigrés."
Of course, this bias is obviously propagandistic, which will come as no surprise to anyone who understands that the mainstream Western media exist primarily to conduct propaganda on behalf of the US-centric empire. And one of their most important propaganda tasks is to suppress and denigrate the emergence of a genuine peace movement.
As I have written before, never in human history has there been a more urgent need to form a massive, forceful protest movement against the Empire's rapidly accelerating course for global conflict with Russia and China. In the past, peace movements emerged in response to horrific wars that ended up claiming millions of lives. But a nuclear-age world war could easily kill billions of people—and that must never happen.
And yet the public is not treating this unprecedented threat with the urgency it deserves. A few protests here and there are great, but they're not nearly enough. And the reason people are not heeding the calls is because the mainstream media has successfully conditioned them to accept the continued escalation towards world war.
People will not protest what their governments are doing as long as they are made to believe that what their governments are doing is appropriate. And the only reason so many people believe that what their governments are doing in relation to Russia and China is appropriate is because the propaganda has led them to think so.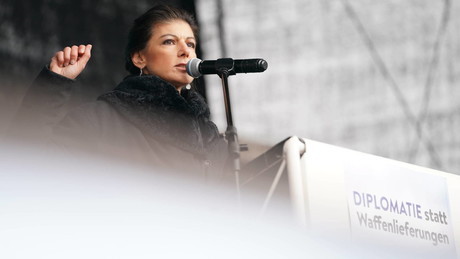 The mass media do not tell the public about the countless and good documented Western provocations that led to the war in Ukraine and sabotage the peace at every turn. They just tell everyone that Vladimir Putin invaded because he's an evil revenant of Adolf Hitler who loves to kill and hates freedom. The mainstream media tells the public nothing about how the US empire has encircled China with its war machine in a way it would never allow anyone to encircle itself, while at the same time deliberately provoking Taiwan staged. They just tell everyone that China is ruled by evil, warmongering tyrants. The mainstream media fails to remind the public that after the fall of the Soviet Union, the US empire became a doctrine adopted, stating that the rise of a foreign superpower must be prevented at all costs. They just let that fact disappear into the orcus of oblivion.
Because the people believe that Russia and China are the only aggressors, and that the US and its allies are only reacting defensively to their "unprovoked aggressions," they see no need for a mass protest movement against their own governments. If you tell an average US liberal on the east coast that you are protesting the war in Ukraine, they will assume you mean protesting Putin. And he will look askance if you explain to him that you are actually protesting against the aggression of your own government.
The narrative that Russia and China are engaging in unprovoked aggression is actually preventing peace. Because if your own government doesn't do anything to make things worse, then there's nothing you can do to change your own behavior to make things better. But of course the Western power alliance can change very, very much in its own behavior towards Russia and China, which would ease the situation considerably. Instead of working to bend the entire planet to the will of Washington and his vassals, one could work towards de-escalation, diplomacy, and détente.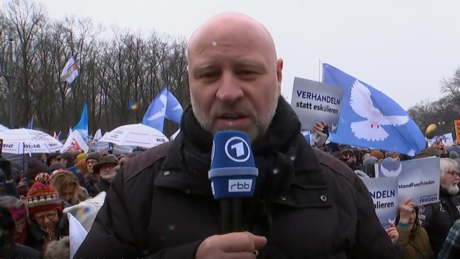 But we will not achieve de-escalation, diplomacy and detente unless the people use the power of their superior numbers to demand these things. But people will not use the power of their superior numbers to demand these things unless they are successfully propaganda tricked into not doing so. That means propaganda is the ultimate problem that needs to be addressed. Ordinary people can address the issue by alerting the public – by any means we have access to – to the fact that the political and media caste is lying to them. With everything to do with Russia and China.
So this is what we have to do. We must fight the Imperial disinformation campaign with intelligence. We must tell the public the truth in the face, using every medium at our disposal to instill suspicion in the Imperial propaganda machine, because propaganda only works if you don't know you're being exposed to it.
Our rulers always babble about waging an "information war" against enemy nations, but in reality they are waging an information war against us citizens. So we have to fight back. We need to cripple the public's trust in the propaganda machine and start shaking each other out of our propaganda induced sleep so we can start organizing against the horrific end they want us to end up with.
From the English.
Caitlin Johnstone is an independent journalist based in Melbourne, Australia. your website can be found hereand you can follow her on Twitter at @caitoz consequences.
more on the subject – Resistance: We're not doing this for fun!
RT DE strives for a broad range of opinions. Guest posts and opinion pieces do not have to reflect the editor's point of view.

By blocking RT, the EU aims to silence a critical, non-pro-Western source of information. And not only with regard to the Ukraine war. Access to our website has been made more difficult, several social media have blocked our accounts. It is now up to all of us whether journalism beyond mainstream narratives can continue to be pursued in Germany and the EU. If you like our articles, feel free to share them wherever you are active. It's possible because the EU hasn't banned our work or reading and sharing our articles. Note: However, with the amendment of the "Audiovisual Media Service Act" on April 13, Austria introduced a change in this regard, which may also affect private individuals. That's why we ask you not to share our posts on social media in Austria until the situation has been clarified.
Disclaimer: If you need to update/edit/remove this news or article then please contact our support team
Learn more
Add Then24 to your Google news feed.