Andrés Trapiello recounts in his book 'Madrid' that in his youth he walked along the Cuesta de Moyano looking at old books. And he adds that he "has put more faith and illusion in the old books than in the new ones, because most of them all the imposture and nonsense have goneif they had it, and what they have to say, they say it in a low voice". It is true that something like that happens when one goes back and forth along the Hill leafing through books, one loses his cockiness thinking about the amount of books yet to be read.
down this street, the only one in the world dedicated exclusively to the sale of books, walked many times Pío Baroja, whose statue crowns this pending, as well as an endless number of Spanish writers and intellectuals, an extraordinary thing. Another of the great miracles that occur in this place is that books are immortal, as they pass from hand to hand and They live forever and ever.
In one of these booths, more specifically in number 17, It is where Hugo Prestel has his bookstore, employed in Moyano since the year 2000. In his establishment one can find, mainly, books dedicated to the history of art, philosophy and essays. What makes Hugo's story unique is that in the mornings he works as a driver of a garbage collection service truck for the Madrid City Council, and in the afternoons he is a bookseller in Moyano. A love story for booksalready a family tradition.
Hugo's working day it starts very soon, he gets up at 5:20, because he lives in a town on the outskirts of Madrid. Around 6:30 a.m. he arrives at the parking lot where the trucks sleep, and at 7 a.m. he begins, together with his companions, the route through different parts of the capital collecting garbage. They usually finish around 2:30 p.m., but Hugo continues working in the afternoons.
He dedicates that time to his bookstore on the Moyano slope. Since he is in charge of buying books, and the catalog that is later sold there, he usually takes advantage of these afternoon moments to go to view libraries to homes of potential customers. working as a garbage man has accumulated some anecdotes. Like this one where one day he bought a woman several books from her library, and a few days later he drove the truck past her door. When Hugo greeted the woman, she was very surprised.
That's how it all started
EL ESPAÑOL has been able to talk with Hugo, so that he can tell us the details of his trade as a bookseller, and why he decided to take the garbage truck as a complementary job. "I started on the slope in the year 2000 following a traffic accident. I worked in a delivery company, and the Cuesta de Moyano had always been a little abandoned. In the year 95, I was working with my uncle in his bookstore on Calle Ibiza. Later, I went to do military service, and when I came back I didn't want to continue working with the family, and I put aside the subject of books for a bit. But I had a traffic accident, I was very annoyed, I stopped driving, and I decided that I had to find a job opportunity, and since we had my grandfather's bookstore, I wanted to start working there," he told this newspaper.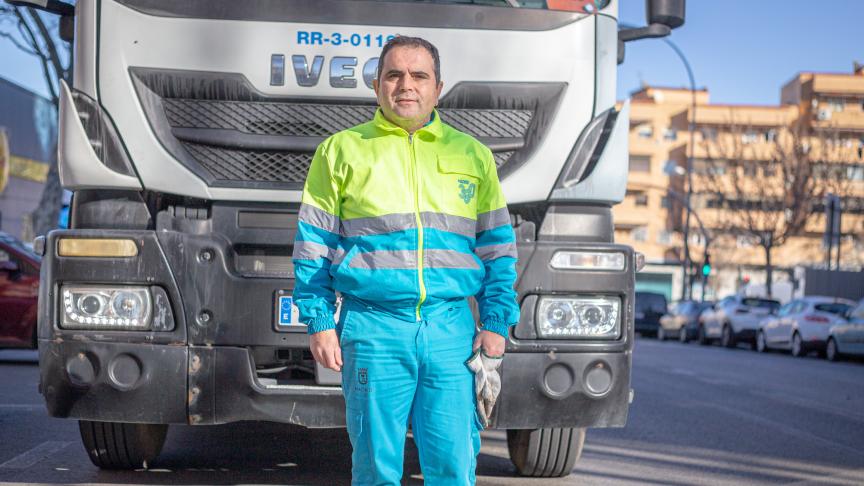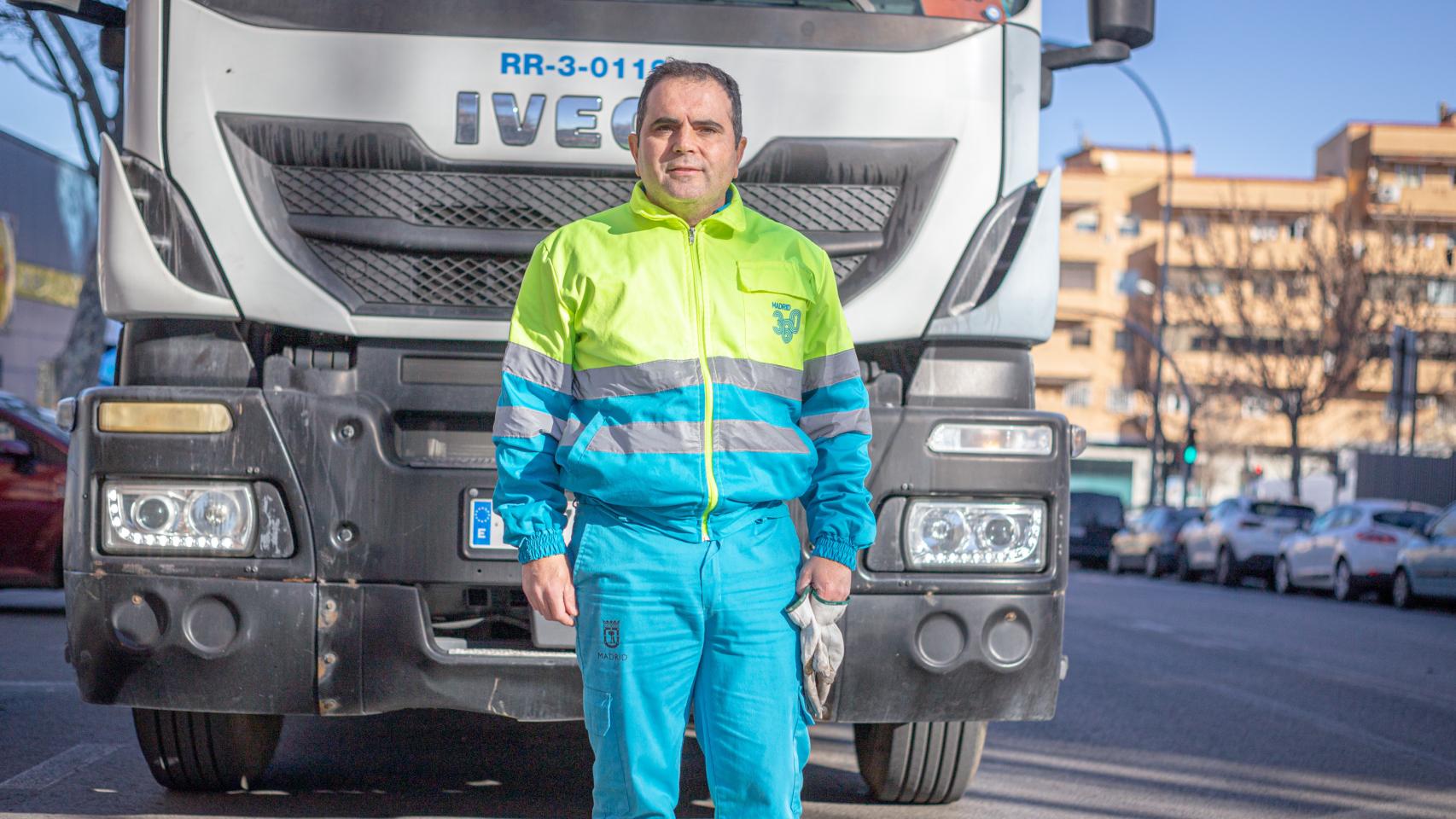 This was in May 2000, and in December of that same year the possibility of working in the garbage collection service in Madrid arose. This allows you to have a stable salary every month, and be able to employ a person in your booth. Currently, Hugo he works in the mornings in his truck waste collection, and in the afternoons he dedicates himself to books. In his case, more to the work of buying and organizing what is later offered in his booth.
When asked what this process is like, he recounts that, "Many people come to the bookstore to offer their books. From people whose children have left home and their parents have no more space, to people who have passed away and their relatives sell us their books. At first I took everything. The good defended him, and the bad tried to sell him quickly. Now I try to select moreif I go to a house that has 1,500 books I try to buy only what is salable".
In this transfer of books, Hugo accumulates a huge amount of anecdotes related to books and the lives of their owners. "Yesterday I was precisely at the house of a man who had an epistolary relationship with Max Aub, and showed me a book dedicated by the writer to him and his wife. Another very curious book that I sold was one that was dedicated by Martin Scorsese. People asked me how I could authenticate that it was his signature, I can only say that the person who sold it to me told me it was his. And I think that's the case, once Scorsese was in Valencia," Hugo told this newspaper.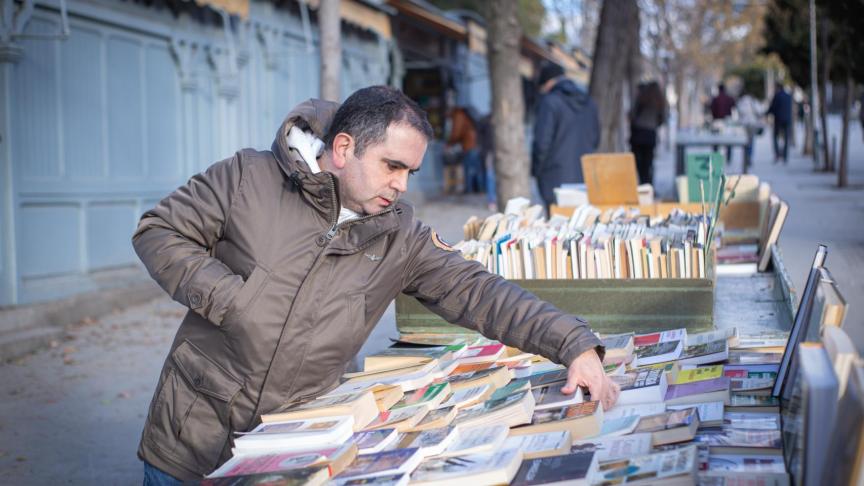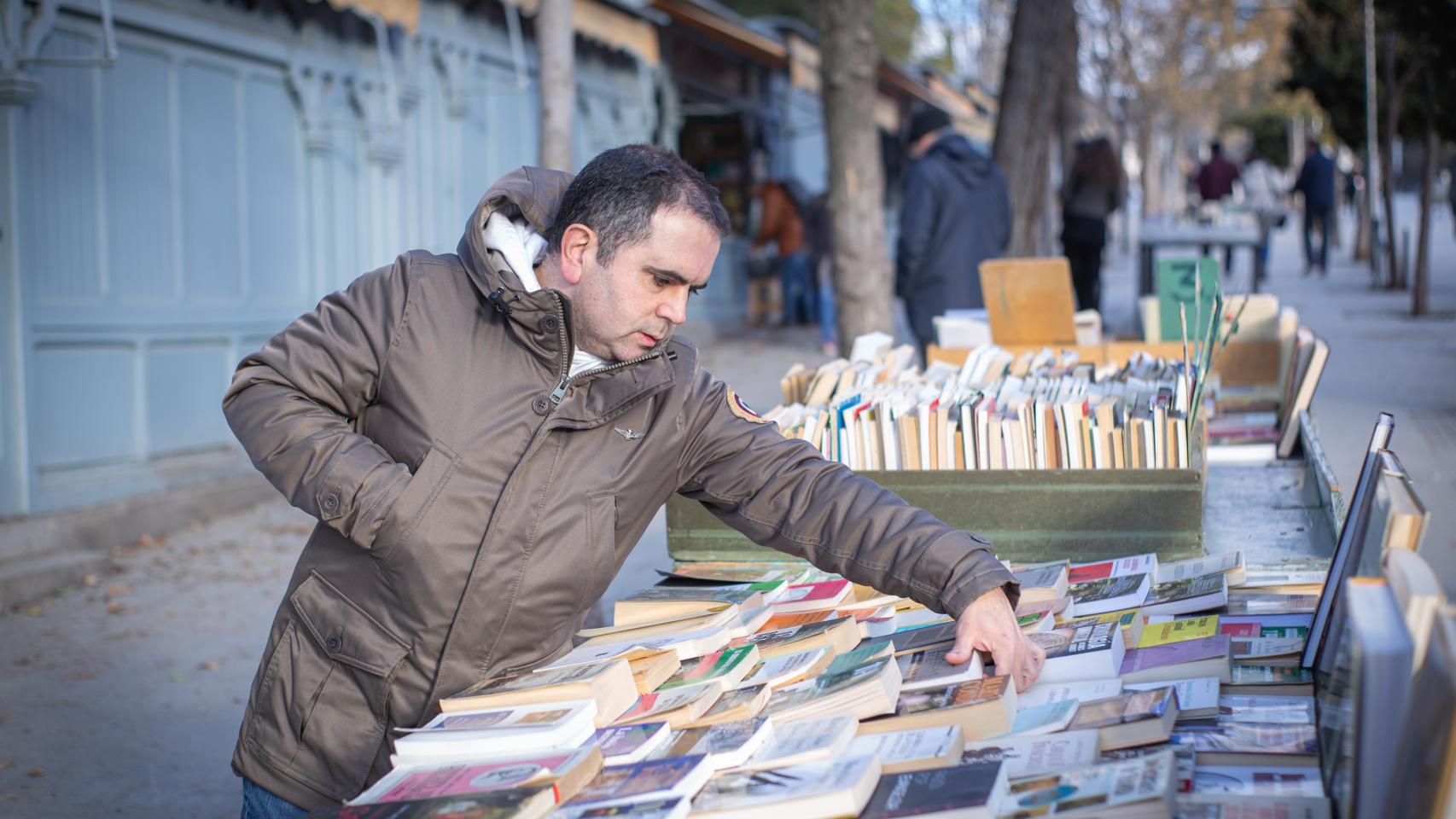 How is the slope?
When Hugo is asked about the current state of the Cuesta de Moyano, he tells us about the difference that has occurred in the sale of books for some time now. Now, on a good sales day on the Cuesta, readers can take about 50 or 60 books, a much lower amount than in past times. "We have been greatly affected by the fact that you have to pay to park, the pedestrianization of the street, and above all, the diversification of book sales. Before they were only sold in bookstores, then they went on to sell department stores, gas stations, kiosks, now also selling online. There is a lot of competition from people who are not even booksellerspeople who have books at home and sell them through web pages," Hugo told EL ESPAÑOL.
This bookseller also tells us that he would like all the booths to be open, since there are some in which their owners died, and currently they remain closed. Hugo also believes that it would be positive if from the municipal government they were given more visibilitywith measures such as improving street signage and lighting, or the construction of a literary café, a project that was on the table at the time.
In 2025 the centenary of the Cuesta de Moyano is celebrated, and to recover all its vigor, before this date, the civil association has been created I'm from the slope, supported by anonymous people but also by renowned journalists, writers or intellectuals. Hugo confesses that For them this initiative is very important.affirms that, "I am from La Cuesta, for us it has been a springboard, which is helping us by opening many doors for us at the municipal level, we are merchants, and we are not used to organizing events. All the activities that are carried out since I am the Cuesta are of exquisite taste. It would be necessary to put a monument next to Pío Baroja."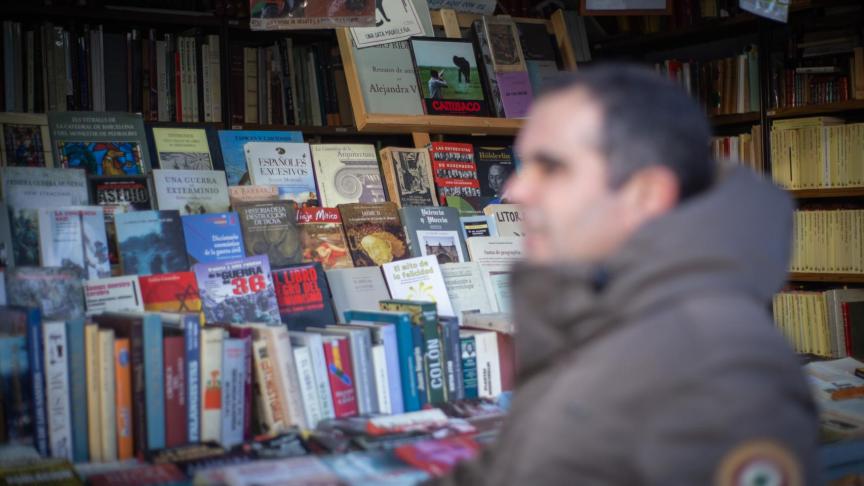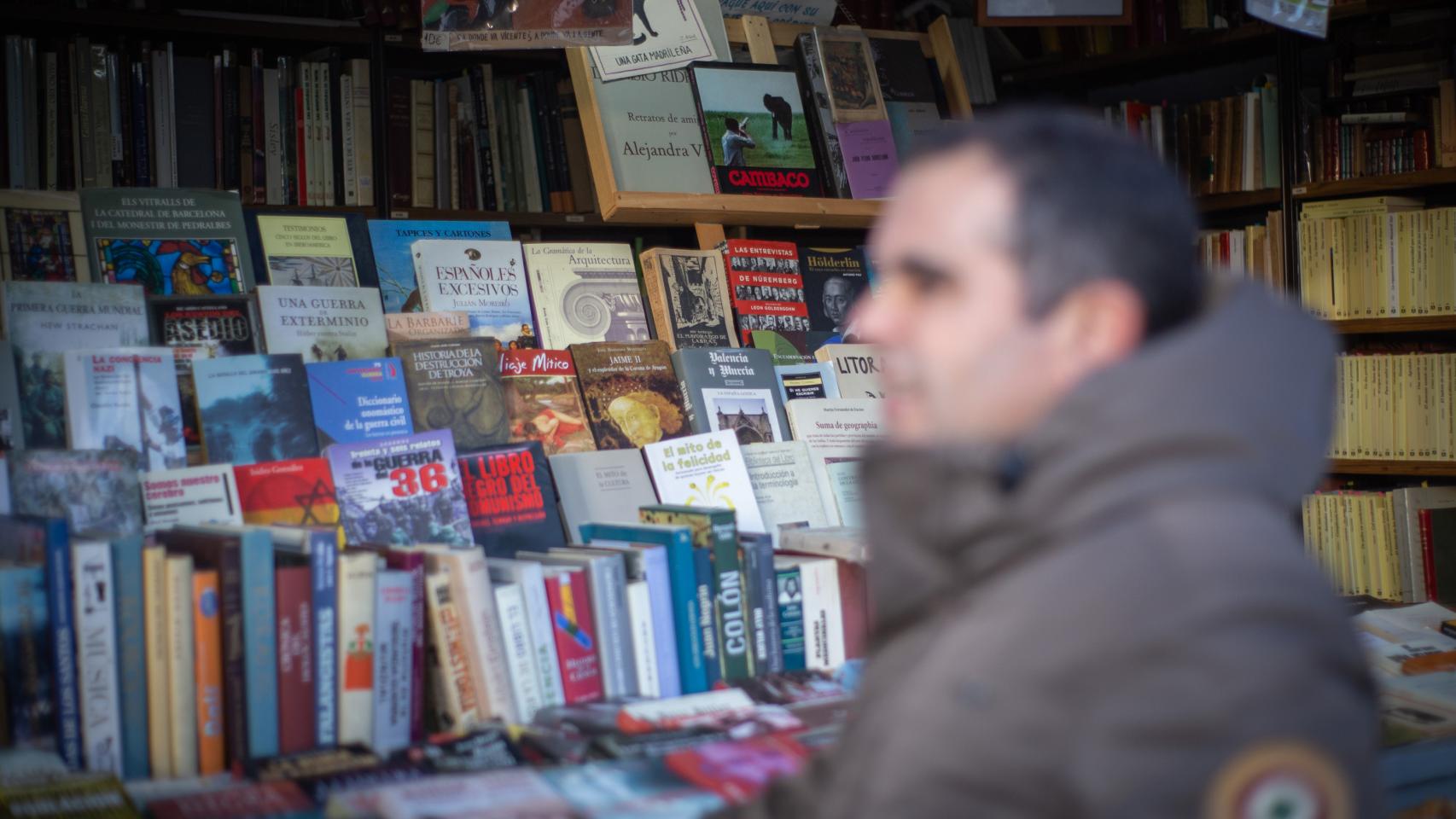 —Hey, Hugo, what are the reasons that push you to continue being a bookseller on the Cuesta de Moyano?
—I have two, the first because of the nostalgia of continuing what my grandfather started. And the second, because I like books. I like to go to the houses, and see the libraries of the people. Buying used books is very enriching, it is the life of other people. You can know them very well through their literary tastes. Very recently I bought the library for a lyrical act, which was on the payroll at the Teatro Real, and it was a terrific library.
—And what makes this place so special?
—In the Hill you will find the book you are not looking for.
Follow the topics that interest you
Disclaimer: If you need to update/edit/remove this news or article then please contact our support team
Learn more
Add Then24 to your Google news feed.