7 mar 2023 8:06 am

Iran is performing a balancing act with the West, according to which Tehran prefers to remain in the gray area on the nuclear issue to avoid further provocations towards the West in favor of Israel. At the same time, Iran is increasing its orientation towards the East.
By Seyed Alireza Mousavi
For more than 20 years, the West has been "concerned" about Tehran's imminent "nuclear bomb." During a recent visit to Iran's Fordow nuclear facility, inspectors from the International Atomic Energy Agency (IAEA) are said to have found traces of uranium with a purity of almost 84 percent. After the IAEA report, the Western media apparatus launched a large-scale media campaign against Iran, claiming that Tehran actually wanted to build a nuclear bomb and that the country was already on the way to becoming a nuclear power. This is despite the fact that it was unclear from the start whether Tehran deliberately enriched the material to such a high degree or whether the concentration was the result of an unintentional accumulation.
Iran has been officially enriching uranium to a purity level of 60 percent since April 2021. According to the US foreign intelligence service CIA, there is currently no evidence that Iran has decided to resume its military nuclear program. However, no particular attention is paid to this important message in Western reporting.
IAEA Director General Rafael Grossi therefore traveled to Tehran at the weekend to address unresolved developments in the Iranian nuclear issue. After Grossi's Iran trip, however, the opinion makers in the West achieved the opposite of what they wanted to achieve with their provocative reporting. The IAEA chief not only praised the cooperation with Iran, he also made it very clear in Tehran that any military attacks on nuclear facilities in Iran were "illegal". The International Atomic Energy Agency (IAEA) is said to have agreed with Iran to monitor nuclear plants more closely. The reports from Tehran upset Israel, which has repeatedly threatened Iran with possible air strikes against its nuclear facilities. Israeli Prime Minister Benjamin Netanyahu reiterated on Sunday that Israel wants to defend itself against Iran's nuclear armament. According to his office, Netanyahu was referring to recent statements by the head of the International Atomic Energy Agency (IAEA) in Tehran.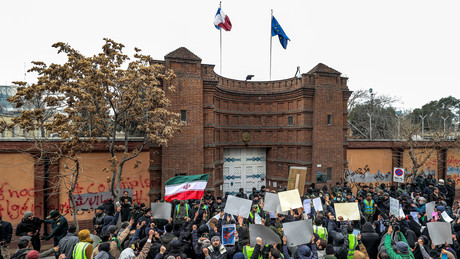 After the nuclear negotiations with Iran stalled, the West has been waging hybrid warfare against Tehran since September 2022 – mainly using the media. Because the West currently has no plan B for containing Iran in the entire region, although Tehran is also accused of supplying weapons to Russia for the Ukraine war. The US is now betting on a new round of unrest after the recent failed orchestrated and media-fueled campaign of protests in Iran.
After the riots described in the western media as a "women's revolution" suddenly subsided, the mysterious wave of poisoning at girls' schools in Iran is now very opportune for the western media to further fuel the divisions in Iranian society. The West is trying to impose its diktat on the Iranian leadership. At the same time, indirect talks are taking place between Iran and the United States about measures that could enable new negotiations on a return to the nuclear deal with Iran. These could include the release of Western prisoners in Iran, the release of Iranian foreign assets, and an end to alleged Iranian support for Russia's military operation in Ukraine.
Iran's strategy apparently aims to intensify its integration and orientation towards the east. At the same time, Tehran is using its nuclear program to balance its East-West relations. In other words, should Iran ever decide to build a nuclear weapon, it probably already has the capability and knowledge to do so. However, thanks to its missile program, Iran already has a strong deterrent capability against its rivals. Tehran deftly executes a balancing act with the West, according to which Tehran prefers to operate in the gray area on the nuclear issue to avoid further provocation westward in favor of Israel.
more on the subject – CIA chief: Iran has not yet decided on a nuclear bomb
RT DE strives for a broad range of opinions. Guest posts and opinion pieces do not have to reflect the editor's point of view.

By blocking RT, the EU aims to silence a critical, non-pro-Western source of information. And not only with regard to the Ukraine war. Access to our website has been made more difficult, several social media have blocked our accounts. It is now up to all of us whether journalism beyond mainstream narratives can continue to be pursued in Germany and the EU. If you like our articles, feel free to share them wherever you are active. It's possible because the EU hasn't banned our work or reading and sharing our articles. Note: However, with the amendment of the "Audiovisual Media Service Act" on April 13, Austria introduced a change in this regard, which may also affect private individuals. That's why we ask you not to share our posts on social media in Austria until the situation has been clarified.
Disclaimer: If you need to update/edit/remove this news or article then please contact our support team
Learn more
Add Then24 to your Google news feed.