More than leaving his mark on the world, David Chipperfield (London, 1953) has tried to shore up what the planet should not lose. That is why today he is the lawyer of what is well done. The 2023 Pritzker Prize winner, who was announced this Tuesday, is someone who does not presume to have made little or no mistakes, although his career shows it. A designer capable of defending that the Neues Museum in Berlin must reveal the traces of its destruction, during Nazism, of its initial neoclassical ambition and, at the same time, of the repair of both moments. Someone who, when restoring the last building by Mies van der Rohe, the Nationalgalerie with which the modern genius returned to Berlin, has the lucidity to point out that not everything must be updated: that gallery will never be a sustainable building, but it will be a work vibrant that will drive others.
Building in China —houses in Hangzhou— against the destructive practice of starting from scratch, Chipperfield also attended to the layers of history, to a little: the physical remains, and to a lot: the construction traditions. We are before a designer who understands heritage as something tangible and immaterial at the same time and that is why he treats history with humility and knowledge and, from that position of authority, rescues it. It is the layers of an up-to-date history that dialogue in his Venice projects (Sant Michele Cemetery and Procuratie Vecchie —the Renaissance buildings that frame San Marco Square—). They will also do it in Athens —where they have just won the competition to remodel and expand the National Archaeological Museum. And, of course, they have done it in Berlin, where the Londoner looks like the architect of the city. There, in the reunified Berlin, he began to demonstrate that, in his work, remodeling and expansion go hand in hand without pastiches, without trauma, without rupture and, definitely, without disagreement: as repair of the past and as mortar for future coexistence.
But knowing how to bring the past to the present does not mean that Chipperfield does not know how to deal with the new. The other way around. He is more capable. He demonstrated this with the first museum built along the Thames, in Henley, in 1997. Inspired by Oxfordshire barns, the River Rowing Museum had warmth, tact is a more accurate word, to showcase something traditionally made by hand: boats. . Also The Hepworth Wakefield (2011), which seems to rise from the River Calder in West Yorkshire, has an unusual plastic force, which results from connecting ten trapezoidal volumes like someone lifting a mountain of stones. But beyond the manual, the offices of Amore Pacific in Seoul (2017) or, more recently, the Pompidou West Bund Museum in Shanghai show how far Chipperfield is capable of going with technology: to humanize it with light, space and control of the materials. The value given to what has been built and to the finishes is so high in his career that Mexican architects joke that, even in Mexico City, when he completed the Jumex Museum (2013), Chipperfield knew how to build well, and succeeded in building it well.
Building well is, thus, one of the keys to the architecture of this award-winning building. And a whole allegation against the spectacle of the most flamboyant architectures. Are there architectures that coexist better with the imperfect? "Today, with the scarcity of resources, it is still not possible to aspire to permanence," he admits from London. When and why is it possible to build well? "It is always an obligation. We have to build less but better. Good design includes ideas, materials, understanding of the place, and dedication of time. Study all that and optimize your relationship. I don't build well because I'm a genius, just because I'm not, I have dedicated myself to digging in places to understand them and get the project they contain from there".
In Spain, Chipperfield signed an audacious work, the Veles i Vents building in Valencia. However, the property did not have the required investment nor has it had the maintenance that a work like this requires. "The best projects include economic intelligence, knowing what to invest in," he says.
Do you build for eternity? "All architecture inevitably seeks that end: permanence through stability and reliability. Even when we build a sandcastle on the beach, we protect it so it will last. That from the pragmatic point of view. From the representative: architecture are brands that symbolize that permanence. The spectacle of power has never interested me. The staying power, yes."
To the Barcelona City of Justice and the social housing in the Madrid neighborhood of Villaverde, Chipperfield added his own house in Corrubedo, A Coruña, where today he has a Foundation to protect "not only the buildings and the environment, but also the sum of buildings". In Corrubedo they have recovered even the town bar, doomed to disappear. That is part of the work of a guy who decided that his three children would spend the summers in that town in Galicia. It is this type of recovery that led him last year to open his fifth headquarters (after London —100 people—, Berlin —150—, Shanghai —40— and Milan —40—) in Santiago de Compostela. The office today has six employees and epitomizes the kind of global—or world—but local architect that Chipperfield decided to be. It was his affinity with a Spanish architect —Manolo Gallego— that led him to A Coruña. And it has been the strength of the place, its geography and its history, which has made both he and his wife, the Argentine Evelyn Stern, and his children get involved in the life of the town. "Our house in Corrubedo is my manifesto of what I understand by architecture, something that improves things but does not subdue them. A non-minimalist but precise intervention that has nothing in excess and nothing is lacking".
Chipperfield is an architect who needs time. He doesn't know how to work without it. He is to settle down rather than assert himself. That is why he handles the most expensive material: labor. And he defends another path, not nostalgic, to the unstoppable industrialization of architecture. His Spanish partners know it —the study of Fermín Vázquez and Anna Bassat, B720, or that of JM Fernández Isla— and all the international ones. That is another of the keys of this designer: working with thinking partners of the place, attending, listening and observing to settle in a place, revealing its tradition and culture.
Where did Chipperfield and his team come from with this need to look after their buildings? To answer, it is necessary to go back to its beginnings. We are in London. They run the early eighties. Chipperfield has stopped working for Richard Rogers and Norman Foster – the champions of High Tech in both its colorful and elegant versions – and he knows that this cannot be his way. It's 1984 and Chipperfield opens a studio in Camden. He's 31 years old. And he's not comfortable building with glass and steel. He mounts an exhibition on Álvaro Siza. That is what interests him: plasticity, roots, place, materiality. And he begins to work, attention, making interiors. "It was not an election. We were living in a recession. There was not work. We understood that our generation would not build airports and hospitals. And we did not despise the commission of a store". Do not despise. Japanese fashion designer Issey Miyake hires him to do his shop in Chelsea. And Chipperfield travels to Japan to prepare. "What can you give Japan?" he asks by way of explanation. This professional entry will define the other two legs of this creator: the contact and care of the interior space and the austere and demanding Japanese path. "Not minimalist, precise," he insists. Today Chipperfield and his studio have signed Valentino stores around the world. They have done so by sublimating a material that is sometimes reviled: the terrazzo that covers, like a fresh and renewed skin, the boutiques from the Italian designer.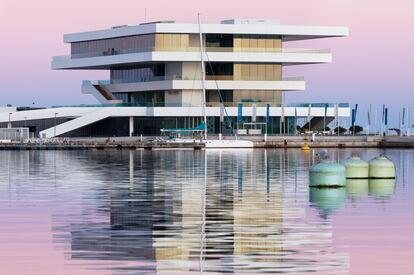 Knowing how to choose and decide to care. That would be the summary of this bold and careful architect in equal parts. And perhaps his biggest criticism of him could come from that point: although he insists that his buildings don't cost more, Chipperfield is not an economical architect. He needs hands to build and time to understand, investigate and supervise. It is so. He still works for eternity.
All the culture that goes with you awaits you here.
subscribe
babelia
The literary novelties analyzed by the best critics in our weekly bulletin
RECEIVE IT
Disclaimer: If you need to update/edit/remove this news or article then please contact our support team
Learn more
Add Then24 to your Google news feed.