SNCF, RATP, schools… The unions are now calling for a renewable strike in many sectors, against the pension reform.
Par Thibaut Deleaz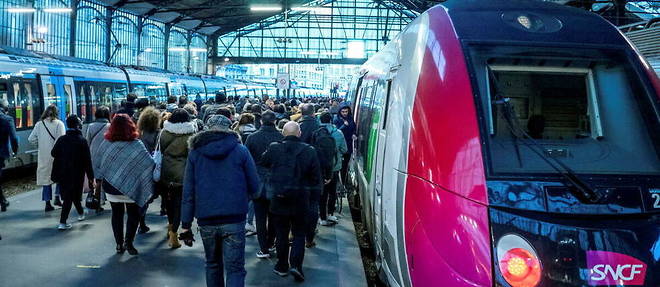 C'left for the renewable strike. The unions are now calling on employees to mobilize every day against the pension reform. The goal, assumed: to hold the "blockage" of the country initiated this Tuesday, March 7 to bend the government. And this Wednesday, March 8, International Women's Rights Day, should serve as fuel for mobilization. The organizations are calling on women in particular to strike out and pound the pavement to denounce the reform, which would be more "unfair" for them, but also to demand equality, in particular pay, at work.
Driven by the good prospects for this Tuesday, the unions are already planning an "out of the ordinary dynamic" for this March 8, with demonstrations planned in around 150 cities, two to three times more than in previous years. In parallel, the movement will continue in transport, schools, but also refineries. Should we expect a second day of chaos? We take stock.
READ ALSOStrike of March 7: what to expect for the day of "blocking"?
Transports
At the SNCF, all the unions are calling for a renewable strike. The forecasts for this Wednesday, March 8 will be announced the day before at 5 p.m., but the company warns that the circulation of trains will again be "very severely disrupted". Tuesday, the traffic is announced as very disturbed with only one TGV out of five, as many TER and no Intercités.
On the RATP side, whose special regime for new agents must be abolished by the reform, the inter-union also wants a renewable strike. The Parisian authority is already planning "very disrupted" traffic on Wednesday on the metro and the RER A and B for which it is responsible, for the second day in a row, but normal traffic on the tram and almost normal on the bus. Detailed forecasts will be known on Tuesday around noon.
Fuel
In the refineries, the CGT hopes to mobilize enough to shut down the sites. What lead to shortages in service stations as in the fall? At the time, the government had resorted to requisitions to unblock the situation. "This time we will prevent them, by mass convergence in front of the requisitioned sites", warned a CGT official.
Education
The teachers' unions are calling for the strike to be renewed on Wednesday 8 March. The Snuipp, first representative of the primary, ensures that the mobilization "already looks very important Wednesday, March 8 as part of the day of struggle for women's rights".
High school and college students could also join the protests. Youth organizations are calling for mobilization this Wednesday, before a new day on Thursday, specifically dedicated to young people.
Disclaimer: If you need to update/edit/remove this news or article then please contact our support team
Learn more
Add Then24 to your Google news feed.