Father's Day is just around the corner and it is customary to give a gift. If you are looking for something original that can be taken everywhere and is useful, a MagSafe wallet for iPhone can be an interesting option. We propose five models of different prices and finishes.
MagSafe Wallet for iPhone
Spigen Valentinus MagFit 2 Card Holder
Available in black or brown, Spigen's Valentinus MagFit 2 Card Holder ($27.99) is made from durable vegan leather and holds up to hold up to two cards in the compartment. It has an additional access port for easy removal. It's slim for easy slipping in and out of your pocket.
Spigen Valentinus MagFit Card Holder 2 Cards Designed Compatible with MagSafe Wallet for iPhone 14 Pro / 14 Plus / 14 Pro MAX / 14, iPhone 13/13 Pro / 13 Pro MAX / 13 Mini and iPhone 12 Series – Black
Ringke Magnetic Stand Wallet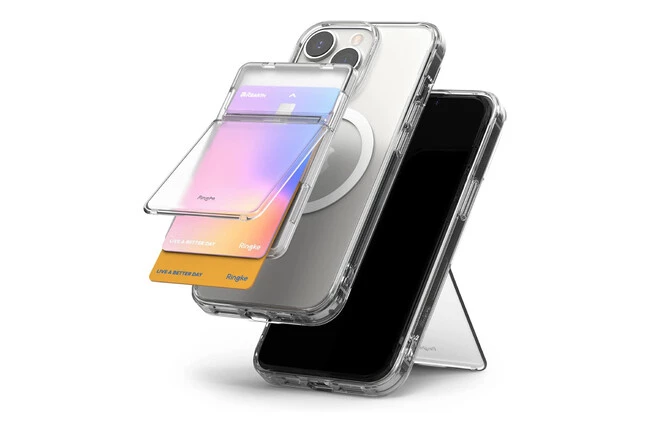 Another alternative is the Ringke Magnetic Stand Slot Card Holder (19.99 euros), available in three finishes. This wallet is made of anti-yellowing polycarbonate with capacity for two cards. is thin and It has the kickstand function when opening the kickstand.
Ringke Magnetic Stand Slot Card Holder, Card Wallet with Stand, Lightweight Solid MagSafe Wallet Compatible with iPhone 13 Pro MAX, 13 Pro, 13 and iPhone 12 Pro MAX, 12 Pro, 12 – Clear Mist
Sinjimoru iPhone MagSafe Card Holder
On sale in five colors, the Sinjimoru card holder (30.03 euros) has a triple function: phone holder on the desk, hand grip and wallet with security cord. Its 2800 g force gives you a much stronger magnetic coupling than that of Apple's proposal. It can be used with smartphones without MagSafe as long as the M-Plate accessory is used, which is an adhesive with a magnet.
Sinjimoru (2022 Updated) iPhone 14 Magnetic Phone Wallet for MagSafe, iPhone Card Holder with Cell Phone Kickstand & Phone Grip Strap for iPhone 12 13 & iPhone 14 Series. M-BGrip Black
Native Union Classic Wallet with MagSafe
If you prefer the design of the official Apple model, the Native Union wallet (49.99 euros) is very similar and is available in two colors. He is able to keep three cards safely and without adding much thickness. It's made from Yatay, a plant-based material handcrafted in Italy and finished with a smooth cross-grain design. Cards can be easily removed through the rear access port.
Native Union (Re Classic Wallet | Magnetic – MagSafe Compatible Card Holder – Extra Secure and Ultra Slim – Safely Store 3 Essential Cards (Kraft)
Phelinta MagSafe Wallet for iPhone
We end up with Phelinta's magnetic wallet (23.99 euros), which differs from the others by being able to hold up to five cards. It has a flip cover to keep cards safe, and the strong magnet keeps the wallet attached to the back of the iPhone.
Phelinta Magnetic Wallet Compatible with MagSafe Wallet for iPhone 14 Pro Max/14 Plus/14/13 Pro Max/13/12 Pro Max/12, Magnetic Credit Card Wallets
You can be up to date and at all times informed of all the news from the Apple world and the offers of Applesfera Selection in our profiles of Twitter and Facebook.
Some of the links in this article are affiliated and may bring a benefit to Applesfera.
Images | Spigen, Ringke, Sinjimoru, Native Union and Phelinta
Disclaimer: If you need to update/edit/remove this news or article then please contact our support team
Learn more
Add Then24 to your Google news feed.