Lena Sommestad shows that it is not too late for community building
This is a cultural article which is part of Aftonbladet's opinion journalism.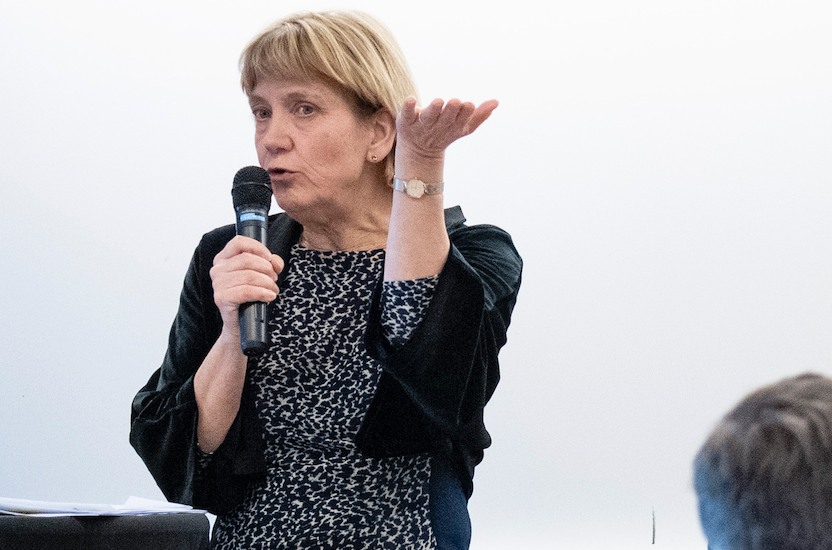 Why is it asked? always how much welfare costs and not what it contributes? It is the central theme of Lena Sommestads new essay "Man first! – About welfare policy as investment policy" (Verbal Förlag). Her vision is a society where investments in people are not constantly saved.
Lena Sommestad has managed to be both professor of economic history and minister of the environment. She was involved in the green people's home, which would become social democracy's major project in the 21st century. Her writing is welcome, not least after the recent election campaign. It felt strangely disconnected from the big events in the outside world and filled with politics that didn't seem grounded in any idea of ​​society. A political language had been needed for the current situation, where both inflation and a lack of social investment prevail at the same time. But there was a lot that was debated incomprehensible.
"The state's most important role is to set good rules of the game for the market," writes Sommestad. But good rules of the game without welfare policy is a market liberal utopia, according to her. Washington Consensus it has also been called. Far-reaching market reforms have been required by countries to, for example, obtain loans from the World Bank or participate in free trade agreements.
A consensus which now seems to have been broken by the US's new industrial policy where the state, in response to China's strong expansion over the past 20 years, is instead taking a more active role. It's a huge change.
The same deal with the primacy of the market over everything else, which Lena Sommestad brings up in her essay, is also visible in the debate about green industrial investments. Including Institute for Business Research (IFN) runs, to put it simply, a line where private entrepreneurship is the basis of all prosperity. The state should not interfere. The industrial projects in Northern Sweden where state-owned companies are involved have received particularly many rejections.
It is the exact opposite of the arguments put forward by the National Economist Mariana Mazzucato, that successful innovations are based on a mix of government and private involvement. It is therefore no surprise that IFN also published an article to try to refute Mazzucato's theses.
It does not mean that all is peace and joy with the direction that is being staked out now. Anna Andersson has written on this page about the lack of an idea of ​​society's place in connection with new industrialization. Schools and health centers cannot compete with industries for wages. The construction industry is declining due to the interest rate increases and the broken supply chains of recent years. Without attractive residential areas, good schools and access to healthcare nearby, it is difficult to attract engineers and industrial workers.
There is a risk that the industrial projects will become a kind of Klondike where workers are flown in to carve gold for investors. Rather than something that makes the surrounding society flourish.
Are we to believe Sommestad, the idea of ​​investing in common resources seems to have ceased to exist because market solutions and cuts have been prioritized by, among other things, their own party, the Social Democrats. "It becomes clear not least when we look at how the market model that is dominant today has affected the priorities and arguments of the Social Democrats," she writes.
Even before she became minister, the idea with the green people's home was to invest 50 billion a year in environmental investments. That was not the case. There were ideas that the investments could lead to full employment and expanded welfare. It didn't turn out that way either. Above all because the state finances have been the most prioritized issue for social democracy for three decades.
The in between has been called a green new deal and means large-scale investments in green conversion could thus have taken place already 25 years ago. With such levels of ambition, society would have looked different now. More resilient to both environmental and social problems.
There is a conundrum here and that is why the left in a broad sense lost confidence in the early 2000s. Why did societal transformation stop being seen as possible? Sommestad's vision of investment in education and health appears more radical than it is for that very reason. That it is an engine for economic growth and leads to greater equality, there is as much research as possible. That's not where the shoe pinches.
In my opinion, it is rather the sharp boundaries that have been drawn between different parts of society that are decisive. When I think of descriptions of the old folk home, one of the features that stuck is that industry and welfare were seen as parts of a common social expansion. But the more these two have been treated as a pair of opposites, the easier it is to assume that one is an asset and the other just a cost.
Somestad leaves anyway a hopeful message: it is never too late to take up community building. A word that, incidentally, many politicians love. It should not be an empty phrase but filled with substantial content.
Disclaimer: If you need to update/edit/remove this news or article then please contact our support team
Learn more
Add Then24 to your Google news feed.