Due to the fairly favorable weather conditions, a flight meeting is predicted in Hoogerheide, course designer Adrie van der Poel suspects that the World Cup is "tougher than everyone thinks". What does the connoisseur's eye of Paul Herygers say? Our co-commentator put on his boots and gives a tour.
1. The first bridge shortly after the start

Shortly after the start, the first bridge smiles at the World Cup visitors. "It once caused problems and could be improved", says Paul Herygers.
And so it happened: "It has become a boulevard: it is much wider now, everyone can safely enter the field. I suspect that problem is a thing of the past."
The fact that Wout van Aert starts on the second row is also negligible. "It really won't matter to him."
2. The background leaves no room for interpretation

If you look at the ground, you will spot a rock-hard soil under the fallen leaves. Will this be an F1 race?
"With a little sense of exaggeration: they will be driving around here at 150 km/h. We are here at the highest point of the track, but it is powder dry."
How will that affect the World Cup? "Very little rain is predicted, so we have to do it with a lot of tension."
"There are some guys like Michael Vanthourenhout and Laurens Sweeck who will last longer, but sooner or later they have to believe it too."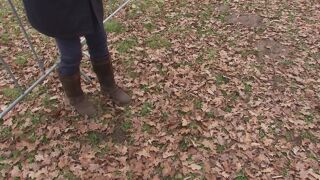 3. The forest is clean

Bad luck is inherent to the cross, but you have to have a lot of bad luck to have bad luck.
"Everything has been cleaned up in the forest. The leaves are gone, the acorns and twigs too. It is very clean. Anyone who is still unlucky here must have a big setback."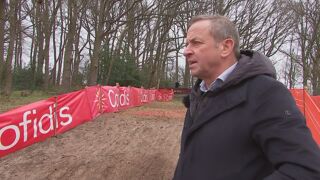 4. The triple bridge and the wind

The field around the VIP tent is adorned with a triple bridge, a "triple bridge" as our analyst says.
"You can't blame the organizers for anything," he says about the billiard cloth on Thursday afternoon during his inspection.
"Let it rain and it will be a different story. Now they are flaming on all sides."
Herygers especially warns our promises. "With Tibor del Grosso they are not finished yet on this course. It is all hands on deck for that great Belgian team."
And there is one more factor to take into account: "I feel a lot of wind here. It will take part of the leading role."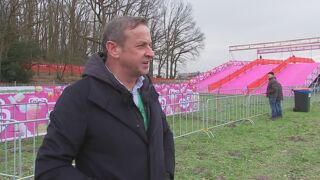 5. "I almost wet my pants at the beams"

There they are: the beams. The first is 37.5 centimeters, the brother is 39.5 centimeters. The maximum allowed height is 40 centimeters.
"I almost shit my pants", says Herygers, who doubts whether all top athletes will jump without any problems.
"They flirt with what is allowed, those 40 centimeters. It is also increasing here. The intention is to jump, because if you get off, you get a second."
"They are extremely high and they are strategic. Grab a second here with the perfect jump and it won't be far."
"They couldn't be better for a real jumper. You would think it was done for it. But there was another reason, one that I can't find."
Course builder Adrie van der Poel clarified: "I moved them, but that was already decided six months ago. Beams have no function if you put them where you have to walk through the mud."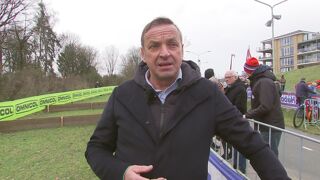 6. Watch out for the descent just before the stairs

Via a mischievous descent we reach the stairs. Is that sink a pitfall? "You can really hurt yourself here. In a group it gets very tricky."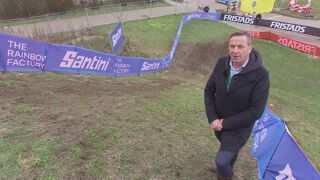 7. 36 stairs to the finish

The stairway to heaven heralds the gateway to heaven or hell. 36 steps have to be overcome. "All in all, it's still okay."
"But it will weigh on you after an hour. That's harder than jumping over a beam. This is power, you can put something right here in the final."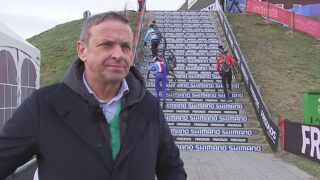 8. A royal sprint?

If the decision has not yet been made, then we get the apotheosis in the last straight line after the stairs: a sloping finish strip.
"If we can sign for a sprint, then I'll participate," Herygers explains his reconnaissance. "Then we already had 59 minutes of tension."
"It's a strange sprint: you're kind of launched, you don't wait too long, it's on the power."
"Van Aert has an advantage in a sprint. And then I don't look at Benidorm, because he didn't get a chance there."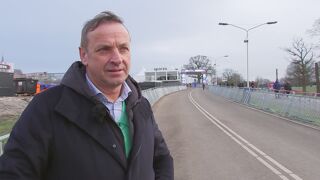 Disclaimer: If you need to update/edit/remove this news or article then please contact our support team
Learn more
Add Then24 to your Google news feed.