Åsne Seierstad talks about her new novel "The Afghans"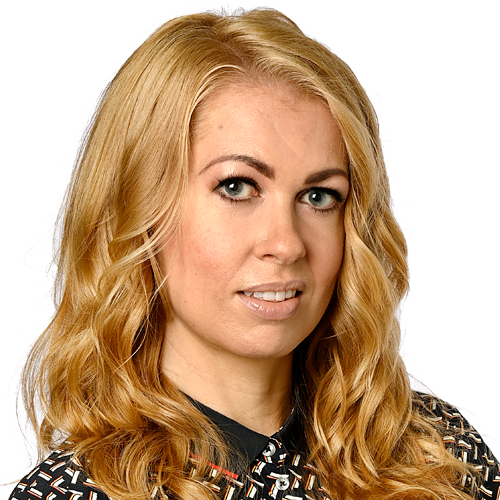 This is a cultural article which is part of Then24's opinion journalism.
An existence that increasingly resembles house arrest.
That is the fate of Afghanistan's girls and women, after the Taliban took power. Åsne Seierstad, current with the book "The Afghans", sees the silence about the situation as a betrayal.
– For so many people, it's like life has completely ended, and so no one talks about it.
Asne Seierstad, 52, sits with her legs wrapped in a thick blanket, because she thinks it's a little chilly inside the publisher's office. Similarly, she was wrapped up when she met the Taliban commander Bashirwhom she interviewed for the book The Afghans, she tells. She had forgotten the black covering she was supposed to wear indoors and Bashir's associates were horrified: "You have to cover your legs!". She wore baggy pants, but it wasn't enough. She was given a blanket to wrap around herself. Donkey was annoyed. After all, Bashir had several wives.
– He has seen women's legs before, she says.
"I have to tell you"
With the Taliban's sudden takeover of power, she felt she had to go to Afghanistan again, she says. In January last year, she traveled there – then 20 years had passed since she had last been there, for work The bookseller in Kabul.
– I felt that "I have to tell you about this". There were several questions I wanted answers to, such as who the new Taliban are, if there is any difference from the old ones, and so on.
IN The Afghans it is above all three people who get to represent the brutal development in the country. Women's rights activist Jamila who suffered from polio and grew up as a "cripple", but fought to study and against all odds became a minister in the government. But who were forced to flee when the Taliban took over and ended up in Norway. The Taliban commander Bashir, who lost his father in the Soviet Union's war and was already trained to become a jihadist at the age of twelve. The women in his home made bombs, a job described as a daily routine, similar to baking bread.
And so Ariana who excelled in school and only had one semester of law school left when the curtain was lowered on her future. Bashir commented on Ariana's fate with the words: "Sorry, but there is no place for educated women in Afghanistan."
The aftermath to The bookseller in Kabul became a dispute about the truth, where Åsne Seierstad was ultimately acquitted completely. But the experience left an impression. This time the interviews were recorded and the protagonists had the opportunity to read and correct, she says.
– I have of course become very careful and correct after that experience. I had the main characters read through their parts, which I describe in the book's afterword.
For a long time she thought that the new book would revolve around two people, Jamila and Bashir.
– But then I met Ariana, and that was decisive. It is her future that is at stake.
"Increased frustration"
Initially, there were some hopes that the new Taliban rule would not be quite as harsh as last time. But for the women in the country, the bad news has since come blow after blow. More and more public places have become forbidden ground, such as gyms, workplaces and parks. Girls are only allowed to attend school up to sixth grade. Non-governmental organizations are no longer allowed to employ women. The supply of care is shrinking even more.
You recently wrote a debate article about Afghanistan, what was most important for you to get across?
– I had felt a growing frustration with the silence about Afghanistan, and that silence came quite early after the Taliban took power. "We have evacuated people", they announced, but then it was like a big vacuum, even before the attack on Ukraine. And I don't think this silence has anything to do with Ukraine.
– It is like a great political trauma, that we have failed so completely in Afghanistan, with absolutely everything. It is difficult for us in the West to accept. My frustration concerns, among other things, the silence from the Norwegian Prime Minister, from the leaders of other countries.
"Life has ended"
The fates she has witnessed touch her deeply, she says.
– I have met these Afghan women and these young girls, who from the age of twelve are now not allowed to study further. If you take the school away from an Afghan girl, you have robbed her of everything. It is not that the days are filled with leisure activities. Previously, they had to leave the house to go to school, study, go home, do homework. Now there is nothing left, except household chores, she says and adds:
– For so many people, it's like life has completely ended, and so no one talks about it. We can protest against the actions of the Taliban, but it will not help. So what do we do? It's not like I have the answers, but we need to discuss the problem. The silence about Afghanistan also applies to the media, which has a responsibility to demand answers about how these issues are handled.
What do you think can make the Taliban back down regarding, for example, women's rights?
– In their eyes, we are the enemy, but we have to find ways in. If the Taliban are to back down on certain points, it must be done without losing face. It must not be presented as a victory from countries like Sweden or Norway, she says and continues:
– It has turned out that most Taliban do not want this change either, the leader at the top is not representative of the group at large. Large parts of the government, from what has emerged, have been against these restrictions. They want their wives to have access to care. It is the emir who has decided it. There may be an opportunity to make a difference with diplomatic pressure, the Taliban are at the government level in different layers and it may be easier to cooperate with them at the local level in different places.
The book The Afghans is written in novel form, but for girls like Ariana there is no classic happy ending.
– I'm so happy that I met her, it's so sad that she feels the way she does, but I'm so happy that she was able to put into words what she's experiencing.
The message is hammered home again.
– There must not be silence about these girls.
Disclaimer: If you need to update/edit/remove this news or article then please contact our support team
Learn more
Add Then24 to your Google news feed.