26 Jan 2023 09:05 am

Even after more than 30 years, East Germans are discriminated against when filling top positions, in the Federal Republic of Germany, West German rope teams set the tone. Now you want to take countermeasures with "voluntary self-commitment".
The federal government has once again established that East Germans are discriminated against when filling top positions – also in the federal authorities and the federal courts. This is the result of current surveys commissioned by the Federal Government Commissioner for Eastern Europe, Carsten Schneider. With a share of around 20 percent of the population, native East Germans hold only 13.5 percent of management positions in the upper and highest federal authorities. If you only take the five eastern German states without Berlin as places of birth, the figure is only 7.4 percent. Schneider introduced a "counter-strategy" to the Federal Cabinet on Wednesday. The news agency dpa he said:
"More than 32 years after reunification, East Germans are clearly underrepresented in leadership positions in our country – a problem that has still not been solved."
The federal government now wants to make this an issue. For East Germans there are glass ceilings "and they are made of bulletproof glass," he added at a press conference. During the conference he also spoke of "unconscious discrimination". However, this is likely to contradict the experience of many East Germans. This is also documented in numerous reviews of the trust transactions, such as that of the historian Andreas Malchya.
As an example, the anecdote from Treuhand Vice President Hero Brahms should be mentioned here, who said during a board meeting on July 14, 1992 that one should not employ so many East German employees if one kept an eye on the quality of the work: "You can't work with these negroes."
According to Schneider's definition, East Germans are those who were born in Berlin, Brandenburg, Mecklenburg-Western Pomerania, Saxony, Saxony-Anhalt or Thuringia. Schneider had had the place of birth recorded for almost 4,000 executives in 94 federal agencies, four constitutional bodies and the judiciary in the five federal courts. The results also included that East Germans made up only 7.1 percent of the judges recorded, excluding Berlin only 5.1 percent.
Now the government claims that it wants to take countermeasures. In doing so, it is apparently largely based on the concept of "voluntary commitment", but there should not be a quota. In concrete terms, data on the places of birth are to be recorded more systematically. Federal authorities should work with voluntary commitments. Selection committees should be made up of more diverse staff, managers should be specifically prepared for their tasks and networks should be promoted. At the end of the legislature, there should be "further steps if necessary". Schneider said he hoped for progress next year and would support East Germans being represented in leadership positions in line with their 20 percent share of the population. Left East Commissioner Sören Pellmann criticized the current situation as a breach of the constitution:
"AArticle 36 of the Basic Law requires a fair distribution of personnel from all federal states. "
However, Schneider rejects an east quota as requested by Pellmann. It is not legally certain to define who is considered to be East German. For example, former Chancellor Angela Merkel, who grew up in the GDR, was born in Hamburg and according to this definition is not an East German.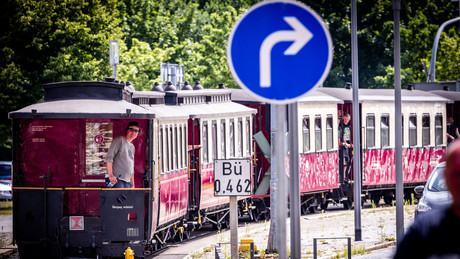 The Eastern Commissioner of the CDU/CSU parliamentary group, Sepp Müller, emphasized that the federal government should act now. There are highly qualified workers in East Germany who should be given appropriate consideration. The FDP East Commissioner Hagen Reinhold, on the other hand, said: "It must never apply: Region before qualification." According to Reinhold, the experience of East Germans with "transformation processes" is a "qualification and an advantage".
Schneider also did not explain why no corresponding specific regulations are enforced in federal and state authorities, the judiciary and administration. According to experts, the state itself could set a good example in these areas, but the political will to do so is evidently lacking. It can therefore be assumed that the previous regulations will in all probability not change anything significant.
More on the subject – East Commissioner Schneider complains: "Many East Germans are simply exhausted"
(rt de/dpa)
By blocking RT, the EU aims to silence a critical, non-pro-Western source of information. And not only with regard to the Ukraine war. Access to our website has been made more difficult, several social media have blocked our accounts. It is now up to all of us whether journalism beyond mainstream narratives can continue to be pursued in Germany and the EU. If you like our articles, feel free to share them wherever you are active. It's possible because the EU hasn't banned our work or reading and sharing our articles. Note: However, with the amendment of the "Audiovisual Media Service Act" on April 13, Austria introduced a change in this regard, which may also affect private individuals. That's why we ask you not to share our posts on social media in Austria until the situation has been clarified.
Disclaimer: If you need to update/edit/remove this news or article then please contact our support team
Learn more
Add Then24 to your Google news feed.