Many of us gain weight in the winter. What favors it? Certainly the fact that with the arrival of colder days, the season for celebration begins. Occasional events, including: Halloween, St. Nicholas' Day, Christmas, and later New Year's Eve abound in a lot of delicacies. Partying until the night, lack of sleep, snacks and alcohol as well as minus temperatures outside the window, which encourage lounging on the couch, result in the appearance of unnecessary kilograms. However, that's not all. Here are 5 reasons why we get fat in winter.
See also: The dangerous grapefruit diet was born 100 years ago. It was propagated by great-great-grandmother Drew Barrymore
Food for sadness

Gray, winter weather is conducive to looking for alternative ways to feel better. For a few months, we can't enjoy the sun and beautiful weather, so warm chocolate or a fat donut with icing provides a smile on our face. Food, and especially sweets, help us cope with mood swings, feelings of depression and the winter low energy. However, it should be remembered that it is wholesome, balanced meals that have the best effect on our body and well-being.
Why do we gain weight in the winter? / Pexels, Pavel Danilyuk

Photo: Pavel Danilyuk/Pexels / Pexels

No physical activity

The days are shorter, it gets dark earlier, and time is getting shorter. Such conditions cause a certain stagnation. In spring and summer, we engage in various physical activities, we give up public transport in favor of walking or cycling. In the winter, however, we only care about moving from point A to point B as quickly as possible. We have less energy and motivation, we are more likely to spend long evenings on the couch with a pack of crisps. Such a lifestyle favors the deposition of adipose tissue, which results in the appearance of extra pounds.
See also: What time should you exercise to lose weight?
December debauchery

As we have already mentioned, December is the month of good food. From the very first days, seasonal delicacies appear in stores, and the holiday frenzy begins at home. During this period, we tend to consume larger portions of high-calorie foods and drinks. A little weight gain is fine, and it would be a crime to refuse Grandma's delicious cheesecake. So it is good to enjoy winter meetings and served traditional dishes. However, remember to return to a healthy lifestyle and physical activity soon after – this will help you avoid long-term weight gain.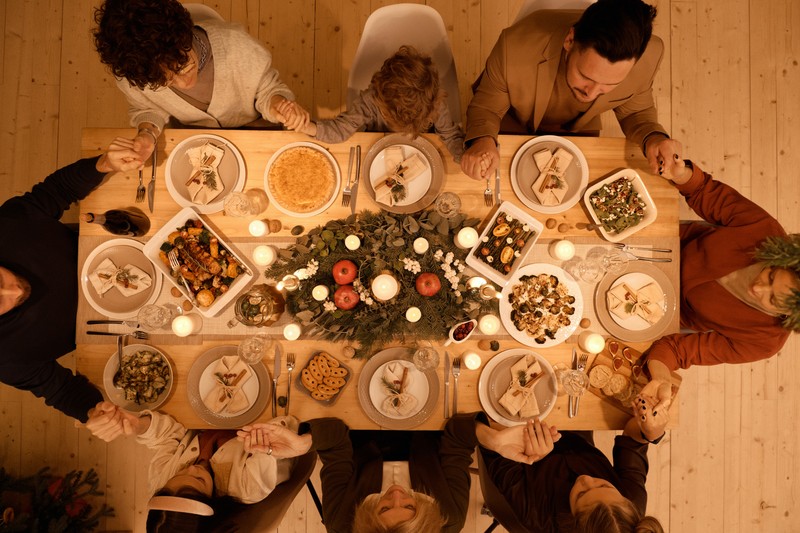 What Contributes to Winter Weight Gain? / Pexels, Nicole Michalou

Photo: Nicole Michalou, Pexels / Pexels

You have no motivation

With the end of summer, all short dresses, cut-out tops and swimsuits landed at the bottom of the wardrobe. Now your wardrobe is dominated by voluminous sweatshirts and plush sweaters that cover every inch of your body. So why care about the line? You tell yourself that under a layer of clothes, no one will notice a few extra pounds, besides, you rarely go out, and by summer you will lose it all. Remember, however, that the more you gain weight during the winter, the longer and harder the road to losing weight will be. Do it wisely, otherwise you can get the yo-yo effect.
Vitamin D deficiency

Did you know that the level of vitamin D in the body plays a significant role in the process of fat accumulation? Taking it regularly reduces the level of cortisol, which is a stress hormone, and thus protects us from abdominal obesity. In addition, people struggling with overweight are deficient in this ingredient. This results in an increased desire to eat and a lower level of satiety after eating a meal. In winter, when there is no sun and we hide the body under a layer of clothes, the synthesis of vitamin D is very difficult, so it is worth paying attention to proper supplementation.
See also: Vitamin D supplementation in winter. Why is it so important for our health?
Disclaimer: If you need to update/edit/remove this news or article then please contact our support team
Learn more
Add Then24 to your Google news feed.