25 Jan 2023 8:43 pm

At a meeting with Russian students on Wednesday, the Russian President answered many questions from different areas of life. Austria and Germany and their limited sovereignty were also discussed.
During a meeting between the Russian President and students from various universities on the traditional Students' Day on Wednesday, a student who had to drop out of her studies in Vienna due to discrimination asked Vladimir Putin about his assessment of the current state of affairs in German-speaking countries.
As soon as Putin heard that the young woman had studied in Vienna, he greeted her in German: "Grüß Gott!" and asked what the discrimination she complained about consisted of. The student said that shortly after the start of the Russian special military operation on February 24 last year, she was summoned to the dean's office and asked to sign a document condemning the operation, declaring solidarity with Ukraine and branding Russia a terrorist state . Signing this paper should have been the prerequisite for continuing your studies. The student refused to sign the document and returned to Russia, where she began her studies again. When asked by the President, the young woman said that the incident had occurred at the State University of Vienna.
The student also emphasized that simple Austrians often sympathize with Russia. Vladimir Putin caused a few friendly laughs when he recalled his personal ties to Austria and, among others, to the former foreign minister of the Alpine country, Karin Kneissl:
"I know that. I also have a good and close relationship with many simple (and not so simple) Austrians."
In a more serious tone, the Russian President continued:
"The elites (in Austria) do not serve their own national interests, but those of other countries. The right insights seem to be gaining ground only slowly."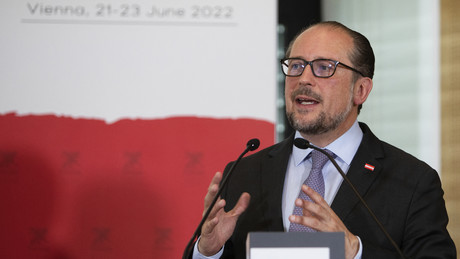 Putin recalled the history of Austria after the Second World War: Soviet troops were stationed in the country, but the USSR soon withdrew voluntarily and gave the Austrians free self-determination of their social and economic development. The only condition was that the Alpine state should never again become an enemy of the war and never again be allowed to take part in raids on Russia. Austria owes its sovereignty and neutral status to the Soviet Union.
After this brief digression, Vladimir Putin turned to Germany, which he expressly referred to as the FRG. Here, too, the USSR ended the post-war occupation in legal and factual terms. But not the USA: Formally, legally and factually, the Federal Republic of Germany is still controlled by American occupying forces, the Russian President judged. He referred to prominent voices from Germany itself:
"German politicians say that Germany never became fully sovereign after the Second World War. That's not what pro-Russian politicians say, that's what well-known pro-German politicians say."
In conclusion, Putin was cautiously optimistic:
"The time will come when Europe will regain its sovereignty, but obviously it will take a while."
Before that, the Russian President had to answer questions about how to deal with Russian culture in the West and with Western culture in Russia.
Russia's strength lies in its diversity and in the fact that it has absorbed and appreciates the culture, traditions and achievements of all peoples of the multi-ethnic state, said Putin. Russian culture and people have many roots and appreciate them all. The attitude towards European and American cultural influences is correspondingly universalistic:
"We're not ideal, you can argue with us about a lot, but we never had the idea of ​​canceling Beethoven, Bach or O'Henry. And those in the West came up with the idea of ​​canceling Tchaikovsky. Let them do it, they should Tolstoy and Dostoyevsky also cancel, but we won't do without the world classics. Because these are also our roots, we became strong by uniting the culture of many peoples within us".
The meeting was attended by a student from a pedagogical college in Lugansk who had volunteered to take part in Russia's special military operation. He described his experiences at the front to the President. Vladimir Putin thanked this student and his comrades for defending his "large and small homeland". The President found it a pity that the young man decided against the teaching profession and instead decided to serve in the security agencies:
"We need men like that in schools. But of course we need them everywhere."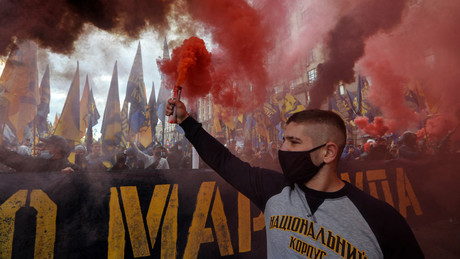 Another student reported on the student initiative to help build Donbass during the holidays. Among other things, this student's group participated in the reconstruction of a monument to soldiers in World War II that was destroyed by Ukraine. The young man wanted this initiative to be expanded.
The President welcomed these efforts in principle, but the current security situation in Donbass prevented him from welcoming a large-scale action of this kind. Ukrainian nationalists would stop at nothing, even firing on their own troops to prevent them from retreating. The state is currently unable to protect thousands of students from terrorist attacks, the president said. At the same time, he expressed optimism that the time will soon come when Donbass will be safe and will be rebuilt on a large scale.
more on the subject – Germany chose its own fate – no pity, please!
By blocking RT, the EU aims to silence a critical, non-pro-Western source of information. And not only with regard to the Ukraine war. Access to our website has been made more difficult, several social media have blocked our accounts. It is now up to all of us whether journalism beyond mainstream narratives can continue to be pursued in Germany and the EU. If you like our articles, feel free to share them wherever you are active. It's possible because the EU hasn't banned our work or reading and sharing our articles. Note: However, with the amendment of the "Audiovisual Media Service Act" on April 13, Austria introduced a change in this regard, which may also affect private individuals. That's why we ask you not to share our posts on social media in Austria until the situation has been clarified.
On February 24, Russian President Vladimir Putin announced that he would launch a special military operation in Ukraine together with the armed forces of the Donbass republics to protect the population there. The goals are to demilitarize and denazify Ukraine. Ukraine speaks of a war of aggression. On the same day, Ukrainian President Vladimir Zelenskiy declared a state of war across the country.

The West condemned the attack, reacted with new deliveries of weapons, promised help with reconstruction and imposed sanctions on Russia.

Scores of soldiers and civilians have been killed on both sides of the conflict. Moscow and Kyiv have accused each other of various war crimes. Thousands of Ukrainians have now fled their homeland.
Disclaimer: If you need to update/edit/remove this news or article then please contact our support team
Learn more
Add Then24 to your Google news feed.