25 Jan 2023 09:29 am

By Dagmar Henn
If people's faces showed their true inner being, what would Federal Foreign Minister Annalena Baerbock's face look like? Could she still look at herself in the mirror? Would anyone else want to approach her?
That's what comes to mind when you have to listen to her speech to the Council of Europe. In it she tells, as usual, in bad English, a touching anecdote about a 16-year-old she met in Kharkov, who can no longer play volleyball and has to hide in the basement, but who has returned from Italy because that be their home.
Quite apart from the fact that anyone who even dared to utter the word Heimat in relation to Germany would immediately have the green inquisitors of Correctiv and Volksverpetzer set on their necks; Apart from the fact that it might be fitting for a member of the district council to tell such little stories, but not for a foreign minister, this is the usual hypocrisy of "that's where people die". Because the only reason it would be difficult to match this 16-year-old with a girl of the same age from Donbass, let's say from Gorlovka, is that the 16-year-old there may never have got around to playing volleyball because her school has been there for has been under fire again and again for more than eight years. Otherwise, as much as Ms. Baerbock may surprise, there are always people on every side of every war.
Except that being German foreign minister denies her the right to tell such a story. Because, contrary to her self-portrayal, she is not an observer of these events, but a perpetrator. Very personal. It could have implemented the Minsk agreements, or at least tried to implement them. Then neither the girl in Kharkov nor the girl in Gorlovka would have to spend their nights in the basement.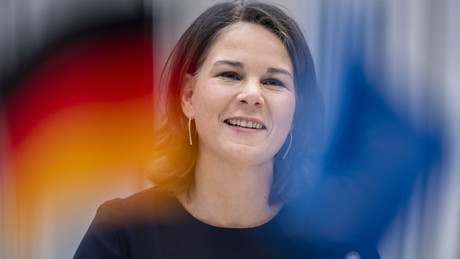 Admittedly, as an actress she is well chosen. She always has that puppy look, you're tempted to believe her innocent demeanor. But nowadays one must never, under no circumstances, forget that the information available in the ministries has long been extremely different from that which is given to the German masses. Of course, the Foreign Office knows the entire history, going back to the German promotion of the Bandera ideology in the Ukraine from 1992; one knows about the war in Donbass well enough that the pathetic reference to children now dying in other parts of Ukraine cannot be separated from the list of all the children who fell victim to Ukrainian shells.
The rhetorical incompetence that must be constructed by their employees, because it is hard to imagine that there is no one left on Bismarckstrasse who can formulate halfway elegant English, this linguistic stumbling only serves to further underline the supposed childishness.
For a long time there has not been a holder of this office in Germany who has as much blood on his hands as Baerbock. Their true form should leave a wide, red, shiny drag mark on the floor. What else did she say, why it is absolutely necessary to stand with Ukraine? Because you don't want a world where rulers use their citizens like pawns in a geopolitical chess game?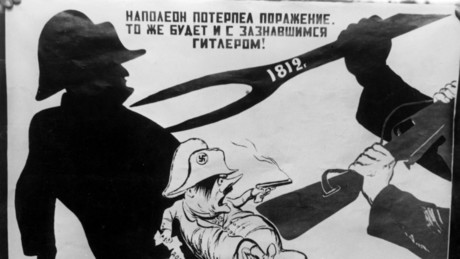 If she doesn't know that this is exactly what is happening to the Ukrainians, tens of thousands, in Artemowsk, it's only because she has consistently ignored it. And looked away. read away. It's only been a few days since the mirror spread a little truth about the Ukrainian losses there with reference to the BND. That was just an excerpt from what should end up on the table at the Foreign Office. But Baerbock probably hired someone to read it all for her and then keep it quiet lest a wrinkle mar her mask of innocence.
Even the Pentagon has now announced in the US press that it wants Vladimir Zelensky to withdraw his troops from Artemovsk. It is certainly not entirely clear whether this is for personal security or whether the relevant instructions were actually sent to the Kiev governor; but one thing cannot be denied – even as an excuse it would not be used if the losses there were not appalling.
Does she see what it looks like over there? The shots from the trenches? Or just the huge burial grounds in Ukraine? Does she see the videos showing how even in Lvov, the stronghold of the Bandera ideology, recruits are now being taken off the streets? How even ambulances are used as camouflage to procure supplies for the meat grinder? If she doesn't feel sorry for the girls in Gorlovka, does she at least feel sorry for those Ukrainian men who are relentlessly pushed further under Russian artillery fire?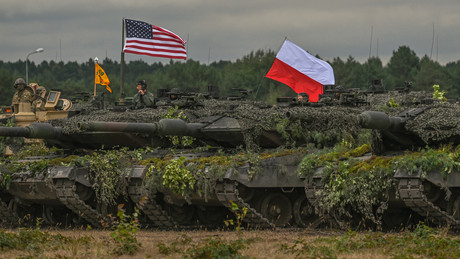 No, she's definitely not watching any of this. "We had to choose between injustice and justice, freedom and oppression," she said in Strasbourg. She does not say that she chose injustice and oppression.
You have to be either very stupid or very evil to pull off a performance like that. This was also evident in her criticism of Turkey, which she accused of imprisoning a journalist. Really, Turkey is the problem? How about Julian Assange, who is being held by a member of the Council of Europe on outrageous pretexts?
Perhaps there is no German Foreign Minister Baerbock, and we are dealing with an escaped example of the Stepford Wives, a robot whose memory is erased daily so that Assange or Gorlowka do not accidentally collide with the performance. Because the iron discipline of separating what it separates without batting an eyelash is hardly imaginable as a human being.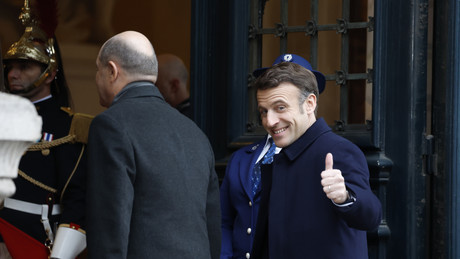 "What binds us all in Council is our commitment to the rule of law." It's a moment one would love to see on a global conference call, from Argentina to Zimbabwe, when Baerbock speaks of devotion to the rule of law. Although there shouldn't be anything to see for long, as it would tear most viewers off their chairs with laughter. Especially now that the EU is about to pass the ninth package of sanctions, which are completely illegal under international law, and at the same time the member states are grabbing greedily for frozen Russian assets. Now that it is known that all parties to the Minsk agreements, with the exception of the Donbass republics and Russia, only signed them to gain time for Ukraine's rearmament, thereby blatantly violating international law, intentionally, since the agreements ultimately passed by the Security Council and thus made part of international law …
"We'd like to benefit from your lessons from the past," she adds, adding another character she claims to have found in Kazakhstan this time. Sure, young people who fall under the influence of Western NGOs believe that all that glitters in the West is gold. The most important lesson from the past would be never to rise above other races again. That's a fitting lesson Baerbock never learned. She doesn't realize that she is drawing a line between masters and servants by remaining silent on Assange while simultaneously attacking Turkey; and she does the same with her silence to Gorlowka.
It does the same to the Ukrainians, which makes sense when you're about to slaughter them by the thousands. Otherwise you could have a guilty conscience at some point. Covering it up would be too much work for the make-up artist who is paid to keep the face of Annalena of Holy Innocence flawless at all times.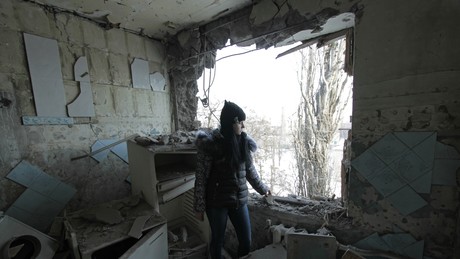 "What, don't these hands ever want to be clean?" No, they won't anymore. Because in addition to her demand that German tanks be sent to Russia in a war that she promoted and that is currently crushing a whole generation of young Ukrainians who are supposedly so valuable to her, she has done something else that a German minister would never have done again allowed to. And I'm sure it's important to her "that we do it together and that we don't blame each other in Europe." If only because their own share of this debt is not inconsiderable.
How is it when it's said? Do all legal and material consequences then apply? Or does she withdraw to the fact that she is only the foreign minister and that there will be no consequences as long as the chancellor does not say so or even receive a document in Moscow? Is she still sleeping too well, or is she suffering from an insatiable bloodlust?
"We are fighting a war against Russia." There it is, the sentence. If there is one sentence with which a member of a German government passes the judgment of history on everything he has done, this is it. No face, no matter how innocent, will help. There's also no washbasin big enough to get those hands clean again. That's a phrase they'll probably curse for generations to come.
"We are fighting a war against Russia." One cannot answer otherwise than Lady Macbeth's lady-in-waiting: I would not bear such a heart in my bosom, not for the adornment of the whole body.
more on the subject – "German tanks on Russian soil mean holy war" – Solovyov interviews Richard Black
RT DE strives for a broad range of opinions. Guest posts and opinion pieces do not have to reflect the editor's point of view.

By blocking RT, the EU aims to silence a critical, non-pro-Western source of information. And not only with regard to the Ukraine war. Access to our website has been made more difficult, several social media have blocked our accounts. It is now up to all of us whether journalism beyond mainstream narratives can continue to be pursued in Germany and the EU. If you like our articles, feel free to share them wherever you are active. It's possible because the EU hasn't banned our work or reading and sharing our articles. Note: However, with the amendment of the "Audiovisual Media Service Act" on April 13, Austria introduced a change in this regard, which may also affect private individuals. That's why we ask you not to share our posts on social media in Austria until the situation has been clarified.
On February 24, Russian President Vladimir Putin announced that he would launch a special military operation in Ukraine together with the armed forces of the Donbass republics to protect the population there. The goals are to demilitarize and denazify Ukraine. Ukraine speaks of a war of aggression. On the same day, Ukrainian President Vladimir Zelenskiy declared a state of war across the country.

The West condemned the attack, reacted with new deliveries of weapons, promised help with reconstruction and imposed sanctions on Russia.

Scores of soldiers and civilians have been killed on both sides of the conflict. Moscow and Kyiv have accused each other of various war crimes. Thousands of Ukrainians have fled their homeland.
Disclaimer: If you need to update/edit/remove this news or article then please contact our support team
Learn more
Add Then24 to your Google news feed.