Although racing game fans are still having fun with Forza Horizon 5the main franchise is on the verge of making a comeback. Forza Motorsportwhich could have been called Forza Motorsport 8will indeed offer us races on the circuit with real time ray tracingdynamic schedule evolution, real-time damage, improved physics simulation and much more.

The title of Turn10 Studiosabsent since his real revelation last summer, returned to the front of the stage during the Xbox & Bethesda Developer_Direct tonight, with a crisp new preview. The developers specified the content and the technical innovations by revealing the passage of the gameplay unpublished. So expect more than 500 cars including a hundred new ones, more than 800 possibilities for improvement, around twenty environments including the Kyalami circuit in South Africa, improved textures, the use of spectrophotometry for the paintwork, from dynamic dirt handling and beefed up audio to tire noise.
More dynamic cars than ever
Forza Motorsport will allow you to collect more than 500 cars, which you can drive and customize with more than 800 unique bespoke upgrades, when it launches. We also offer you the most modern racing cars we have ever had within our garage.

The cars will certainly be plentiful, but we've also enhanced their look with the help of a spectrophotometer, which records multiple data points on a surface to analyze how light behaves on it. Thanks to this new technique, our models react to light in a more realistic way, whether it's colors, glitter in the metal or shine levels. Damage and dust on cars are calculated based on the context in an authentic way and this differs for each vehicle, for example dust will accumulate more in certain corners and in alcoves.

We're also designing a more fun and rewarding driving experience through improving our physique, which has improved more than in Forza Motorsport Episodes 5, 6, and 7 combined.

Improved circuits and new places
Forza Motorsport will feature 20 environments at launch and plenty of tracks to master. In addition to fan-favorite tracks, you can get behind the wheel to explore new locations in the series, including our very first set in South Africa: Kyalami. The level of precision possible thanks to photogrammetry and images scanned via laser makes it possible to obtain details 10 times more realistic, especially for vegetation. With our state-of-the-art graphics, which let us, for example, display tens of thousands of spectators fully animated in 3D, you will be fully immersed in the spectacle that is motor racing.

The game also offers for the first time in the series the time of day in a dynamic way, as well as the weather, which includes the temperature of the circuit and the humidity of the surfaces for each layout, so that all the laps are different. With all of these new features and the details of our environments, Forza Motorsport will truly be a next-gen experience with an incredible level of authenticity.

A more immersive sound experience
We have also partnered with Windows Sonic and Dolby Atmos to create a more immersive sound composition for this next generation of Forza Motorsport. Each sound system has been redesigned to create an immersive soundscape and deliver a new level of acoustic depth and authenticity. For the series, sound development is a 20-year legacy, we continue to use the most modern technologies to improve the sound of our cars and get as close to reality as possible. In particular, we have improved the sound of the tires and suspensions, the exhaust and the turbos, so that they sound like their real-world counterparts. New features such as commentators adapted to different locations will provide an unprecedented sound experience.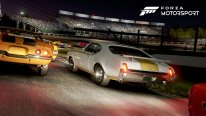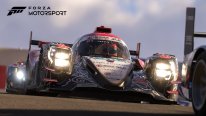 The experience will be playable in 4K and 60 fps, during a solo career based on vehicle customization and optimization, and an extensive online mode. No release date, but Forza Motorsport is expected in 2023 (note that the spring launch is no longer mentioned) on PC and Xbox Series X|S. While waiting for more details on the release date and pre-orders, Forza Horizon 5 is it available from €54.99 on Amazon.co.uk.

Editor
auxance
Favorite editor of your favorite editor since 2009, passionate about music that makes boom boom, follower of comic series of all kinds. I've played a little too much Pokémon in my life.

Follow me

:
Disclaimer: If you need to update/edit/remove this news or article then please contact our support team
Learn more
Add Then24 to your Google news feed.