His eyes sparkle when he talks about his old pupil. Jos Beckx was the goalkeeping coach of Simon Mignolet, soon to be favorite for the Golden Shoe, at STVV. He praises the goalkeeper as a model pro: "Simon was a gift to work with."
Jos Beckx cherishes all memories of Simon Mignolet. The former goalkeeper coach of STVV leafs through a thick folder with newspaper clippings and photos when he talks about his most successful "student".
"I could go on for hours," he laughs.
When Beckx took charge of a very young Mignolet, the goalkeeper still had to prove everything.
"I never thought he would make it this far," the goalkeeper coach admits honestly. "You start with a young 19-year-old who is also promoted from the first division. Then you hope that he will also hold up at the highest level. Simon then made rapid progress and clubs such as Ajax and Anderlecht came knocking on the door."
You know, during our time together, Simon was even still studying. But even then he was always 100 percent committed to his craft.
According to Beckx, Mignolet did not just get the success. The connoisseur praises the exemplary work discipline of his poulain.
"Simon was always very driven, someone who knew where he wanted to go and worked hard. (laughs) The training sessions were never hard enough for him. You know, during our time together, Simon even studied. But even then he was always 100 percent busy with his job."
Beckx therefore sees a possible Golden Shoe as the crowning achievement for a glorious career.
"He just deserves it," he says firmly. "Simon made Club champion and played great matches in the Champions League. It would be great if a goalkeeper could win again with Simon."
Mignolet: "I don't fill in the voting form"

And how does the top favorite himself look ahead? According to many, 2022 was the best year of Simon Mignolet's career.
"It was my most consistent year anyway," said the Club goalkeeper. "If that works out and you have a few outliers – like in the play-offs and Champions League – I can't deny that it was a good year."
Although he himself does not yet want to assume that there will soon be a Golden Shoe in his trophy cabinet. "I am not the one who fills in the voting form. But if you are decisive for your team and win prizes, I think the preconditions have been met."
Often goalkeepers are not the deciding factor – unlike top scorers or assists.
But Mignolet realizes that goalkeepers always have to prove that little bit more to be awarded.
"Keepers are often not the decisive factor – in contrast to top scorers or assisters. Moreover, you have that side competition for best goalkeeper. Many people then hesitate to enter the same name twice."
So who does Mignolet see as his main competitors? "The Union boys anyway. Like Casper Nielsen, who played with us in the second round of voting. Onuachu also still scores his goals. And there are still a few contenders."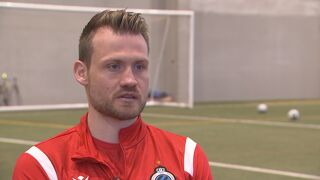 Disclaimer: If you need to update/edit/remove this news or article then please contact our support team
Learn more