25 Jan 2023 7:16 pm

Resistance to the delivery of German battle tanks to the Ukrainian regime is growing across the board. The grassroots movement Freie Sachsen submitted an urgent application to the Federal Constitutional Court on Wednesday. Last but not least, there are warnings of a "Third World War".
The political movement Freie Sachsen submitted an application for a temporary injunction to the Federal Constitutional Court on Wednesday. Andreas Hofmann, also known as DJ Happy Vibes, is the applicant. The objective is:
"The Respondent [der Bundesregierung, Red.] will be banned from supplying Leopard 2 main battle tanks to Ukraine."
The application also makes it clear that German battle tanks are used in Ukraine "in the local military conflict that is currently being fought with neighboring Russia". And further: "The decision of the federal government to deliver battle tanks to Ukraine is an act of public authority and is therefore subject to appeal under Article 93 I No. 4a GG, § 90 I BverfGG."
Specifically, they want to prevent the delivery of battle tanks to the Ukrainian regime, as otherwise there is a risk of German participation in the war. Last but not least, the application focuses on the "right to physical integrity", an inalienable basic right that threatens to be violated for every citizen by the real danger of a third world war that has now been triggered. An apocalyptic situation conjured up by the federal government is described very vividly:
"Possibly having bombs thrown at my place of residence or being fired upon with rockets – especially against the background of a confrontation with a nuclear power that has been provoked – undoubtedly represent an encroachment on the fundamental right to physical integrity, as they pose a massive risk to my health. This encroachment is also attributable to the state: the federal government, which has not been an official war party in the conflict between Ukraine and Russia up to now, has deviated from its previous line, which is also dangerous, of 'only' supplying so-called defense weapons to Ukraine, but is now providing it We also have offensive weapons available that can be used for military advances against Russia. This finally leaves the soil of a neutral state not involved in the conflict and takes a position directly for the warring party of Ukraine."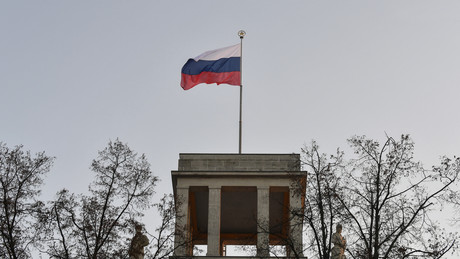 Last but not least, the federal government is violating the two-plus-four agreements of 1990, which made German reunification possible. There it says in the second sentence of Article 2: "The Governments of the Federal Republic of Germany and the German Democratic Republic declare that the united Germany will never employ any of its arms except in accordance with its Constitution and the Charter of the United Nations." In both cases, however, this was not the case.
more on the subject – Russian general on possible consequences of supplying Leopard 2 tanks to Ukraine
By blocking RT, the EU aims to silence a critical, non-pro-Western source of information. And not only with regard to the Ukraine war. Access to our website has been made more difficult, several social media have blocked our accounts. It is now up to all of us whether journalism beyond mainstream narratives can continue to be pursued in Germany and the EU. If you like our articles, feel free to share them wherever you are active. It's possible because the EU hasn't banned our work or reading and sharing our articles. Note: However, with the amendment of the "Audiovisual Media Service Act" on April 13, Austria introduced a change in this regard, which may also affect private individuals. That's why we ask you not to share our posts on social media in Austria until the situation has been clarified.
Disclaimer: If you need to update/edit/remove this news or article then please contact our support team
Learn more
Add Then24 to your Google news feed.