24 Jan 2023 7:22 pm

Ironically, the US Chief of Staff Mark Milley made it clear in Ramstein that it was high time to negotiate in the Ukraine war. If even a high-ranking military calls for it, then negotiations are really overripe. An interjection.
By Willy Wimmer
The US-manned press conference in Ramstein on January 20, 2023, during which every reference to Germany's insignia was avoided, ended unusually. It was the words of the American Chief of Staff Milley that drew attention and made the US Secretary of Defense Austin, who was standing next to him, almost an extra.
Milley lamented the high number of soldiers killed on both sides during the war in Ukraine. He made it clear that the time was calling for negotiations. Unusual for a mainstream neocon chief of staff. But the situation is not in the direction of leaving the field to the Strack-Zimmermanns of this world. The bloodshed must stop.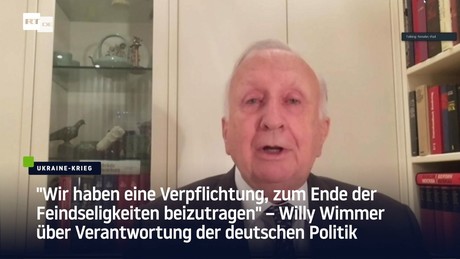 When? Now of course.
Under which conditions?
When the US Chief of Staff calls for negotiations, it means that the United States and Russia must sit down at the negotiating table. Only those who ignore and hide the development before February 24, 2022 can think of something else.
It's not just the memory of the color revolution in Ukraine or the Maidan. The entire development since the founding of the German Reich in 1871 makes it clear that it is the USA that belongs at the negotiating table. And it is Russia that marched its troops across its western border on February 24, 2022. Since then, a war has been raging in the region that no one can end by spreading it across the region hitherto affected.
Make peace with fewer guns!
Willie Wimmer (Born 1943) was a member of the Bundestag for the CDU from 1976 to 2009 and was its security policy expert for many years. As Parliamentary State Secretary in the Ministry of Defense from 1988 to 1992, he witnessed the negotiations on German unity and the withdrawal of Soviet troops from Germany at first hand. That made him, if not a friend of the Russian people, at least someone who understands them and their concerns like no other. With a single sentence: "German tanks are now again in the vicinity of the long-suffering city of Leningrad," in one of his speeches on peace policy, he revealed more empathy for the justified concerns and fears in Russia than the entire Left Party has ever managed.
more on the subject – Ukraine war: "There are speeches that should never have been made" – Interview with Willy Wimmer
RT DE strives for a broad range of opinions. Guest posts and opinion pieces do not have to reflect the editor's point of view.

By blocking RT, the EU aims to silence a critical, non-pro-Western source of information. And not only with regard to the Ukraine war. Access to our website has been made more difficult, several social media have blocked our accounts. It is now up to all of us whether journalism beyond mainstream narratives can continue to be pursued in Germany and the EU. If you like our articles, feel free to share them wherever you are active. It's possible because the EU hasn't banned our work or reading and sharing our articles. Note: However, with the amendment of the "Audiovisual Media Service Act" on April 13, Austria introduced a change in this regard, which may also affect private individuals. That's why we ask you not to share our posts on social media in Austria until the situation has been clarified.
On February 24, Russian President Vladimir Putin announced that he would launch a special military operation in Ukraine together with the armed forces of the Donbass republics to protect the population there. The goals are to demilitarize and denazify Ukraine. Ukraine speaks of a war of aggression. On the same day, Ukrainian President Vladimir Zelenskiy declared a state of war across the country.

The West condemned the attack, reacted with new deliveries of weapons, promised help with reconstruction and imposed sanctions on Russia.

Scores of soldiers and civilians have been killed on both sides of the conflict. Moscow and Kyiv have accused each other of various war crimes. Thousands of Ukrainians have now fled their homeland.
Disclaimer: If you need to update/edit/remove this news or article then please contact our support team
Learn more
Add Then24 to your Google news feed.