24 Jan 2023 21:59

By Gevorg Mirsayan
Poland's former Foreign Minister Radosław Sikorski has claimed that Warsaw was considering annexing western Ukraine. And even if the incumbent Polish government is demanding a denial, there are signs that Sikorski spoke out loud about Warsaw's actual plans. How and under what circumstances could these dreams of Poland come true?
It is becoming increasingly obvious that Ukraine has no future as an undivided state. Even if, by some accident, the Kiev regime keeps much of its territory, what will it do with its economy?
The country's GDP fell by 31 percent in 2022. This number is expected to grow. Partly because of ongoing fighting, partly because the Kiev regime lost part of its regions forever. It will probably lose another part in the future.
The cost of damaged infrastructure is 85 percent of GDP. The budget deficit was an astronomical 20 percent in 2022 – in simpler terms, the country lived entirely on outside funds. And it will continue to do so – economists are predicting a budget deficit of 15 percent of GDP in 2023, and that's still an optimistic forecast.
However, far from all donations from outside were voluntary sacrifices made by the collective West to save the Kiev regime. A significant part consisted of loans that have to be returned. Of course, the nominal size of government debt is not critical, even if it grew by almost 37 percentage points in 2022 and amounted to 80 percent of GDP. But the share refers to the nominal GDP, which de facto does not exist.
And basically there are no means of paying off this debt – neither now nor in the foreseeable future. Even with the current debt burden, Kyiv will have to pay $5.4 billion in 2024 and $7 billion in 2025 just to service its sovereign foreign debt. No wonder the Fitch rating agency rated Ukraine as on the verge of national bankruptcy.
Meanwhile, the international creditors act according to the principle "The Iron Bank always gets what it is entitled to". No one intends to write off Ukraine's debt (or what's left of it), especially after the end of the Russian military operation, when aid to the Kiev regime will go out of style. And then the question arises as to how Kyiv will pay off its current debts.
Basically the only answer is: through payments in kind. For example, by companies still in operation at the end of the military operation, by infrastructure objects or by land.
Examples of such payments already exist. For example, payments in kind to China are sometimes made by countries that, for various reasons, cannot repay the funds borrowed from the People's Republic. Finally, Tajikistan pays with its gold mines, Sri Lanka with a naval base and Montenegro with a port.
Such a practice has been sharply criticized by the West, who have claimed that Beijing is enslaving its debtors. But hardly anyone will criticize the Western countries if they take the Chinese path. Quod licet Iovi, non licet bovi.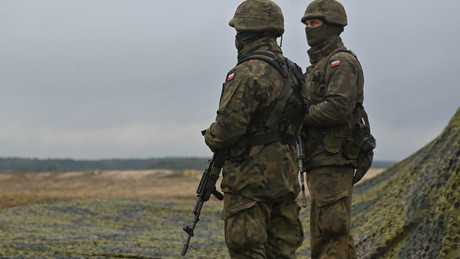 However, it is not excluded that Ukraine's payment in kind will rise to a new level. It could not settle its debts by leasing land and mineral resources, but by finally giving up territories to its neighbors. And Poland is the first candidate for such an annexation.
One might ask why – Warsaw is not Ukraine's main lender and officially doesn't give as much money as Lvov or Ivano-Frankovsk are worth. But there are some arguments in favor of this version.
First of all, it is Poland's great wish. Warsaw considers the western Ukrainian areas to be ur-Polish territories and is ready to take them back at the first opportunity. The latest sign of this was the statement by the former Foreign Minister of Poland. Sikorski assured that Poland's government wanted to annex the western Ukrainian areas as soon as the military operation began. When asked if Warsaw was considering annexing western Ukraine, he replied:
"There was a moment of uncertainty at the beginning of the war when we didn't know how it would go and if Ukraine might fall."
Of course, the incumbent Polish government reacted to Sikorski's words with anger and accusations of treason. Prime Minister Mateusz Morawiecki said:
"Radosław Sikorski's claims are no different from Russian propaganda. The former foreign minister needs to weigh his words. I expect him to deny these shameful claims."
However, there can be no doubt that Poland will make a second attempt if the Kiev regime falls in the course of the military operation. Whether his troops ostensibly invade to protect residents from Russians, local nationalists, or reptilians is unimportant. The main thing is that the areas come back under Polish sovereignty.
However, if the Kiev regime survives and the military operation is ended by an agreement under which part of the former Ukraine (e.g. part of the right bank of the Dnieper) remains under Kiev sovereignty, Poland will have to look for other options to legitimize the annexation. And this is where the issue of debt comes in, whereby Poland could agree to repay Ukraine's loans to the US in exchange for territories.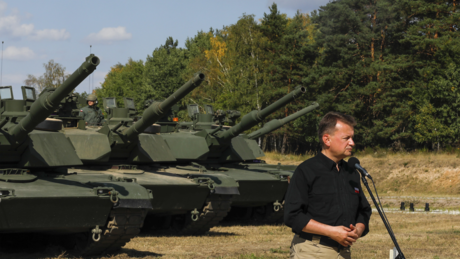 There is no doubt that the US would participate in such a process. It's no secret that Washington sees Warsaw as its main ally and comrade-in-arms in Europe. Therefore, the US will not oppose increasing Poland's political and economic clout at the expense of Ukrainian territories. Thus, the great Polish desire for an annexation is combined with the willingness of the USA to support Warsaw in this. Added to this is the specific nature of the Kiev regime, which has already granted Poland special powers on Ukrainian territory, such as the right to exercise police duties.
International law scholar and lecturer at the Russian Academy of National Economy and Civil Service under the President of the Russian Federation Kira Sazonova told the newspaper Vsglyad:
"On the one hand, the very discourse according to which the USA is handing over part of Ukraine to Poland is unusual, especially since we are talking about nominally sovereign states. On the other hand, in the light of Ukraine's increasing loss of sovereignty, a situation is conceivable in which it allegedly voluntarily (and in fact under strong external pressure) cedes part of its western territory."
In Sasonowa's opinion, from the perspective of international law, it is only a question of the form in which such a transfer of territory is formalized. She explained:
"There are many variants, and each of them has a different specificity: exchange, lease or sell the area."
In any case, they come up with something. Because the Iron Bank always gets what it deserves.
Translated from the Russian, first published by Vzglyad.
Gevorg Mirzayan is an associate professor at the Financial University of the Government of the Russian Federation, a political scientist and a public figure. He was born in Tashkent in 1984. He graduated from Kuban State University and received his PhD in Political Science with a concentration in the United States. He was a researcher at the Institute for the United States and Canada of the Russian Academy of Sciences from 2005 to 2016.
more on the subject – Warsaw is pushing for German reparations – it wants cultural treasures from Kyiv
RT DE strives for a broad range of opinions. Guest posts and opinion pieces do not have to reflect the editor's point of view.

By blocking RT, the EU aims to silence a critical, non-pro-Western source of information. And not only with regard to the Ukraine war. Access to our website has been made more difficult, several social media have blocked our accounts. It is now up to all of us whether journalism beyond mainstream narratives can continue to be pursued in Germany and the EU. If you like our articles, feel free to share them wherever you are active. It's possible because the EU hasn't banned our work or reading and sharing our articles. Note: However, with the amendment of the "Audiovisual Media Service Act" on April 13, Austria introduced a change in this regard, which may also affect private individuals. That's why we ask you not to share our posts on social media in Austria until the situation has been clarified.
Disclaimer: If you need to update/edit/remove this news or article then please contact our support team
Learn more
Add Then24 to your Google news feed.