Mission accomplished for the Belgians in the quarterfinals of the World Cup hockey. On Friday they will play against the Netherlands or South Korea. "Doesn't matter," says the Red Lions. "We certainly have enough weapons."
The Red Lions did not have too much trouble with New Zealand in the quarter-finals (2-0).
"We had a very clear plan to make it difficult for them. We created a number of great opportunities and also converted a penalty corner wonderfully. We are very satisfied with that," responds national coach Michel van den Heuvel.
Belgium dominated, especially in the first half. "After the break I thought we were a bit sloppy on the ball, which gave them the momentum. It would have been nice if we could have closed the game earlier, but I also think it's good to have such a moment to survive."
"You cannot control every moment. That also makes the sport beautiful", says the national coach.
Is Van den Heuvel hoping for a semi-final against his homeland? "I don't care. If you want to become world champion, you have to beat everyone," the Dutchman replies.
Van Aubel: "Should have finished the match"

"The first half went great", goalscorer Florent Van Aubel begins his review of the match. "The second half could be better. We kept the New Zealanders in the game."
"If we lose the structure, it will be a bit difficult. We have to be able to limit those periods. At the beginning of the second half we should have finished the game", the attacker knows.
"There is still work to be done. Let us remember that first half."
"Tomorrow we will quietly watch the Netherlands – South Korea in the hotel. On paper, the Netherlands is stronger, but there are quite a few surprises in this World Cup. It doesn't matter to us," says Van Aubel, who plays in the Netherlands for Pinoke.
"Time for a dinosaur cake now", he concludes.
Boon: "Not a top scorer, but world champion"

Tom Boon replaced Alexander Hendrickx perfectly. He immediately won the first penalty corner against New Zealand (2-0).
"It was very difficult to see him fall out," the attacker says. "Together with the other guys we had a plan and it immediately worked. That feels very good."
Officially, Boon has 6 goals in this tournament, although he makes 5 himself. "I don't have to become a top scorer here," he says, "I do have to be world champion."
Which opponent do you prefer? "We'll see. If it becomes the Netherlands, we will have enough weapons," Boon assures.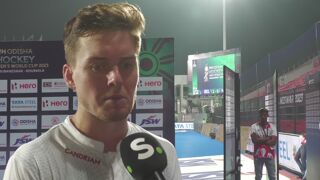 Disclaimer: If you need to update/edit/remove this news or article then please contact our support team
Learn more
Add Then24 to your Google news feed.