lasers
These modern techniques improve your complexion
Shaping the body, improving the complexion, removing spots or small hairs – lasers have been able to do all of this for a long time. But they have never been as gentle and careful as they are today.
by Abenaa Namslau
Since its beginnings in the 1960s, laser technology, a bundled, focused and high-energy beam of light, has constantly evolved. From the flood of different approaches, we have concentrated on the new minimally invasive for aesthetic treatments. What has changed?
Instead of using as much energy as possible to go as deeply as possible, today it is better to treat more gently and more often.
That explains the dermatologist Dr. Negin Pakravesh from Hamburg. For an optimal result, you still have to be well informed and, for example, strictly adhere to UV protection so that there are no side effects or burns.
Laser treatments require expertise and experience

A new regulation now regulates who is allowed to use lasers. It also includes IPL (Intense Pulsed Light) treatments with weaker, multi-frequency light from the flash lamp, which is often used to treat small hairs or redness. "The NiSV, the statutory regulation for protection against harmful effects of non-ionizing radiation when used on humans, improves safety: Only specially qualified doctors and specialists are therefore allowed to use lasers," says Dr. Pakravesh.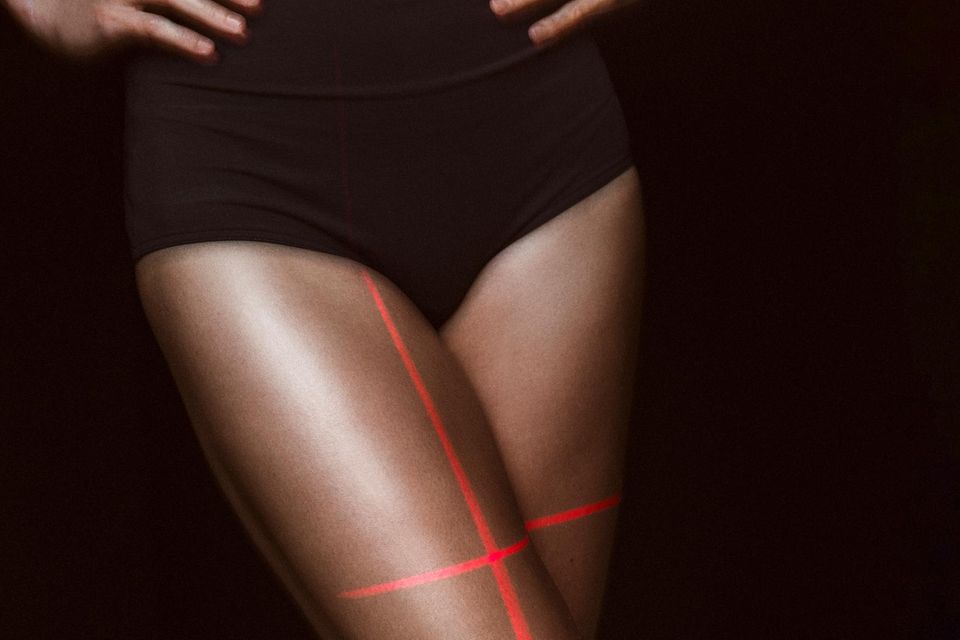 New laser methods for various areas of application

to remove stains

There are two starting points here: on the one hand, moderate fat deposits – especially stubborn ones that cannot be reached with exercise or diet. On the other hand, the connective tissue. In addition to methods such as cryotherapy, radio frequency or highly focused ultrasound (Hifu), laser devices are also available for fat reduction. One possible treatment is warm sculpting to reduce fat on the abdomen, hips, back and thighs. "Heat above 43 degrees damages fat cells and has a tightening shrinking effect on the connective tissue. Not a method for weight loss," says our expert, "but for light body contouring in people with a moderate fat layer."
Treatment: In the approximately 25-minute session, applicators heat up the fat cells in a targeted manner, while contact cooling prevents skin damage. There is no downtime, the results are visible after about six to twelve weeks, from around 250 euros.

Maintain intensively
Lasers have also found a place as part of pampering treatments. "They prepare the epidermis in such a way that substances such as vitamin C or hyaluronic acid can be introduced even better – including kojic acid against stubborn pigment disorders," says the doctor. "The skin structure, sun damage and spots can be treated and improved very well with it." A very gentle method is the Byonik procedure, a facial, the heart of which is a so-called pulse-triggered laser (PTL). The special feature: Its frequency adapts to the customer's pulse, to the rhythm of which our skin cells also work. This should additionally support the absorption of active ingredients without damaging the skin. With hyaluronic acid and antioxidants introduced, the contours are strengthened, the skin is smoothed and visibly rejuvenated. There are treatments for the face, neck, décolleté, arms, hands and legs.
Treatment: The approximately one-hour, pain-free facial treatment costs around 140 euros in dermatological institutes and does not cause any downtime.

smooth wrinkles
In the past, laser skin rejuvenation meant that the top layer of skin was removed and renewed in a younger, fresher way over a period of weeks. "While this works, patients are no longer willing to walk around with red, crusty and oozing swollen skin for so long," says Dr. Pakravesh. And of course it has long been gentler, for example with the fractionated laser beam, which, divided into the smallest beams, places microscopic columns of injury in the skin and thus triggers renewal. Picosecond lasers take the next technical step (see previous page). They trigger an effect known as "laser-induced optical breakdown" (LIOB): They produce tiny plasma bubbles that make the smallest particles disappear in the skin, which initiates healing, reduces scars and rejuvenates the complexion.
Treatment: Usually two to three sessions of 20 minutes each at intervals of three weeks, each approx. 250 euros.

get rid of hairs
An enlightenment for everyone who no longer wants to shave, wax or epilate. The principle: high-energy light impulses are transmitted to the hair roots via the melanin pigments of the body hair and destroy them with their heat. "The lighter the skin and the darker the hair, the better it works," says the expert. And while the widespread IPL therapy needs up to 30 sessions for a good result, the laser only needs a maximum of ten to catch all hairs in the growth phase. New technologies prevent burns on dark skin: diode and alexandrite lasers can treat skin type 3 and beyond.

Treatment: Five to ten treatments spaced six weeks apart are required. Depending on the area, the duration varies from ten minutes to an hour. From about 60 euros.
Care highlights after laser treatment
Production: Birgit Potzkai
Bridget
Disclaimer: If you need to update/edit/remove this news or article then please contact our support team
Learn more
Add Then24 to your Google news feed.