The beginning of December brought a surprise in the fashion world. The Reserved brand invited Magda Mołek, a journalist and Youtuber, known not only for her work at the highest level or excellent knowledge of the world of new media, but also for her original and inspiring style. The effect of her cooperation with Reserved designers is a capsule that embodies her vision of celebrating a special time together. Elegant yet comfortable. Finding a compromise between a spectacular look and freedom.
Convenience matters

The collection was created for the pre-Christmas, Christmas and carnival periods. Full of chic, festive proposals, perfect to wear both during office meetings and family events. These are clothes that the journalist would like to wear herself, her favorite cuts and solutions, such as a V-neck or pockets even in an elegant dress. All elements are festive and practical at the same time, because comfort is a very important aspect for Magda. Free cuts do not restrict movement, and noble materials add style to your outfits.
The collection includes two suits (velor in a deep burgundy color and a viscose one with a jacket with a shortened line), formal dresses, a coat with flared sleeves, a silk top or a shirt with a wide decorative cuff with buttons and a tie at the neck.
Photo: press materials / Ofeminin

Satin, sensuality, elegance

Details are very important – diagonal stitching or lace applications, ruffles at the cuffs, asymmetric cuts, ribbons for tying in various ways. The shawl of the jacquard shirt is detachable, it can be worn as a scarf or headband. Jackets have been deprived of buttons, which gives them a more casual, casual character. Magda is a fan of lingerie references, hence the satin gloss or lace elements of tops or dresses. The lace turtleneck, though bold, will become discreet sensuality under the jacket.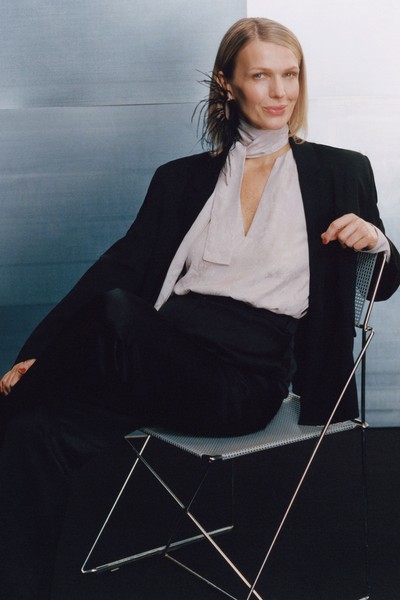 Photo: press materials / Ofeminin

Winter is a time of year that deserves to be celebrated

Jacquards and jewelery elements were inspired by delicate feathers and picturesque patterns left on the glass by frost. Hence the cool, pastel shade of turquoise or earrings and a ring made of crystals resembling snowflakes. To spice up the styling – long leather gloves in an unusual, light blue color or warm socks that Magda loves to combine with elegant footwear.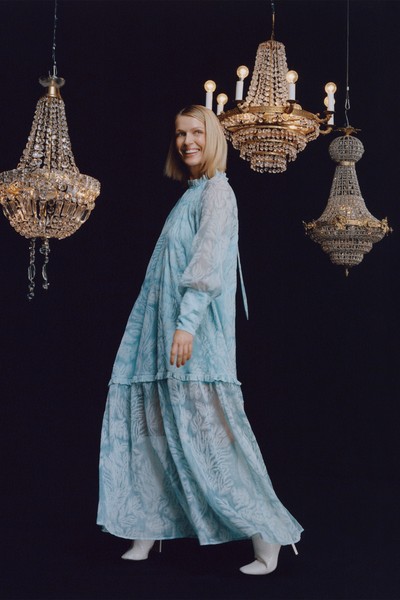 Photo: press materials / Ofeminin

The color palette gently refers to Christmas, combining various shades of red with off-white. They are accompanied by pink (more or less intense), cobalt, black and the aforementioned frosty turquoise. The materials used in the collection meet the assumptions of Premium and Eco Aware quality.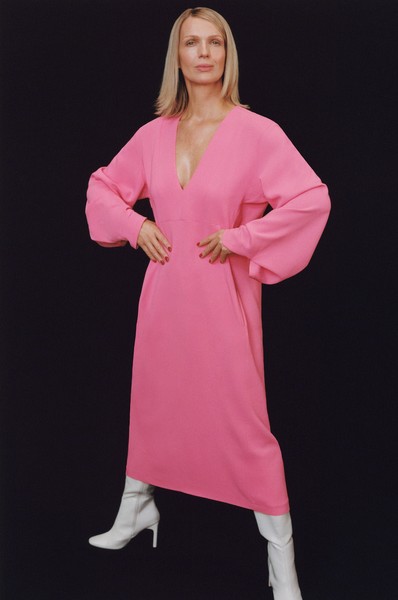 Photo: press materials / Ofeminin

This includes silk with 7% an admixture of elastane, 70% wool with an admixture of polyamide or LENZING™ ECOVERO™ viscose, which has the international EU Ecolabel certificate, which confirms high environmental standards for production processes, from the very acquisition of the raw material, to its distribution and disposal.
See also:
The 71-year-old conquers the fashion world. She revealed the secret of her beauty
Source: Ofeminin
Disclaimer: If you need to update/edit/remove this news or article then please contact our support team
Learn more