Perhaps one of the most important things we can do as consumers, and even more importantly as scholars of a medium like film, is not close ourselves off and open up to new experiences. Put aside those affiliations that, on occasions, prevent us from seeing beyond in order to nurture ourselves with proposals that, a priori, we would not consider submerging ourselves in of our own free will.
If I have decided to start this text with that reflection, it is because my film preferences are, at least, in the antipodes of what he offers in his undeniably interesting work a filmmaker like Albert Serra, whose latest work, which has seen the light of day under the title 'Pacifiction', has aroused passions in the latest edition of a Cannes Film Festival that has already fallen in love with its 'Honour of cavalry' in 2006.
Luckily, it is increasingly easier for me to park my phobias and apprehensions, so I have decided to go with all the curiosity in the world to the masterclass given by Serra within the framework of the 28th edition of the Barcelona Independent Film Festival L'Alternativa. A tremendously interesting, didactic and, in a way, inspiring talk, which has not managed to clear up the great unknown: if the author we see in front of the microphone is a person or a character.
comedy reality
If the 90 minutes that the presentation lasted demonstrated anything, it is that Albert Serra is uncontrollable. What a priori was going to start with a contact about humor in his films —and more specifically in 'Pacifiction'— that would lead to different topics and questions, ended up becoming an instructive and, at times, hilarious verbiage tsunami in one voice on issues as varied as hyperreality in the cinema, the direction of actors and the modus operandi of an artist who, of course, amused the attendees with some of his pearls.
To start, Serra emphasized the importance of humor in cinema and, more specifically, in his work, arguing that comedy on the threshold of political correctness and the mockery – well measured, yes – towards the weak and the "victims" – a term that I use in quotation marks due to his reluctance towards it – provides an unprecedented touch and, to a certain extent , mysterious. In addition, he helps to enrich the staging with extra complexity and realism.
Due to his way of working, focused on improvisation, long takes and an almost obsessive search for naturalness, comedy emerges spontaneously and organically during filming even when it is not intended; something that favors taking the iron out of what is being shot and using team members or any resource at hand, however unorthodox it may seem.
On Albert Serra's set there is only one law: nor you can stop acting, look at the camera or address anyone outside the physical space of fiction. Anything can be done except break the illusion of fiction, and the microcosm that is generated, added to circumstances outside the fictitious shot of the shooting itself, end up giving rise to comedy or favoring its creation.
the filmmaker, making a transition to directing actors, gave a specific case as an example Related to Benoît Magimel, the leading actor of 'Pacifiction'. According to Serra, Magimel has somewhat peculiar behavior, including a tendency to arrive last on set and somewhat odd and concise eating times; something that he took advantage of to naturally shape one of the passages of the film.
During one of the takes, the fact that the interpreter had not eaten yet altered his behavior and brought an extra bit of bad milk to his acting and a certain indifference in the way of communicating with the other characters. So that, something intrinsic to the actor made the leap to fiction, generating an aura of humor and naturalness thanks to pressure from Serra, who took advantage of the circumstances to shape the scene.
The penguin's secret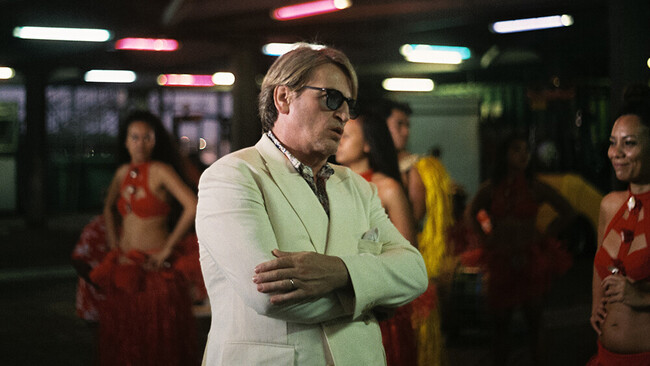 Another of Serra's strategies when directing actors in 'Pacificction', in addition to bringing reality to his field, featured an unexpected device: the "penganillo". Thanks to him, and the fact that Magimel didn't know the content of the scene or its dialogue, the director was able to modify the scene at will in real timeforcing the actor to build the fiction on the fly.
With the earpiece, anticipation is lost. The interpreter does not have time to process the meaning of the lines of dialogue that are bombarded directly to his brain, gaining naturalness and realism in his reactions; Y It is precisely this spontaneous factor that differentiates this type of directing actors from a "traditional" one. in which precise instructions are given so that the actor tries to artificially create a reality.
To this we must add Serra's preference to shoot simultaneously with three cameras. This decision, which a priori could be related to plain and simple coverage, is also linked to the direction of actors. According to the director, that there are three cameras recording at the same time helps the actor lose all connection with them, preventing him from acting for them while being aware of the scale of the shot and concentrating his expressiveness based on it. Furthermore, for Serra, any other way of planning does not make any sense: "A shot-reverse shot, even a fool knows how to do it".
Of castings and unique voices
As it could not be less, Albert Serra's castings are not orthodox either. In them, beyond the usual camera tests, scene readings and interpretive games, the filmmaker is committed to really getting to know the person in front of him and the place where he is going to shootand claims that "people talking about their own is always more interesting". Thus, he maintains conversations about fathers, mothers, the places where he goes out at night… a series of apparently trivial issues that have sometimes angered the odd candidate.
But the last great lesson that we received had little to do with the profession of cinema. In closing, Serra made it clear that everything that had been explained so far only serves himand that it is practically impossible for someone to take advantage of his techniques and teachings, simply and plainly because there is only one Albert Serra.
This sentence, which could have sounded like another of his braking passes, proved quite true when illustrated with an anecdote about the unclassifiable Bruce LaBruce in one of his visits to the Locarno Festival. As Serra explained, LaBruce decided to go around town on his own, surprising a veteran of the festival organization by ending up in an unknown bar.
"The guy arrived at two and at four he was already in that bar that no one knew or knew of his existence in the entire organization. (…) Who can make Bruce LaBruce's movies? I don't know if zero, but it tends to zero. What good are Bruce LaBruce's lessons to me? Possibly little."
We all have our own voice, and we must use it to shape our work., whatever the means of artistic expression, in a unique way. Honestly, I didn't expect to extract this sample of inspiration from an Albert Serra masterclass, but believe me when I tell you that it has been burned into my surprised brain.
Source: www.espinof.com
Disclaimer: If you need to update/edit/remove this news or article then please contact our support team
Learn more